Greece, one of the most popular travel destinations in the world, has recently announced that it is making its beaches more accessible to wheelchair users. 147 beaches have already been renovated. According to a news release from the Greek government, the initiative is part of a larger effort to improve accessibility for people with disabilities in public spaces and tourist destinations.
Commitment to Accessibility
Speaking at a press conference, Greek Minister of Tourism, Dimitris Gkikas, said that the government is committed to making Greece a more accessible destination for travellers with disabilities. "We want to send a message that Greece is a destination that is open to all," he said. "We are working to make sure that people with disabilities can enjoy our beautiful beaches just like anyone else."
Accessible Beaches in Greece
The news release also highlighted some of the accessible beaches in Greece, including Astir Beach in Vouliagmeni and Navagio Beach in Zakynthos.
Astir Beach, located in the Athens Riviera, is equipped with wheelchair ramps, accessible changing rooms and showers, sun loungers, and refreshment bars. This beach is a great option for those who want to combine their beach experience with city sightseeing, as it is located only a short distance from Athens.
Navagio Beach, located in the Ionian Islands, has a wheelchair ramp leading to the water, and a specially designed beach wheelchair that can be rented on-site. This beach is known for its crystal-clear turquoise waters and stunning rock formations, making it a must-visit destination for anyone traveling to Zakynthos.
In addition to these two beaches, there are many other accessible beaches in Greece that travelers with disabilities can visit. Some of these include Kalamaki Beach in Zakynthos, which has a wheelchair ramp, accessible restrooms, and beach wheelchairs available for rent, and Agios Georgios Beach in Naxos, which has a specially designed accessible path leading to the beach.
Improving Accessibility for All
Improving accessibility for people with disabilities is an important issue for the tourism industry in Greece, as well as around the world. By making its beaches more accessible, Greece is sending a message of inclusivity and hospitality, and is working to attract more travellers with disabilities to its shores.
If you're planning a trip to Greece and are interested in visiting accessible beaches, make sure to do your research in advance to find the beaches that are best suited for your needs. You can discover hundreds of listings on AccessNow or work with an accessible travel agent to book a trip thats right for you. With a little bit of planning and preparation, you can enjoy the sun, sand, and sea of Greece.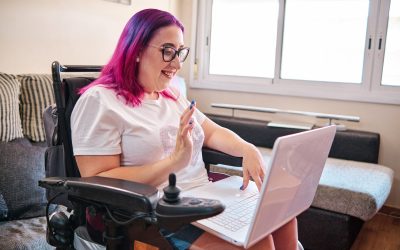 In a world that's constantly evolving, progress often hinges on our ability to embrace diversity and inclusivity. Yet, there's one facet of diversity that has often been overlooked: the inclusion of people with disabilities in the workforce. That's where National...