On August 1st, 2019 we brought the community together to celebrate a monumental moment as we announced an over $2.7 million investment in AccessNow, thanks to the Government of Canada. This moment meant a lot to me, not just because it was the first time AccessNow was making a public announcement of this magnitude, but because for me, this investment symbolized a significant shift in how we think about accessibility and technology. This investment in itself is a form of advocacy within the tech and business world.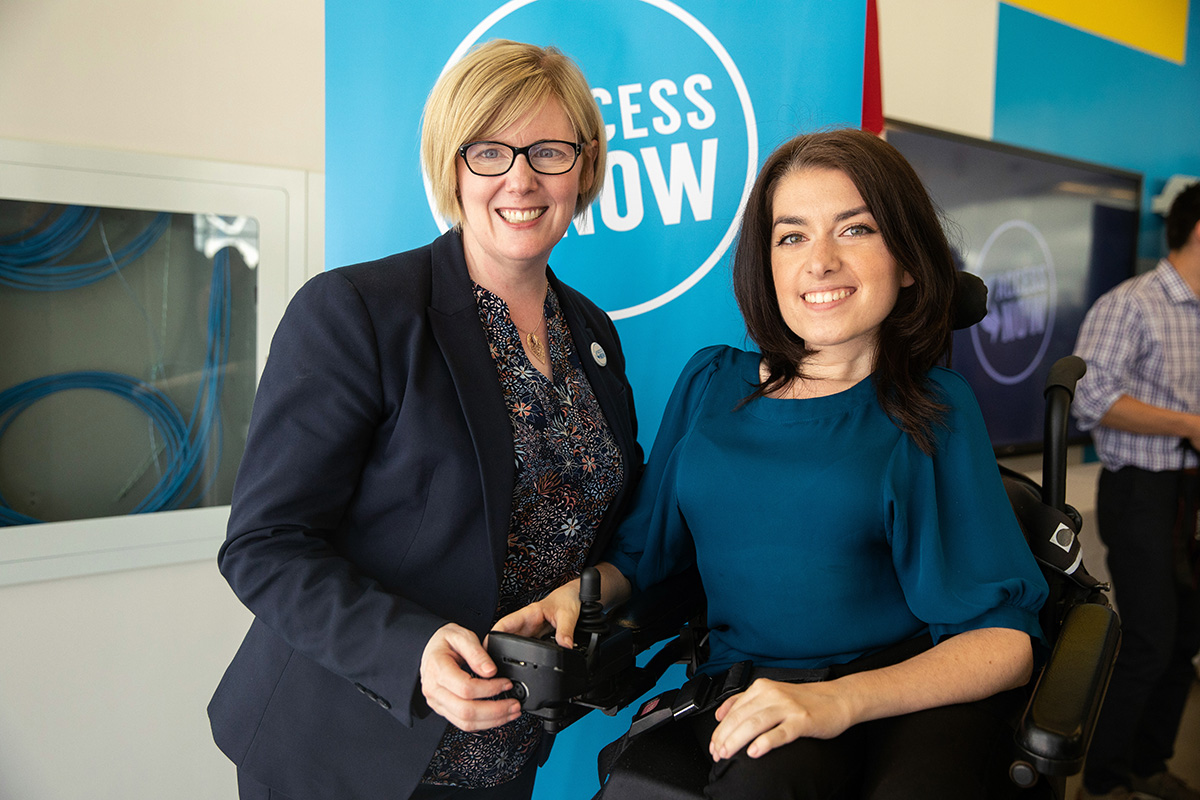 You see, all my life it's been my job to try and make sure I could be included in the world that wasn't built for me. To avoid barriers as much as possible, to make my disability seem like not a big deal, to convince people I was capable. I've memorized cracks in the sidewalk and entrances with steps and restaurants without accessible washrooms. I have this mental map of places around the world where I can enter, places where I feel welcome, and those that I've blocked out due to inaccessibility.
As we've gone on this journey in developing AccessNow, I've learned I'm not the only one with experiences like mine. I've met so many others who are constantly navigating this barrier riddled world, others who are also memorizing every location. 
Combining all our mental accessibility maps into one place was actually the first major breakthrough we made at AccessNow. When we realized the power of the collective was exponentially larger than what each of us could carry on our own. This is the magic that makes me so excited every day to work at AccessNow.
In sharing, we built a community; a community of doers, who contribute to the AccessNow platform allowing every member to benefit. We are literally putting accessibility on the map. 
With the support of the Canadian government, we're taking that magic and building on it:
We are investing in our technology to establish the ultimate intelligent platform to search for and discover the accessibility of places in Canada and beyond – with a focus to enable people of all abilities to discover their unique accessible lifestyles.
We are nurturing our growing community of advocates and allies with MapMission events across the country with help of community partners like Spinal Cord Injury Canada. We are bringing people together and inviting everyone to take part.
We are collaborating with companies that demonstrate leadership by mapping all of their locations on our platform and building unique product integrations that will contribute to an expanded ecosystem of accessible services and experiences. We want to work with retail and transportation companies, hotels and so much more.
Accessible technology is so much more than gadgets and tools made to support people with disabilities. We all benefit from accessibility every day. Great accessibility can help shift our understanding about what it means to connect to each other and to our cities in a truly inclusive way. No one is singled out. We are all honoured. We are all valued.
I'm so excited to share more as we go on this journey together.
– Maayan Ziv
"Our government's investment in AccessNow is an investment in Canadians with disabilities and an inclusive economy. By supporting the full participation of persons with disabilities in their communities and workplaces, we are creating opportunities so that every Canadian has a fair chance at success. AccessNow is doing great work in removing barriers to accessibility and with this funding can continue to do so on an even greater scale."
"Together we are building an innovation nation—one that is inclusive and works for everyone. To achieve this, our focus is squarely on our greatest asset: our people. AccessNow is a group of award-winning innovators who are leading the way with their passion for increasing accessibility and our awareness of its necessity. I want to commend them for their work and wish them tremendous success in delivering this new platform."
"At AccessNow, we see the incredible potential to use technology to empower people of all abilities. We are so thankful to the Government of Canada for believing in our vision to develop a more connected and accessible country with our platform. Our promise is to foster a global digital ecosystem that includes partners in the private sector and government and the grassroots power of community."