Toronto has a special place in my heart. It has been my home for nearly 25 years, since my family moved here in the late nineties and in my view, is the most exciting metropolis in Canada. It is also fairly accessible and despite some of its buildings being more than 200 years old, it is a great city where many people with disabilities thrive. 
If you find yourself in Toronto, here are some accessible ways to enjoy your time here.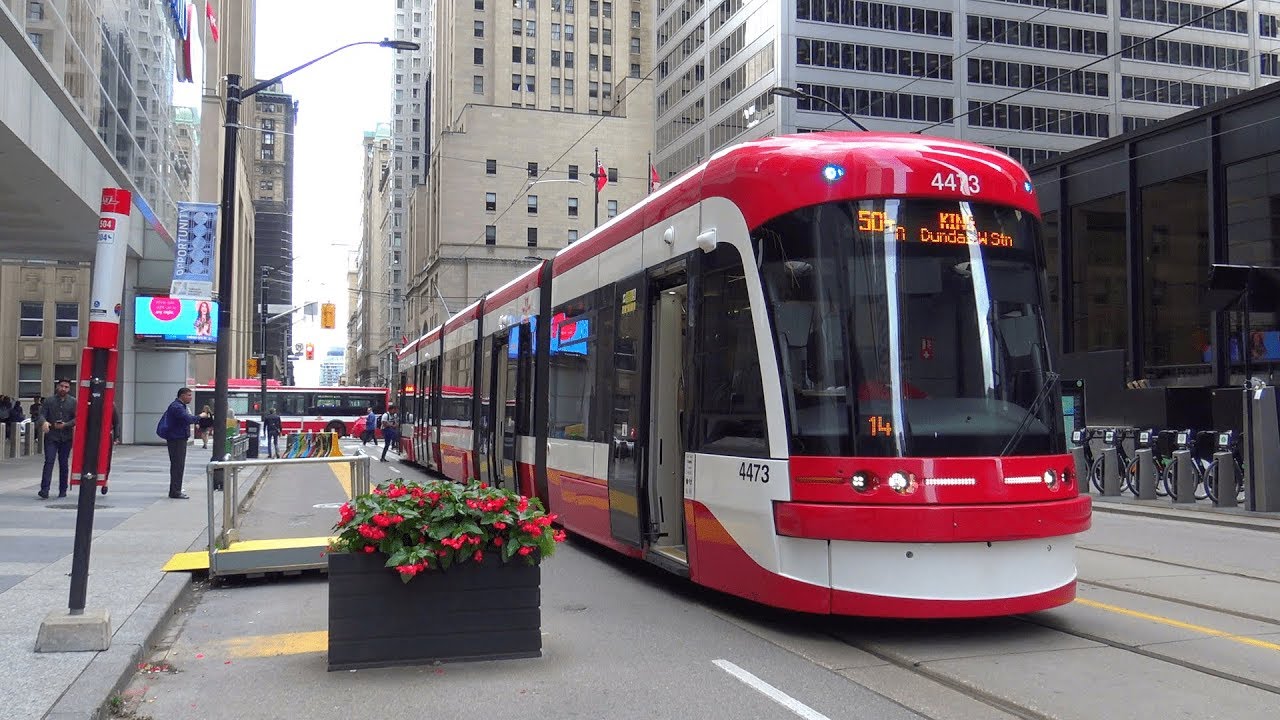 The TTC is constantly being updated and one of the upsides of it is that it is continually becoming more accessible. Buses are equipped with ramps, streetcars have been accessible for the last few years, and the majority of the subway stops are equipped with elevators too, so public transportation is a safe bet if you're hoping to explore Toronto.
In Toronto, it is possible to book a wheelchair accessible Uber vehicle by selecting WAV when booking your ride. Alternatively, you can also book accessible cabs. They tend to take a little longer, so be sure to call about half an hour in advance.

Photo Credit: First Capital
For high-end shopping and sophisticated restaurants, Yorkville, by Bay and Bloor is a great area to wander through and grab a fancy cocktail on a patio or at a lounge. Its upscale boutiques, art galleries and trendy bars are perfect for a day when you feel like treating yourself. While some the buildings here will be older and unfortunately inaccessible, plenty of bars, lounges and shops have been upgraded with ramps or elevators to accommodate people with disabilities.
For a multicultural area filled with fantastic food spots, neat novelty shops and a young and outgoing crowd, visit Kensington Market. It is often home to several food trucks, trendy cafes and pubs and if you're a foodie, you will appreciate the vast options for snacks. From churros, to tacos to authentic Thai, there is something for everyone. Especially fun in the summer, Kensington Market often has outdoor parties. While it tends to get crowded, people with disabilities generally navigate the strip just fine.
My all time favourite area of Toronto is none other than the Distillery District. The pedestrian-only area is filled with 19th century buildings that were once distilleries for whiskey. Today, these buildings range from trendy shops, restaurants, office buildings and Toronto's top Theatre Company, Soulpepper. In December, the Distillery District is famed for its annual Christmas Market, where people enjoy mulled wine, caroling elves and unique shops featuring international food items and gifts. It is also great in the summertime, when people fill the patios, do some people watching and shopping. Although all of the shops are accessible, it is worth noting that the entire district is made of cobblestone grounds which may not be too comfortable – but I promise it's worth it.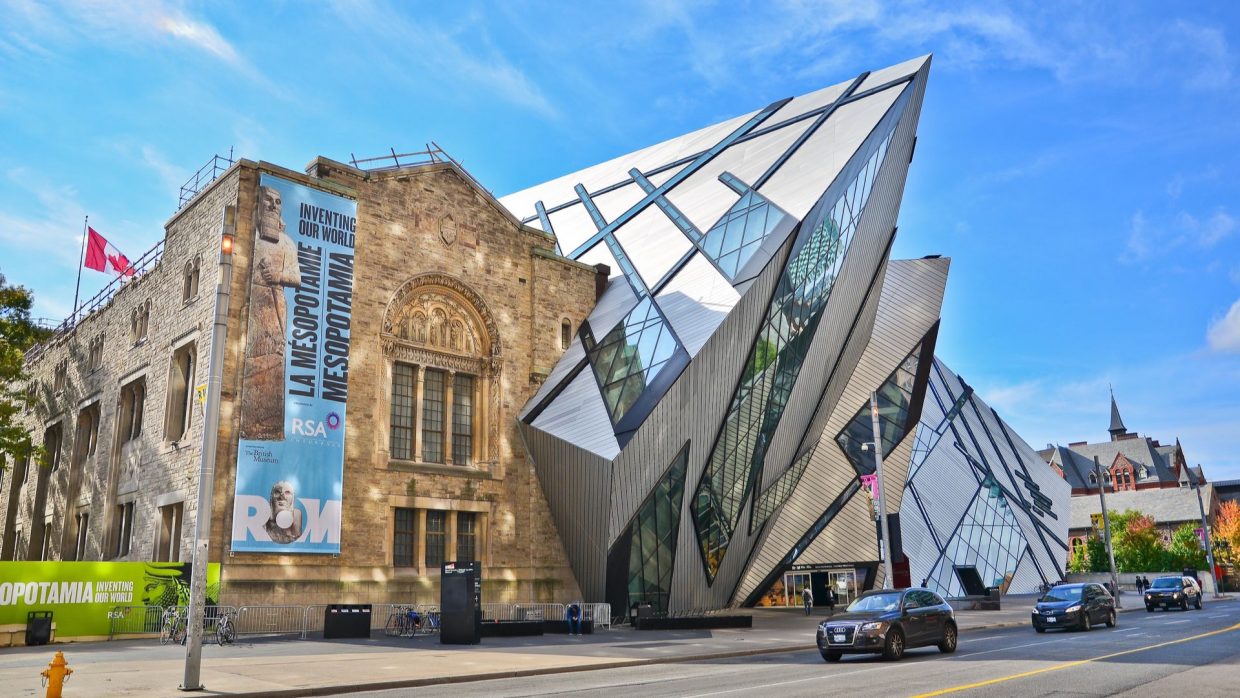 Photo Credit: Jing Culture & Commerce
Toronto's largest and most exciting museum is the Royal Ontario Museum. It is one of the largest museums in North America and features a vast variety of art collections and exhibitions that can be enjoyed for a full day. From Egyptian mummies, to the Renaissance era to Ancient Greek and Roman artifacts, The ROM is a fantastic outing for the whole family and is fully accessible for all guests with disabilities.
If you feel like enjoying some art collections, the Art Gallery of Ontario won't disappoint. The state of the art building is visually pleasing and from the moment you enter, you will witness a spiral shaped ramp that leads you up toward the ticket booths. It features Canadian artists like the Group of Seven and their prominent works, as well as Indigineous, Modern, European African and Contemporary pieces. There are also photography collections and drawings to enjoy and it is fully accessible. Best of all, if you're in Toronto on a Wednesday night, the AGO is free.
Those with a fascination for science and technology will surely enjoy the Ontario Science Centre. Learn about the mysteries of the ice ages, see the world from a bug's point of view or enjoy the space hall, with meteorites from other planets and black holes. For a day filled with absorbing knowledge, the Ontario Science Centre is perfect for all ages and is accessible. Attendants get free admission.
If you're not afraid of heights, then you need to put Toronto's quintessential landmark on your bucket list. The CN Tower is another great activity that provides a spectacular 360 degree view of the city. For over 30 years, it held the record for the tallest freestanding structure in the world, but these days, the top of the tower is known for being a casual sitting spot for Drake, as displayed on his album cover and for lighting up in various colours to celebrate holidays and key events throughout the year. Beware of the long elevator ride if you are uneasy about heights.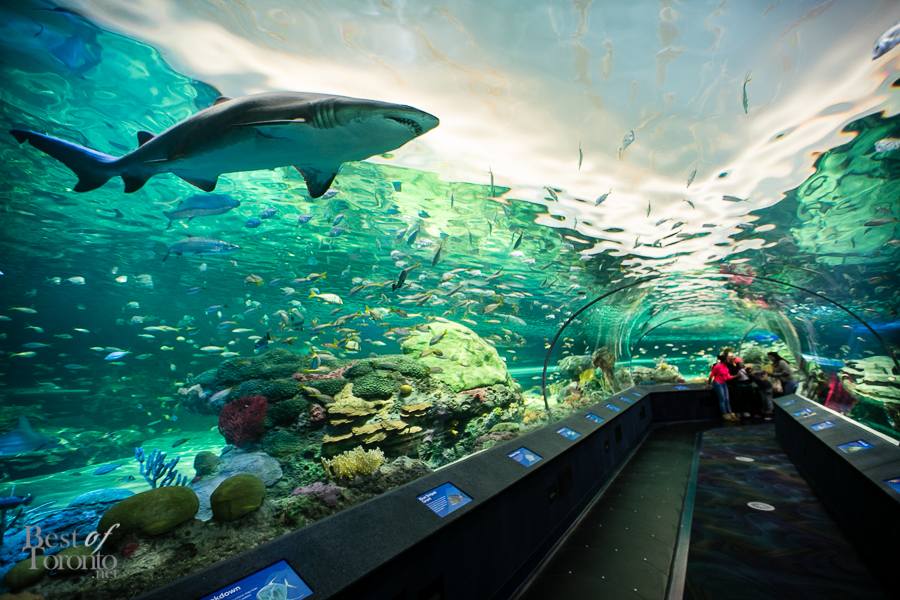 Photo Credit: Best of Toronto
Ripley's Aquarium of Canada
Located steps from the CN tower, Ripley's Aquarium of Canada is Toronto's very own underground aquarium that has a vast array of sea creatures, including sharks, tropical fish and jellyfish. Ripley's Aquarium promises a visually captivating experience, where you can get up close with sharks and see spectacular and colourful creatures of the sea, including a pool filled with stingrays. It is newly built and fully accessible.
Casaloma is Toronto's own castle and if you're passing through, this is a must see. The gothic revival style mansion built in the early 1900's is now a historic museum, filled with stunning furniture fit for royalty and secret passages that will make you feel like you're in the medieval era. The majority of the interior is accessible, but as the building is old and not everything has been updated, some parts may be challenging to navigate for those with disabilities. Even if you don't tour the inside, I highly recommend driving by or taking a short walk through its gardens. It's a truly stunning sight and great for photography.
Toronto Eaton Centre & The PATH
Toronto's most central mall is the Toronto Eaton Centre. It has hundreds of stores, several food courts and plenty of spots to meet up with friends for a coffee or beer. While you're there, don't forget to check out the PATH, Toronto's best kept secret that connects the downtown core through an underground mall that has more stores, more restaurants and even more trendy spots for coffee meetings. Central to the financial district, business people are seen swarming through the PATH during the week and it is especially convenient for people with disabilities in the winter time – the underground path creates a way to escape frigid conditions and unshovelled snow if you need to get somewhere in the area. To get to the PATH, go to Hudson's Bay and take the elevator down to the concourse level. Have fun and don't get lost.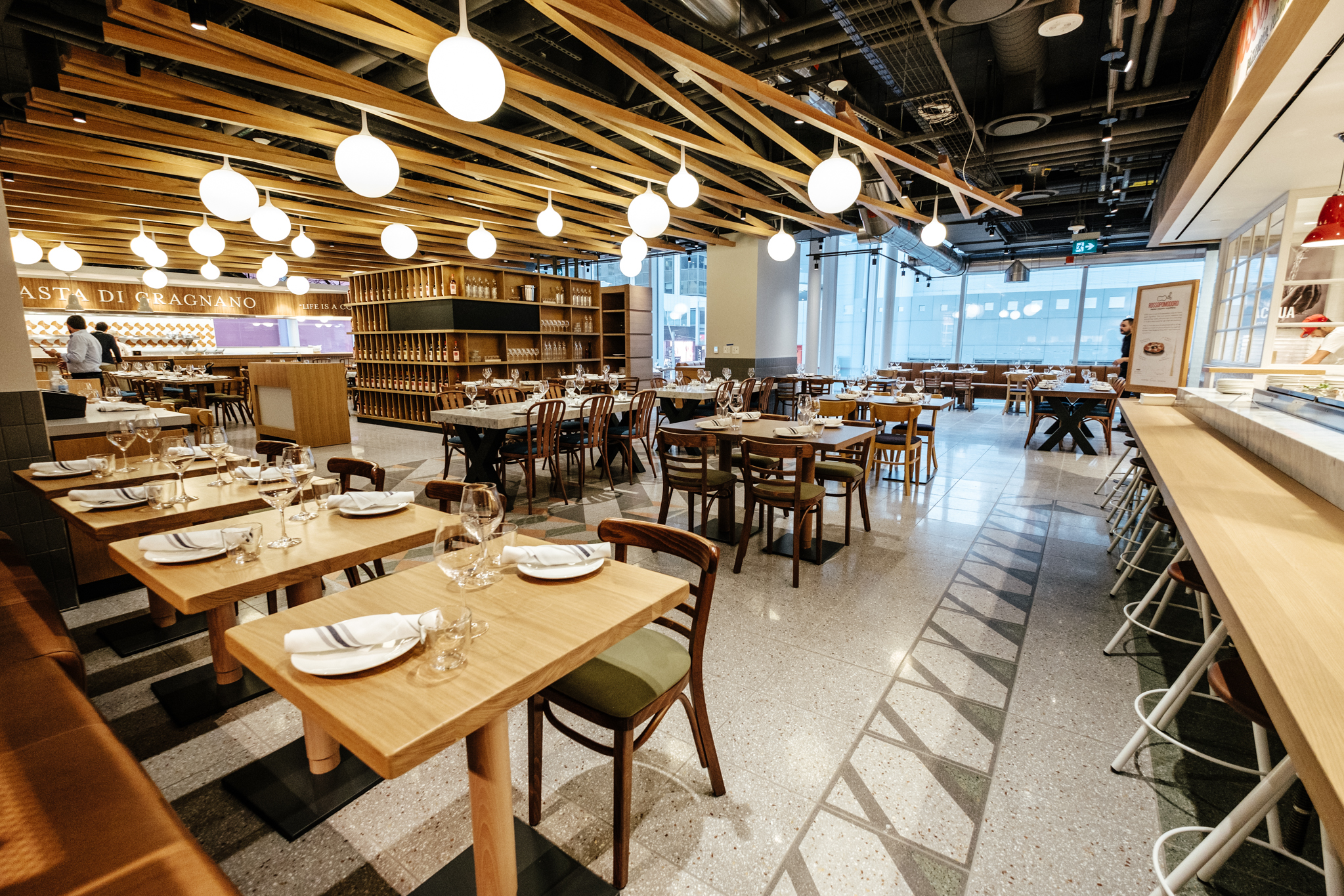 Photo Credit: Toronto Life
One of my favourite spots in the Yorkville area is Eataly. It is a foodie's heaven, home to four Italian restaurants, a culinary school, an Italian supermarket, a winery, a gelato shop and a cannoli shop. If you like pasta, wood oven pizza or a nice strong shot of espresso with a pastry, you can't miss this. Whether you're looking to dine here or just pick up some key items at the sustainably sourced Italian market to cook at home, Eataly is sensational and busy for good reason. best of all, it's newly built and fully accessible.
St. Lawrence Market on Front street is yet another great food spot with a variety of options. Each day, people shop here for fresh produce and meat, and enjoy the small shops of novelties, souvenirs and gifts. The market has over 120 vendors and is located in a beautiful area where you can sit on the picnic benches outside afterwards, or take a stroll along Front street to check out the other shops and Berczy Park, which features the one of a kind dog fountain.
Parks and Outdoor Places: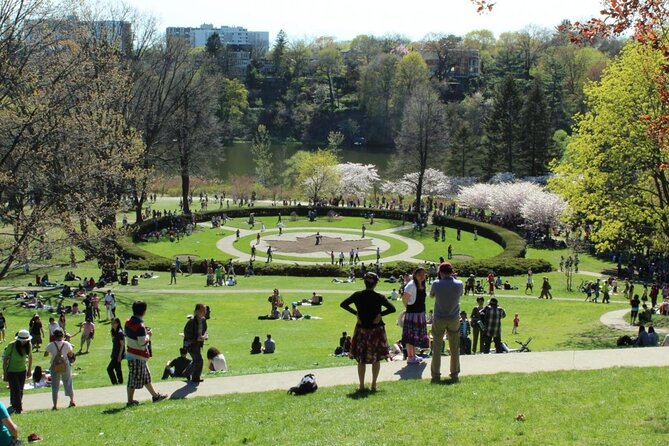 Toronto's largest park is High Park, located in the West end of the city and all year, it is buzzing with families, joggers, pets and some of the famed raccoons of Toronto that are known to wreak havoc. The park has a public swimming pool, tons of grassy areas for picnics and suntanning, fountains, and even a small zoo where you can befriend an emu or a joey and other cute creatures. Although the park is quite hilly in some spots, it is quite accessible. 
Humber Bay Shores, surrounded by newly built condos and lakeshore is a perfect spot for a morning stroll with the view of the skyline. When the weather is warm, I like to go with my headphones and watch the sunrise while wheeling along the trail. I've spotted rabbits and raccoons here quite often. This is a fairly new area in the city, so it is paved smoothly and a great spot for wheelchair users.
If you like flowers and nature, you'll love Edward Gardens in North York. This botanical garden is scenic for a walk and I love it the most in the fall, with the colourful leaves covering the trees. It's quite hilly, so it's best to take someone else with you, but the sights, smells and sounds are well worth it.
Toronto Island is one of the city's best offerings for outdoor spaces and is the perfect getaway that is a short ferry ride away. It's great for picnics, cycling, suntanning and in the summer, it is known for hosting a variety of concerts and festivals. If you're feeling super adventurous, check out the nude beach.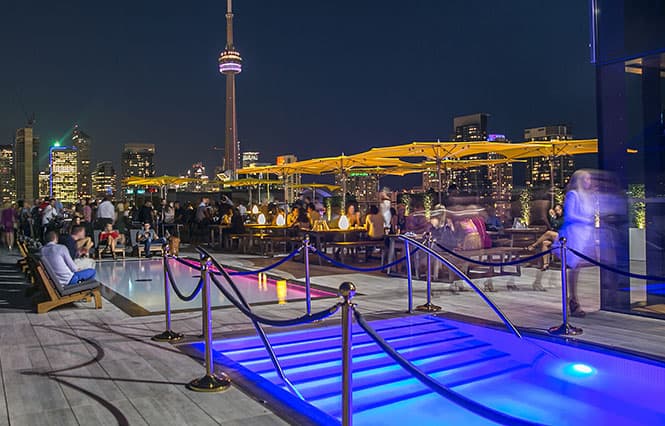 Lavelle is the most popular rooftop lounge in the city, equipped with a pool and a mix of Japanese and Brazilian dining. Although it is most known for its night time events, it is also popular during the day for upscale lunch and cocktails and even swimming. The main entrance has a couple of steps to get in, but the condo next door which is attached to the same building is equipped with an elevator that takes you right to the roof.
My favourite spot for nightlife in Toronto is Pravda, a Russian vodka bar on Wellington street. The interior is super unique with red couches, Soviet style artwork and large chandeliers. On the weekends, there are often aerial dancers performing from the ceiling and a saxophonist plays along with the music, creating a fantastic vibe. Even the top floor is only accessible by a set of stairs and I tend to stay on the main floor with my friends in a booth, it is my all time favourite spot in the city.
Proof Vodka Bar, connected to the Intercontinental by Yorkville is a terrific spot if you're looking for a spacious bar that's quieter than other clubs and lounges. It has a number of comfortable couches for seating, as well as low height tables that can be comfortably wheeled under. The menu offers great appetizers and a good selection of cocktails. Proof is my favourite spot for intimate conversations and get togethers, because it's not too noisy, crowded or hectic.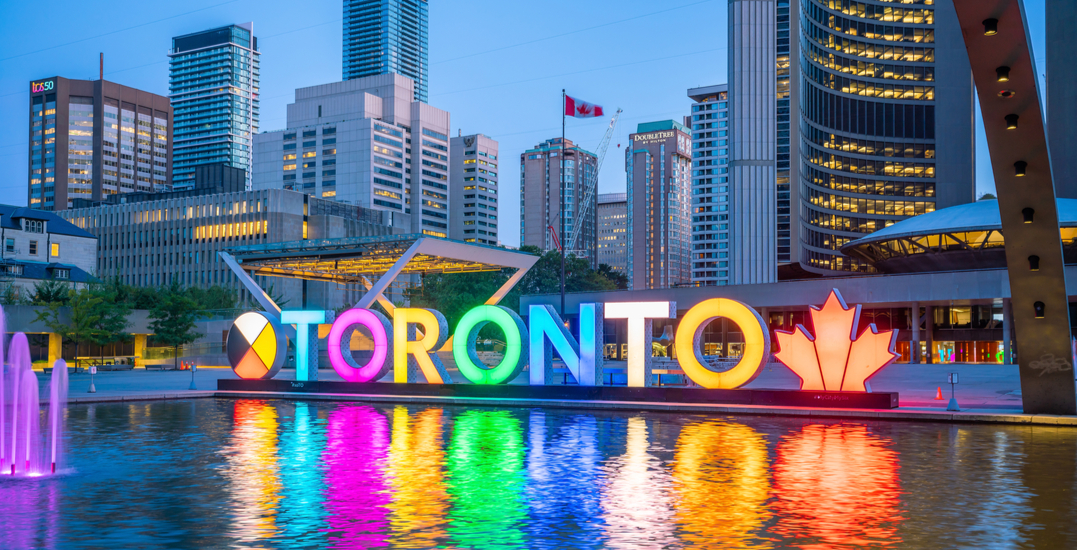 Photo Credit: Shutterstock/DailyHive
Toronto will always be quite special to me. I have spent most of my life here and it is my home. If you ever visit, I hope you enjoy it very much. 
What are some of your favourite spots in Toronto? Let us know on AccessNow. 
Lead Photo: The Telegraph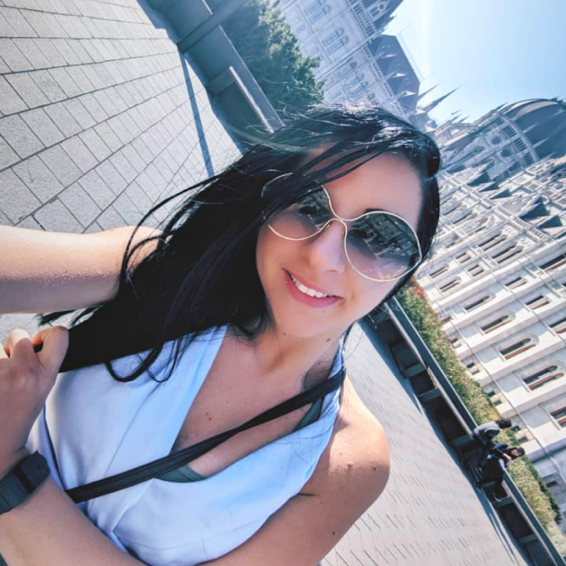 About the Author
Nikoletta Erdelyi is a writer and poet from Toronto, fascinated by how we make meaning for absurdity. She is a philosophy nerd who loves to cook, collect fragrances and write poems about the unique bits of consciousness.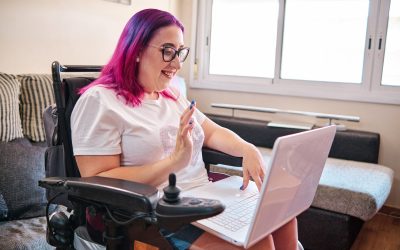 In a world that's constantly evolving, progress often hinges on our ability to embrace diversity and inclusivity. Yet, there's one facet of diversity that has often been overlooked: the inclusion of people with disabilities in the workforce. That's where National...