To kick off our #AccessFromHome Stories, AccessNow had the opportunity to chat with Inspirational Speaker, Entrepreneur, and Accessibility Consultant Marco Pasqua. In this interview, he shares his experience during COVID-19: how it's affected businesses, from working from home and hosting a virtual gala to ordering groceries from restaurants, and what #AccessFromHome means for him and for the disability community.
What's your #StayHome situation like? 
My wife and I have been staying in our condo. My wife is the universal design and accessibility specialist for the entire city of Surrey. She is still considered frontline and does a lot of emergency response preparedness for people with disabilities. At the beginning of the pandemic she had to still go into work every single day but now she's able to work from home. I'm grateful knowing that she's safe and that we're in the same space together at the end of the day.
What are some highlights of being at home? Have you learned anything during this time?
I'm a people person. I love being around people so the fact that I'm literally being told I'm not allowed to be around people is hard for me. People wouldn't know this about me but I'm an extrovert but also very much an introvert. I love my home time with my wife and my family. I enjoy being able to relax especially when you're in the public eye. When you're in the public eye a lot and people have a lot of expectations of you, you're constantly on and there's never an opportunity to really be "off". But mental health is just as important as physical health. This time at home has been a discovery process in finding that balance.
Speaking of balance, what are your tips on working from home? 
I found that the most important thing is to take meaningful breaks. When I step away from work, then I physically separate myself from work. My office—that's my workplace—and when I leave that doorframe, then I am no longer at work and I can reflect on other things.
My wife and I have also been doing a lot of stretching and yoga at home to step away. We live across the street from many parks. Many of them are closed but you can still walk around the perimeters of these spaces and get some fresh air. It's important to take your eyes away from the technology that has been very supportive to connect us online but also reminding yourself that it's important to do other things like working out.
As an entrepreneur, how has the pandemic affected your business?
As a speaker, 95% of my work is affected. I had plans to fly across the country multiple times in the last several months and all of those events got canceled or pivoted to virtual. Although this impacted my business, I'm still fortunate that a lot of my clientele and the people I work with are willing to work out something else. For example, I actually found out about the #StayAtHomeGala only four days before the event. Typically hosting an in-person event like that takes a lot more time to set up and plan together but because of having this accessibility from home, we can be more flexible and turn things around faster. We already have the tools to work around situations like that.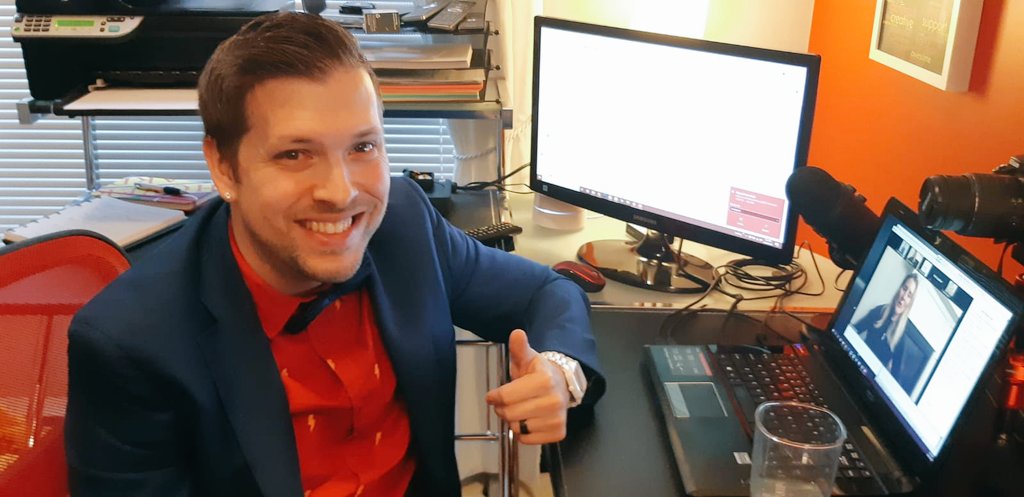 As a designated Rick Hansen Foundation Accessibility Certification™ (RHFAC) Professional, I've been able to do more blueprint reviews virtually. Lately I've been working with a couple of cities in giving them my professional opinions on how they can make the space more accessible. This has been an interesting shift because I don't usually spend a lot of time in the consulting piece and the accessibility piece. I'm more the guy that's on the stage getting people fired up about why it matters. But it seems that side of my business has gone up while the speaking aspects have pivoted a little bit in different ways.
This shift in my business is happening because other businesses are shifting as well; everything is interconnected. Specifically, businesses are focusing on the people and improving the company internally. I've had speaking opportunities to look at their ambassador program and refreshing it not from the lens of an ambassador but from that of a professional speaker. They ask me to look at the framework of their program and to help them structure it differently. It's amazing how they know my strengths and are activating my services in a new #AccessFromHome way.
How has this #AccessFromHome changed in terms of accessibility and inclusion in the workplace? 
From the aspect of inclusive employment, there's a lot of webinars that weren't happening before that now are suddenly taking place. People are thinking about hiring people with disabilities. They are realizing that there aren't many changes or adaptions required in order to make that possible. It's cool because I get to be a part of that movement to accessibility and inclusion by being a panelist on virtual events about inclusive hiring. 
 Mostly I'm seeing the change not necessarily for me personally but for my extended network. Because the world is facing the issue of accessibility, companies are not just moving their people to work online but they are inviting everyone online.  There's a lot more open-mindedness in a way there haven't before.  #AccessFromHome not only opens up the floor for people with disabilities to join the conversation but it also exposes the conversation to more people. I've noticed a lot of webinars on adaptive equipment in the workplace to audiences who wouldn't normally be exposed to it. Now people have more opportunities to say yes to these topics of accessibility and inclusion and to attend virtual events that they wouldn't otherwise have time for. 
What does #AccessFromHome mean for you? For businesses? 
People with disabilities and entrepreneurs are the perfect mix to survive in this situation because you have to be adaptable. You have to be used to challenges, and that is where we will shine. People with disabilities are so used to facing challenges–this is not to say that not all other people don't face challenges–but we often look at things in a different light and in a different way than your typical person might and I think that that's actually a huge benefit in a situation like this.
With more #AccessFromHome, it's forced people into a different mindset of what is possible. I think it's actually our job, our duty, to use this movement to really open up people's eyes and to change their perspectives. It's our opportunity to use this time to our advantage.
For businesses, accessibility from home brings in a lot of potential; I am seeing the light bulbs slowly starting to go off. As a Microsoft Change Agent, I see various opportunities in using Microsoft technology such as their virtual glasses or their AR. For example, AccessNow can create different extensions or adaptions. Imagine what the platform can do with virtually looking at spaces on the maps that you've pinned and being able to see those in advance instead of actually going to them in person. There's an opportunity to look at how businesses can structure themselves and grow them differently. There are new ways that we can look at things where typically we'd be busy to look at. This situation has put us in a position to look at things differently; that we can look at things from another perspective and do them differently whether it's #AccessFromHome or something else.
What services have you (or have not) been able to #AccessFromHome? How does a business being accessible from home affect you? 
I haven't been able to access things like personal care or my hairdresser, but that's like anybody really. The hardships I'm facing have more to do with me being a self-employed person than they have to do with the disability.
For me and my wife,  we've been using grocery and food delivery services. We found DoorDash and SkipTheDishes have been really helpful. My wife and I were looking on SkipTheDishes the other day and we noticed how small businesses are finding ways to pivot by making their services accessible from home. For example, a lot of people with disabilities use grocery drop-off services and now restaurants allow you to order their meat pack or fish pack, or even toilet paper. You can order things like industrialized steaks and toilet paper and they'll deliver that to your door like a grocer. I think it's brilliant for businesses to look at how can they create new packages and new ways to deliver their products/content.
For the #StayAtHomeGala, it was going on in different communities across the country linking into a national event that was happening. If you got a ticket, you would get a local restaurant to deliver your meal to you and everyone from your community would be getting the same meal from that local restaurant or business. It supported local small businesses and restauranteurs but also everybody's eating the same thing. Through this online event, they are able to utilize food delivery services to bring people together. At the same time, they are able to support the local community by continuing to provide business and work for others. 
Why are you excited about this movement to #AccessFromHome and how do you see it moving forward?
This experience is turning things around and changing attitudes. More organizations are changing the narrative and it's important as a community not to focus on the things that are doom and gloom because they are happening regardless of the messages that are put out there. Instead, we need to focus more on the positive benefits of the self-discovery pieces and the self-growth coming from this situation.
I just hope that the second that things get better and we all are allowed to go back to normal that we actually don't end up taking a step backward as well. The opportunities it has opened from access from home and the progress we have made to turn things around, to think things around, or the positivity of everything that we've built up to this point. If anything, I hope that we can get back to a better normal. That is, it's not about going back to what was normal but creating a new normal that's better: get the things we didn't like and throw them, then take those things we do like and incorporate them into this new thing we're creating here right now. 
Marco Pasqua is an award-winning Entrepreneur, Accessibility Consultant and Inspirational Speaker with Cerebral Palsy. Throughout his life, Marco has been involved with a number of organizations as a spokesperson, helping to spread advocacy for persons with disabilities across Canada. As an Accessibility and Inclusion Consultant, he has worked with some of BC's biggest change-driven business leaders who are champions for more accessible, inclusive workplaces. It's through these experiences that he is helping to pave the way for all Canadians to have universal access to the programs, services and places that they live, work and play. Follow him on Twitter at @marco_pasqua.
– – – – – – – – – – – – – – – – –
#AccessFromHome Stories features people from the disability community and advocates and lived experiences at home during COVID-19. #AccessFromHome Stories is made possible by our Supporting Partners Government of Canada and CIBC.