Poem by Sunny Liz: 
It's a safe soft place to fall for an embrace of tenderness as love, to be insecure from has been given, things that Can't be changed When all we need is a bear hug, and a little sweetness that we stir in the pot, Turn off the news put down the newspaper with the bad news. Let's make some good news, and make are hearts full of songbirds That sings in the blossom tree, That's a safe and Secure place to fall.
© Liz Etmanski
Words by Liz Etmanski
My name is Liz. I have Down Syndrome. My parents are Helen and Allan. Since the Covid 19 I have been staying in Victoria with my aunt and uncle. My sister, Catherine, lives in Victoria as well. I like to write and do lots of different types of art – mostly electronically. Sometimes I go for walks to the park and nowadays I go for car rides. I always keep my distance of two metres. Pizza is my favourite food and my favourite colours are from the rainbow. I like to have catnaps around the house. I like taking photos of pretty things. And I get excited for 'Zoom' time with family.
Positive
Having help, when I have a bad foot
Having good talks and being able to talk to someone
Being able to stand on my foot, even just for a little while
Waking up to the sun through my bedroom window and hearing the birds sing
Food, water, roof over my head
Having 'me' time
Having picnics with my sister, Catherine, and her hubby, Neil, and Leona and Carl (aunt and uncle)
All of Leona's baking and Leona and Carl's hospitality
Art work (doing art)
Sitting in the sun
All the Zoom and Blue Jeans talks and hearing from family and friends
Making videos for people
Seeing pictures of my nephew Anderson
Carl (uncle) letting me use his chair when my foot is sore
When Leona and Carl put up with my crazy ways
Taking courses at my sister's university
Learning new things like knitting
Art brain (art by email project)
Making homemade pizzas with my aunt
Telephone calls from family
Life is good when you have cookies
Taking care of myself
Eating good food and drinking too much water
Being healthy
Using my singing app with my sister, Catherine. She's funny.
Doing the best I can
My dad works very hard. But it's a good thing too. As long as he does not work too hard.
Leona cleaning my hair
Baking with Leona and cooking with Carl
Being part of the planning and making of a grocery food list
…Not really
Not being able to help carrying shopping bags
Standing away from people when talking
Hugging
Not being able to go back to my place and seeing my friends
Missing my whole family
Not having a boyfriend
This crazy world
Not going to work
Not getting enough workouts
Not having 'girl talk' with friends sometimes
Not being able to go to parks
Not being able to go for dinners in restaurants (or dancing!)
Sleepovers with friends
Travelling
Not being able to purchase a large journal
I miss being independent. I am now dependant on my aunt and uncle
Being emotional
My dad works very hard. But it's a good thing too. As long as he does not work too hard.
I miss being physically close to people
Not being able to pet other people's dogs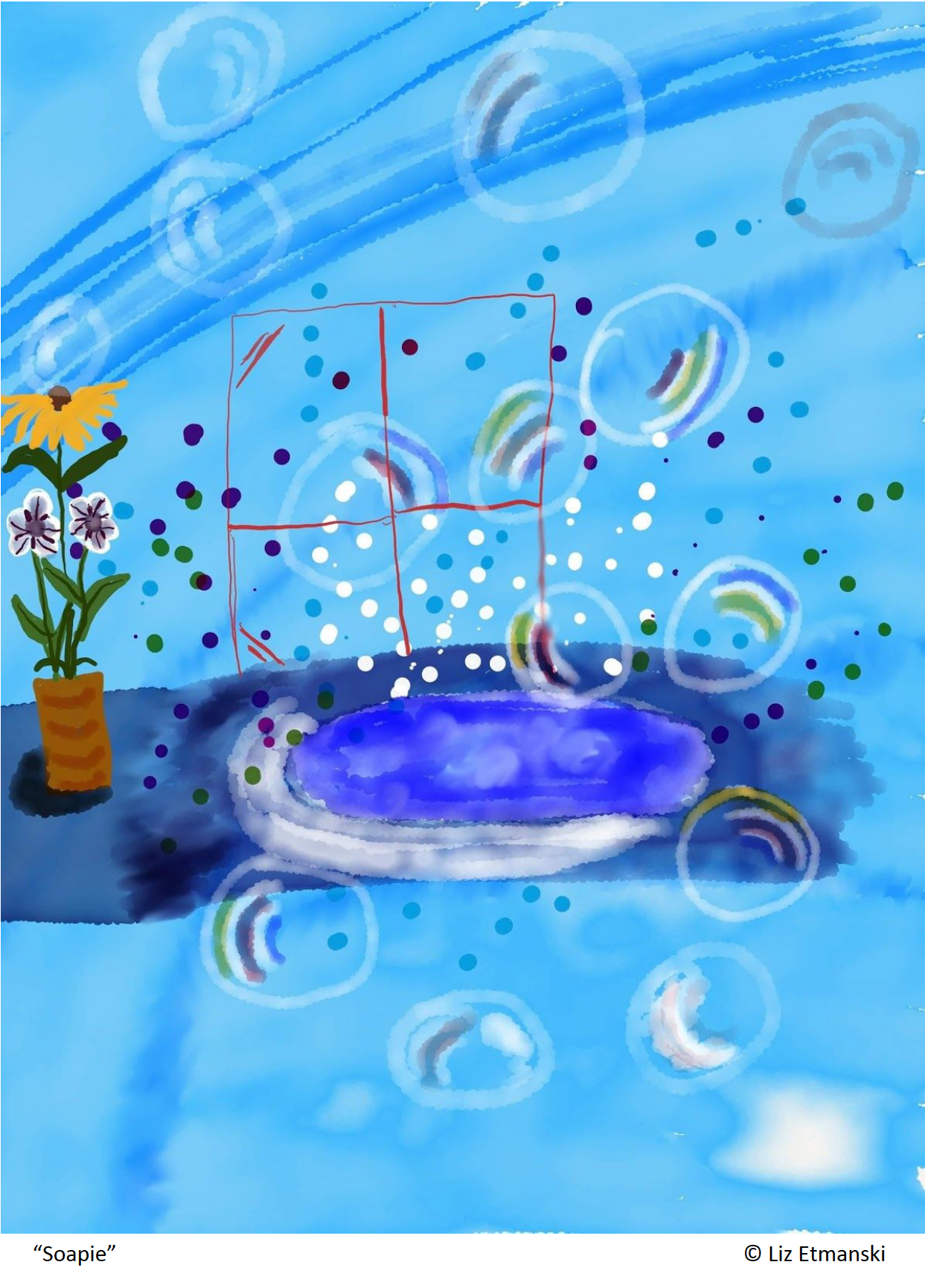 – – – – – – – – – – – – – – – – –
Words by Leona Etmanski
My husband and I are retired and involved with volunteer work (currently helping refugees settle in Victoria). We offered our house to Liz when her stepmom was diagnosed with a severe case of shingles. Liz has stayed with us lots of times in the past and we have travelled on many trips together. We weren't thinking very far ahead when this all began – everything happened so fast.  Liz has now been living with us for over 10 weeks – the longest we have ever lived together!
Living with Liz for such a long period has been a new experience for us. We had to adjust our own routines to accommodate a third person in our home.  And we have all had to adapt to this new way of living during the restrictions. Our offer to house Liz began as a temporary offer to help out a family member and it has now transformed into something much more long term and rewarding.  Even though Liz lives on her own in Burnaby and misses her independence, she has adapted and influenced our daily structure and schedule.  She sometimes needs assistance and it can be quite frustrating at times to figure out what she wants or needs.  Or even to figure out how to have alone time for ourselves. We have managed to work out something that works for all of us; including which night we watch a romantic comedy! 
Things did become more intense a couple of weeks ago when (after consulting with her parents) we had to take Liz to emergency on a Saturday night. Her foot was swollen and was not getting any better. At the hospital, she was diagnosed with a foot infection.  She was unable to walk on her foot for a couple of weeks but is slowly becoming mobile. The hospital staff at Royal Jubilee Hospital were kind and thorough. In spite of the COVID19 restrictions, I was able to accompany her into the consulting room.  
We have rediscovered her 'off the wall' sense of humour and have enjoyed watching her creative process while she tackles some of her art and writing projects.  We now appreciate the steps she goes through to arrive at her final product.  She really loves interacting with people on a daily basis and thrives on any feedback she receives. We have had some heavy personal conversations and huge belly laughs together.  
We are grateful to be on the receiving end of her unconditional love and trust.  She truly does enjoy all the things she has listed above and we love seeing her learn new things. She looks at the world around her with her artist's eye and was beginning to enjoy her daily walks to the park before the foot infection. Unexpectedly, her presence has provided us with a focus to the days and weeks and months.  Liz has enriched our lives and we can honestly say that this new relationship with her during the pandemic is a huge, positive outcome.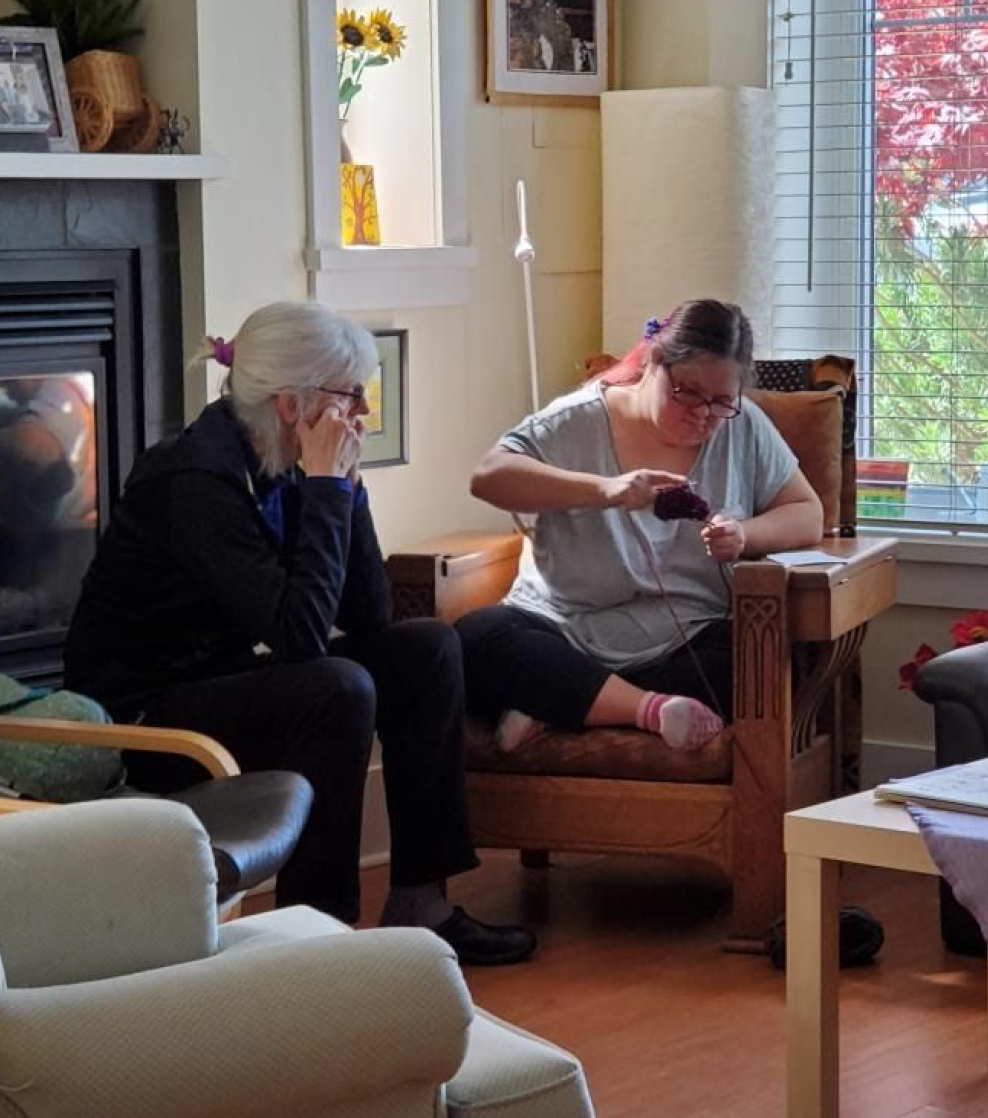 Liz & her aunt Leona spending time together at home
Elizabeth Etmanski is an Artist based in the Lower Mainland of British Columbia, Canada. Having won an award for her artistic passions in Secondary School, she went on to become the first person with Down Syndrome to graduate from the Emily Carr University of Art and Design. She also writes poetry, which deals predominantly with the themes of love and overcoming personal obstacles. She is currently in Victoria and staying at home with her relatives.
– – – – – – – – – – – – – – – – –
#AccessFromHome Stories features people from the disability community and advocates and lived experiences at home during COVID-19. #AccessFromHome Stories is made possible by our Supporting Partners Government of Canada and CIBC.