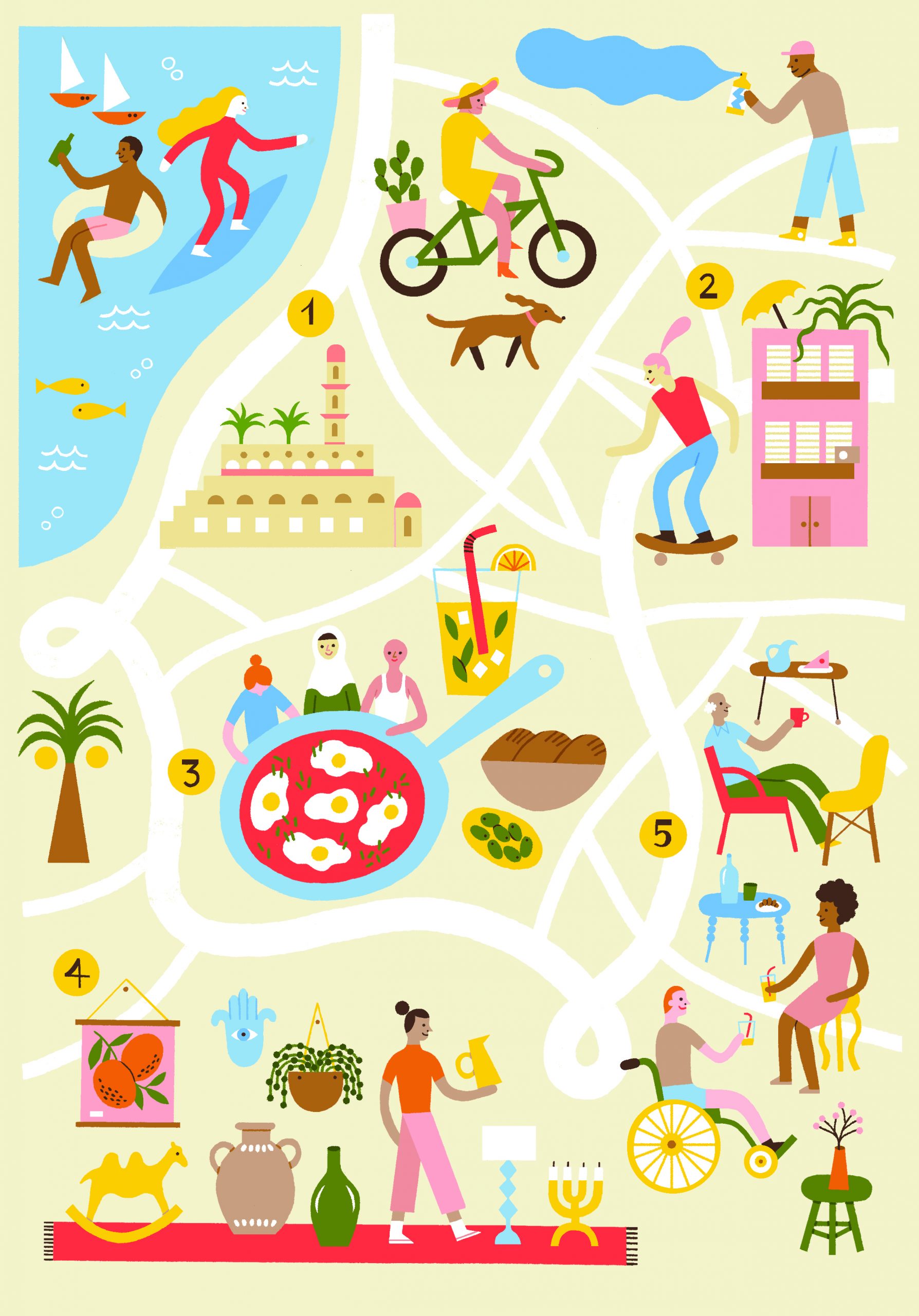 Growing up, I spent every summer visiting family in Israel, so I've watched Tel Aviv flourish into a technology hub with a buzzing startup ecosystem. For me, as an entrepreneur, it's an inspiring place full of life and energy. Jaffa is where you feel the heartbeat of the city, though. The ancient port is a vibrant intersection of Arabic and Israeli flavours and culture, and it's right along the beach. Although the cobblestone streets of Old Jaffa can be tricky to navigate in a wheelchair, there are plenty of accessible spots.
Tayelet is a paved promenade that winds along the seashore and connects several beaches. Ramps lead down to the water in a few spots, and beach wheelchairs are available to borrow to navigate the sand and waves. I could spend hours here – the energy reminds me of California's Venice Beach Boardwalk.
The alleys of Florentin are a well-used canvas for the residents of this trendy neighbourhood. I remember being blown away by a mesmerizing pair of eyes painted on the side of a building, but who knows if they're still there – the beauty of street art is that it's always changing. Note: the terrain is a bit rougher at parts if you dip into deeper alleys, but SO worth it!
Dr. Shakshuka isn't a glamorous restaurant, but it embodies something I love about Israel: people making the most of what they have. With its counter service and laid-back atmosphere, this place offers an authentic experience – and the best shawarma pita – just around the corner from the Jaffa Clock Tower.
Jaffa Flea Market is a bustling, colourful experience. Stalls lining the narrow alleys sell everything from spices to furniture. I have a collection of hand-painted bowls and plates that I add to every time I visit. A newer section of the market features designer clothing and handmade goods by Israeli artists.
Cafe Puaa is nestled within Jaffa's flea market, making it a great place to people-watch on the patio or escape the heat. It has a very eclectic, bohemian feel with mismatched furniture and cozy couches. I love dropping by for a coffee or a plate of mujaddara, a rice and lentil dish with onion, herbs and yogurt.