Los Angeles is one of my favorite cities to visit within the United States. It is the home of Hollywood and a mecca for movie fans with countless studios, the famous Walk of Fame, and celebrity-sightings galore. It is also a city vibrant with nightlife, shopping and an unrivaled food scene — truly making it my heaven on earth. 
As a wheelchair user, I have been to LA numerous times and I can confidently say that I have never had a bad experience. Not only is the transportation in Los Angeles incredibly wheelchair-friendly, but most hotels have ADA compliant rooms and the abundance of activities makes it easy to find something that meets both your interests and accessibility needs. 
If you're planning an upcoming trip to Los Angeles as a wheelchair user, here are my top tips for a trip of a lifetime.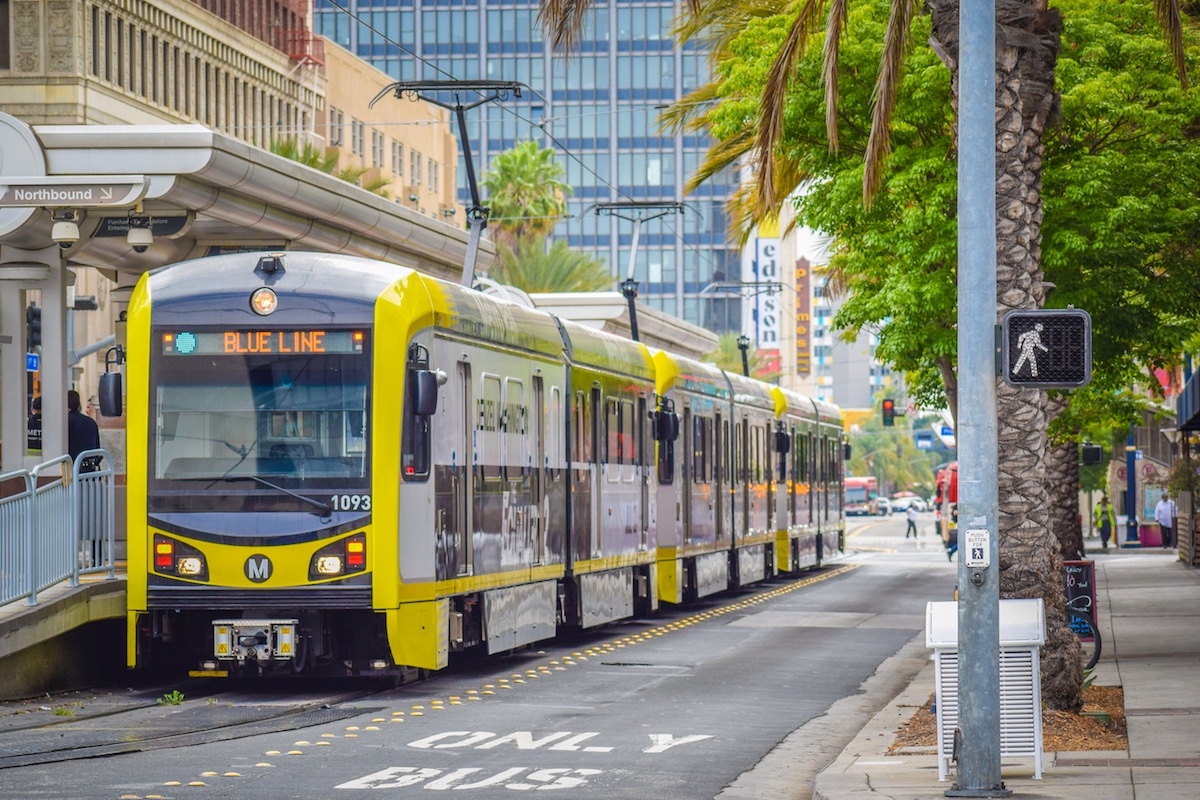 The Blue Line in Downtown Long Beach. Photo by Brian Addison.
As I mentioned, transportation in Los Angeles is very wheelchair accessible, making it quite easy to navigate the city. Here are some of your options for getting around as a wheelchair user: 
Metro – The Los Angeles Metro is one of the most wheelchair user friendly trains in the United States and definitely the best way to get around LA. The metro network includes 80 stations in total, all of which are fully wheelchair accessible and barrier free.
Buses – The buses in Los Angeles are fully wheelchair accessible, offering a great way to get around the city. Each bus is equipped with space and tie-downs for two wheelchairs. 
Taxis – There are many taxi companies that offer wheelchair accessible vehicles within the metropolitan area. Some are vans with side entry ramps, while others have rear entry access. In general, wheelchair accessible taxis do not need to be pre-booked, but you should give yourself plenty of time as wait times of 30-60 minutes are not uncommon. 
Uber / Lyft – Ride-share companies are becoming increasingly popular, and luckily, both Uber and Lyft operate wheelchair accessible vehicles within the city of Los Angeles. I found that this was a very convenient way to travel within the city as a wheelchair user, as rides could be called on demand from my smartphone. As with taxi services, please make sure you are giving yourself plenty of time as demand for these vehicles is high; as such, vehicles cannot always be dispatched immediately. 
Wheelchair Accessible Van Rentals –

If you like flexibility in your travels and do not always want to wait around for taxis / public transit, renting an accessible vehicle may be a great option for your trip. A quick google search will bring up plenty of options within L.A. and the surrounding areas, but a few popular options include

Aero Mobility

,

Mobility Works

, and

Wheelers

. I've rented a wheelchair accessible van a few times in LA, and although it's super convenient (especially if you're planning to travel outside of the city limits), it is certainly a pricey option. You can expect to pay $150 US per day + mileage, and of course parking within the city adds to this cost considerably.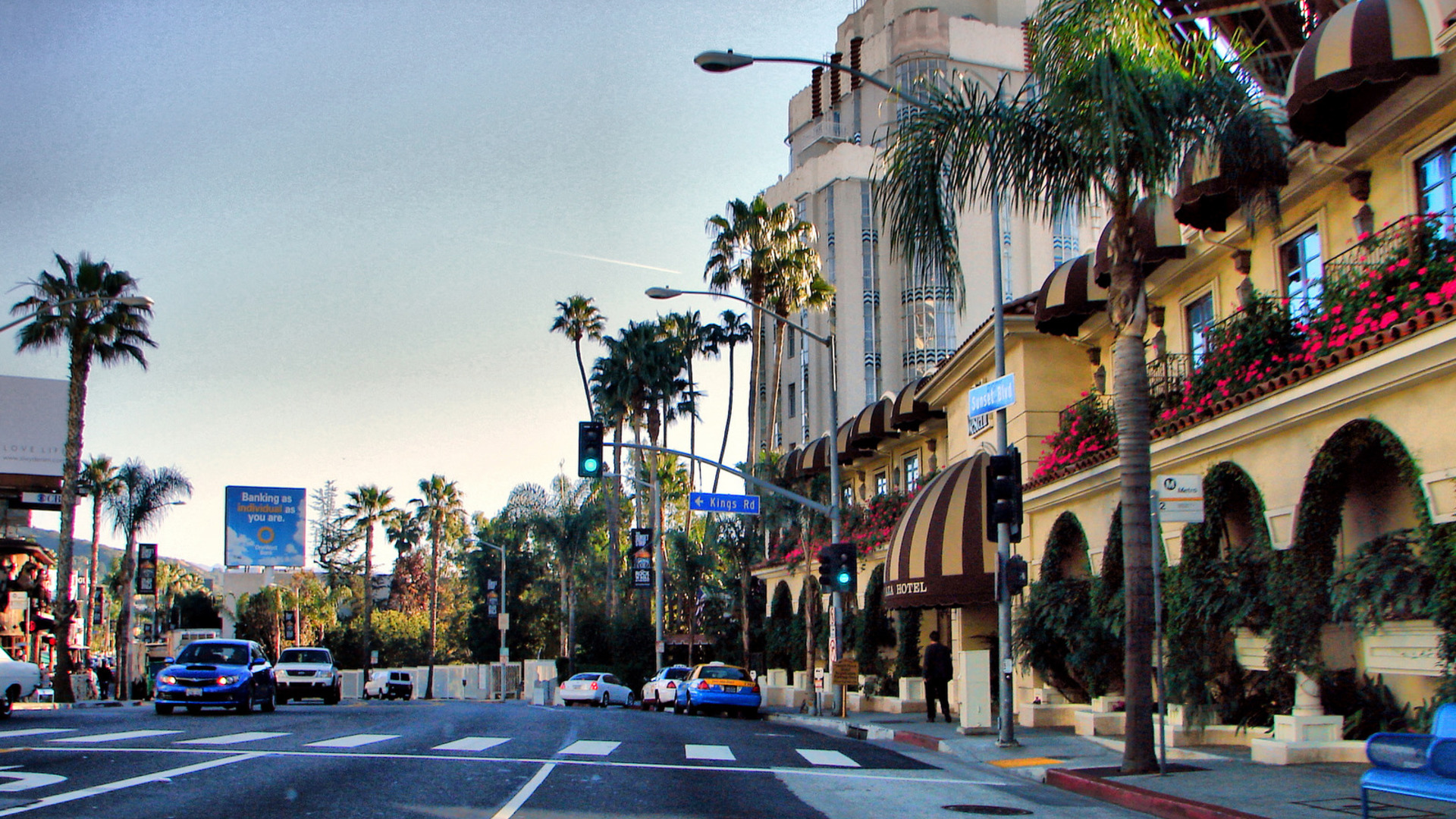 Picking a good place to stay is an essential part of a successful trip to LA. The good news is that most hotels in LA are quite wheelchair accessible, as they are required to meet ADA standards by law. As such, no matter which area you choose to stay in, you should have no problem finding several options that meet your accessibility needs.
The bad news is that LA is very spread out; therefore, choosing the right location for your interests is crucial (especially if you're planning on using public transit to get around). For example, you wouldn't want to stay in Santa Monica if the majority of your sightseeing and activities will be taking place in Downtown LA. 
Here are some of the main neighborhoods / areas of the city I would look into.
Hollywood – T

his is a very central area and a safe bet for first time travelers. It's definitely touristy, but more than likely it's close to a lot of the spots you will want to visit such as the Hollywood Walk of Fame.

Downtown LA – This is a great area to stay in if you enjoy nightlife and are looking for a true city feel. The downside is that it is quite far from the coast and traffic can get pretty bad, especially during rush hour.
Santa Monica – T

his is a great option if you're traveling with kids, as this area is jam-packed with entertainment. It does, however, get quite busy and getting to Hollywood could take 30 minutes or more by car.

West Hollywood – 

A very hip area, known for its excellent bars, restaurants and cafes. It is also smack in the middle of all the other neighborhoods listed here, so it's a good option if you're planning to visit multiple areas. 

Beverly Hills – T

his is the place for you if you're looking for luxury, glamor and world-class shopping. The downside, of course, is that it is quite expensive!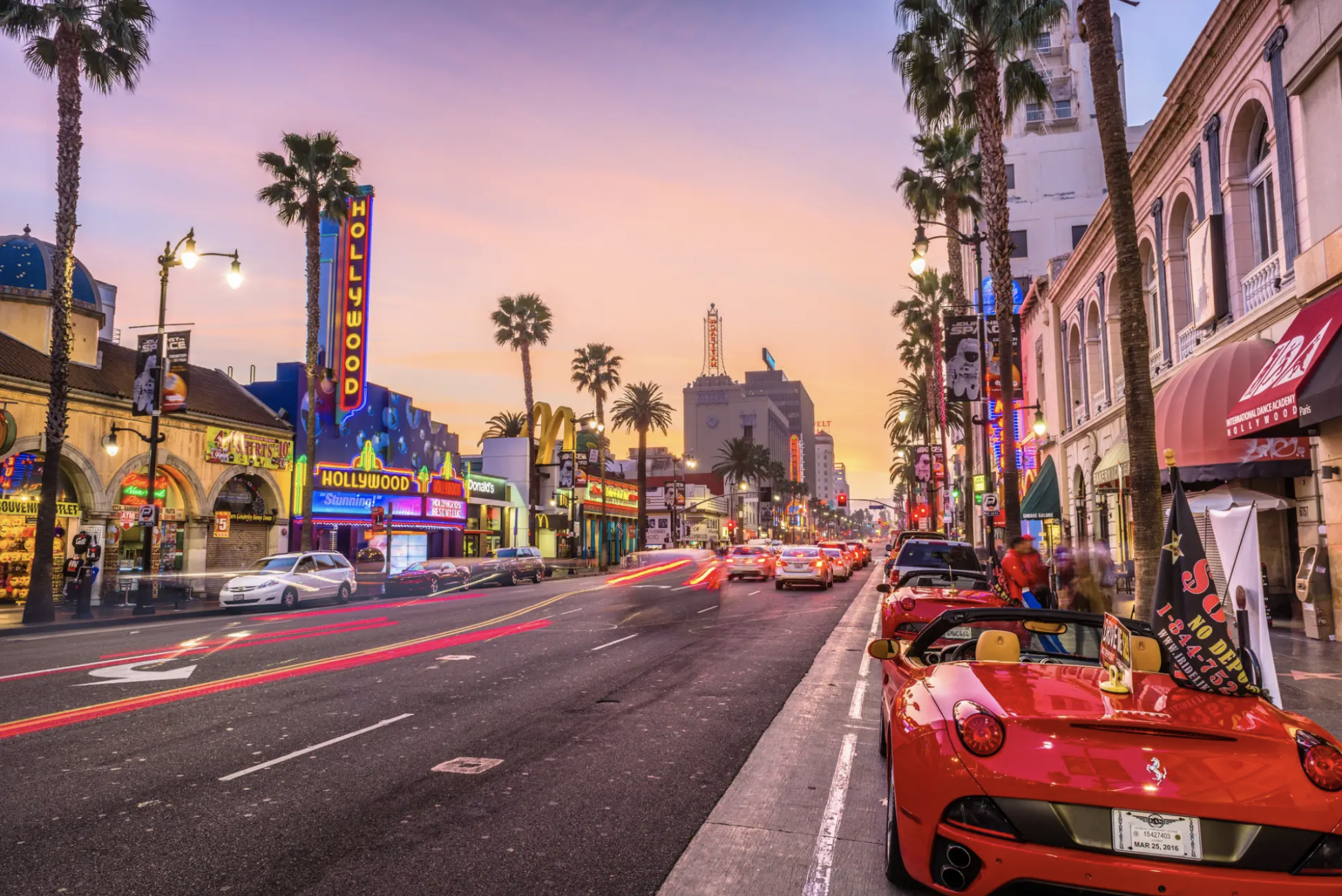 Take a stroll down Hollywood Boulevard
Hollywood Boulevard is one of the most famous streets in the world and draws millions of tourists to Los Angeles every year. There are plenty of things to do on this famous street as shopping, dining, and entertainment are abundant; however, most people go to see the Hollywood Walk of Fame, where over 2,500 pink stars line the sidewalk in honor of some of the greatest icons that have left their mark in the film, radio, television and music industries. The Walk of Fame stretches for 10 blocks on both sides of Hollywood Boulevard and all the sidewalks here meet ADA standards, with curb cuts at each intersection.  
While you're on Hollywood Boulevard, also check out the famous Hollywood and Highland Center where you will find world-class restaurants, shops and, most famously, the Dolby Theater (home to the Academy Awards). Other fun attractions include the TCL Chinese Theater IMAX, Madame Tussauds Hollywood, and Starline Tours (wheelchair accessible tours are available here, although I would suggest inquiring in advance to ensure your needs can be met).  
Santa Monica Pier is one of L.A.'s most popular attractions. There is an amusement park perched right on the pier (Pacific Park) which is where you will find the enormous, colorful ferris wheel that is a well-known landmark to locals and tourists alike. It is a buzzing place full of buskers, fair food (think cotton candy and fresh popcorn), arcade games, and not-so-scary amusement park rides that will keep the whole family entertained. There is even an aquarium with several exhibits featuring sea life, hands-on displays and fun interactive spaces. 
Although some of the pier is made from a smooth surface, a lot of it is still made from older wooden planks, so it does get bumpy if you're using a wheelchair. I recommend giving yourself lots of time here as you may want to take a break from the bumpy terrain by visiting the several shops and restaurants along the pier. If you're looking for even more retail therapy, take a detour and check out the 3rd Street Promenade (just East of the pier). This is a pedestrian only area home to more than 80 retailers, ranging from fresh farmers markets to designer fashion.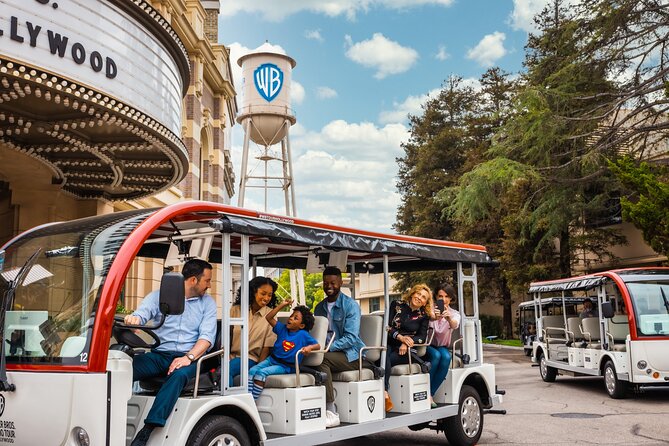 Visit movie sets at the Warner Brothers Studio Tour
If you're a movie buff, you certainly can't visit LA without doing the Warner Brothers Studio Tour. You will get a three-hour visit where you can tour real working Hollywood studios including famous backlot streets, soundstages, sets and craft shops. I've heard that no two tours are the same, but when I went, my group's tour guide took us behind-the-scenes of some of my favorite shows like Gilmore Girls, Friends, the Big Band Theory and Ellen. We also got to see original props and costumes used in films from Wonder Woman, Harry Potter and the Fantastic Beasts. The tour is fully wheelchair accessible and they even offer ASL interpreters if needed (they just ask that you contact the Tour Center 72 hours prior to your visit to ensure arrangements can be made).
I don't think any trip to Los Angeles would be complete without a little bit of shopping! Hit up Rodeo Drive for a true Beverly Hills experience, which is famous for designer labels and high-end fashion like Bulgari, Burberry, Cartier, Celine, Chanel, Coach, and Dior. Melrose Avenue is another great shopping district with an endless amount of boutiques and dining options (here you will also find a ton of trendy spots for Instagram photos if that's your thing). The Grove is a must-do if you're looking for well-known retailers like Banana Republic, Gap, J-Crew, Sephora, Nordstrom, Nike, Apple and more. The Grove also has a wheelchair accessible double-decker trolley that travels along First Street between The Grove and The Original Farmers Market, taking you on an exciting tour of the property.
Spend a day at Universal Studios Hollywood
Universal Studios Hollywood is a popular theme park that is home to many incredible attractions, rides, shows and tours. It is also unique due to the fact that it has its own working studio, which has created shows and movies for the past 80 years. The Wizarding World of Harry Potter was definitely my favorite area of this park, and makes the park worth visiting all on its own. You can experience the mysteries of Hogwarts castle, visit the shops of Hogsmeade, and sample fare from some of the wizarding world's best-known establishments (the butter beer is a must)! Even if you're not a huge Harry Potter Fan, I promise you will have so much fun here. Universal's attention to detail is immaculate and you will feel like you're immersed in so many different worlds as you navigate through the park. 
Unfortunately, most rides do require you to transfer out of your mobility device and into the seat of the ride, but the queues are all fully accessible. With that being said, going on the rides is only a small portion of the excitement at Universal, anyway — there is so much to see and do by just walking around, seeing the shows, and meeting characters. I would recommend doing the 60-minute Studio Tour, however, as it is fully wheelchair accessible and will give you a much more in-depth look at the property than you would get if you were navigating around solely on your own.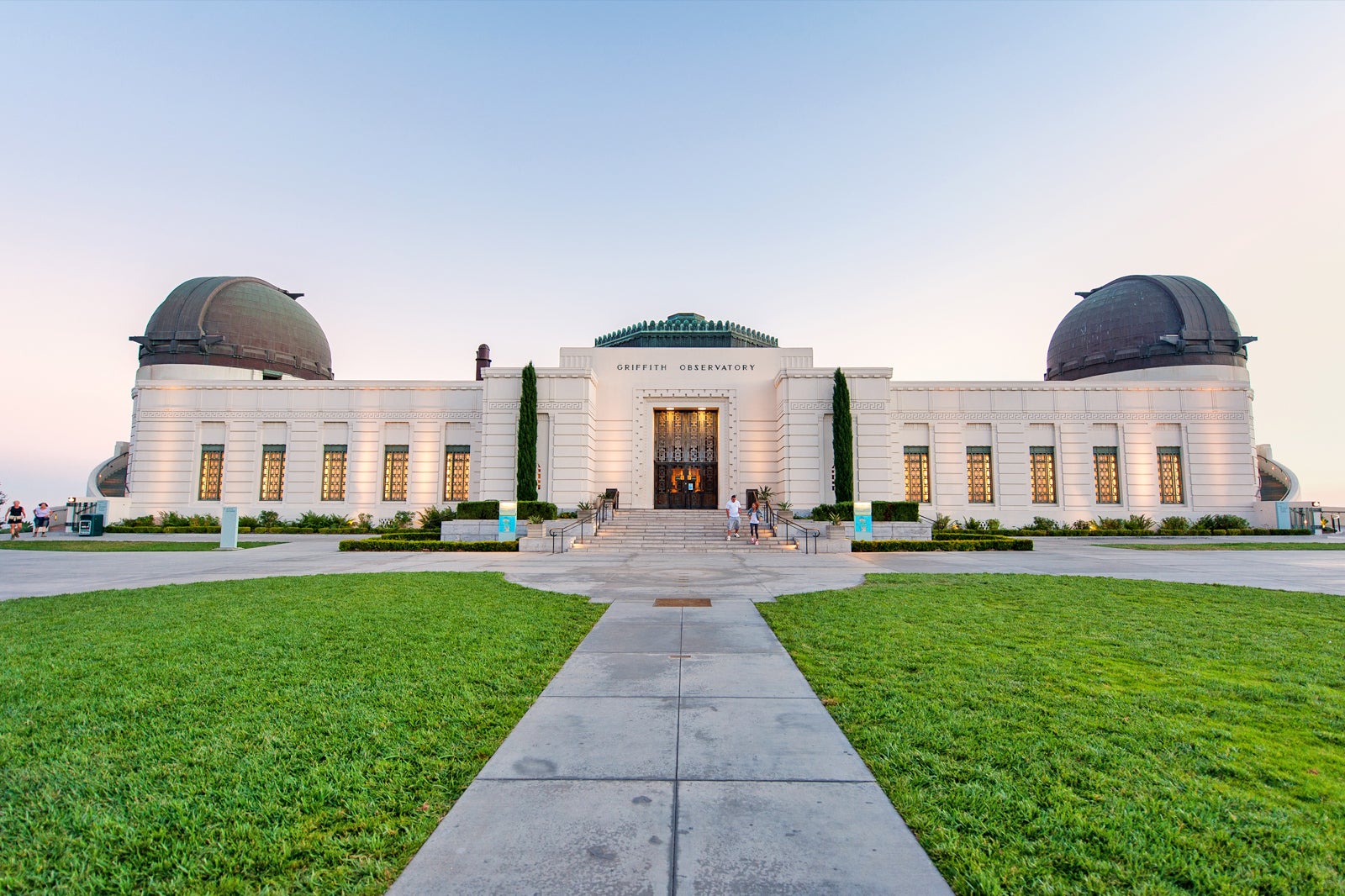 Stargaze at the Griffith Observatory
The Griffith Observatory is one of L.A.'s greatest cultural attractions, perched high in the Hollywood Hills — 1,134 feet above sea level. It is a wonderful spot to stargaze and learn about the cosmos as you have the opportunity to look through telescopes, explore exhibits, and see live shows in the Samuel Oschin Planetarium. On top of stargazing, the Griffith Observatory is also an incredible place to take in the breathtaking views of the city. It's wraparound terraces offer panoramic views of the Pacific Ocean, the Hollywood Sign, and the entire metropolitan area of LA. All areas of the observatory are accessible and assistive listening devices are available for most shows and presentations. 
Feature Image: Olenka Kotyk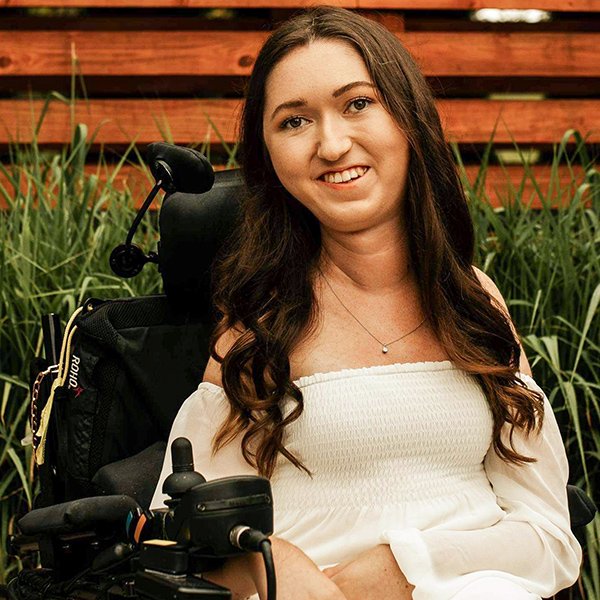 About the Author
Tori Hunter is a writer and travel enthusiast, passionate about redefining the way we view accessibility and the disabled experience. She has worked alongside numerous organizations to help dismantle access barriers, and in her free time, she likes to share her adventures as a wheelchair user on her Instagram @torihunter.blog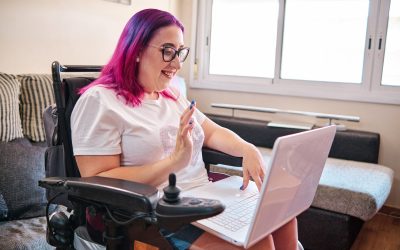 In a world that's constantly evolving, progress often hinges on our ability to embrace diversity and inclusivity. Yet, there's one facet of diversity that has often been overlooked: the inclusion of people with disabilities in the workforce. That's where National...