Featured photo: Sylvia Longmire
Looking for ideas for your next trip? These 7 disabled influencers are creating travel content from accessible travel tips, to accessible destinations, to accessible trails. Give them a follow and explore what it's like to travel with a disability. 
Cory is no stranger in the travel community and one of the OG bloggers representing disabled travellers. He started his blog Curb Free with Cory Lee in 2013 as a way to share his experiences as a wheelchair user that travels. He provide tips and accessibility reviews on cities, hotels, transportation, attractions, and more. Today Cory is full-time travel blogger and has been to all seven continents.
Sylvia is the founder of the award-winning Spin the Globe travel blog where she shares her adventures traveling around the world in a power wheelchair. She focuses on the wheelchair accessibility of her destinations, encouraging fellow wheelchair users to explore the world. Her work has been featured in various publications, has published three accessible travel-related books as well as created and produced over 130 travel-related videos.
Based in Calgary, Canada, Kelcie is one-to-watch in our list. From outdoor accessibility to accessible travel, disability advocacy to lifestyle, Kelcie's personality and content will get you inspired and entertained at the same time.
Marlene is a Deaf travel content creator and blogger behind Deafinitely Wanderlust. She has been advocating for more accessible travel and challenging the norms of travel around the world to help form a more inclusive and accessible experience for all. She is a great storyteller, sharing her own experiences as a Deaf traveler but also amplifies other Deaf and Hard of Hearing travelers' travel stories on her platform.
Pratik is a part-time disabled blogger based in Canada with roots in the Himalayas. He creates instagram content around disability, wheelchair accessibility and travel.
Kristin is the passionate traveller behind the accessible travel and lifestyle blog Sand In My Wheels. She is based in Toronto and works as a Speech-Language Pathologist. She and her husband have traveled a lot throughout Canada and the US, and also to more exotic destinations like Bora Bora, Thailand and Mauritius. She shares tips, tricks and personally curated and experienced accessible itineraries both on her blog and her Instagram.
After being diagnosed with FSHD (a form of Muscular Dystrophy), Tali realized the various challenges in traveling as a disabled person. She made it her mission to rediscover the world with this new perspective. She shares tips on accessible places and her own experiences as a wheelchair traveler from her home country of Israel to all over Europe.
Who else should we add to this list? Let us know below!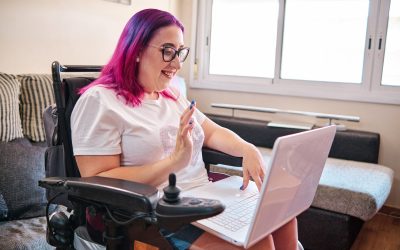 In a world that's constantly evolving, progress often hinges on our ability to embrace diversity and inclusivity. Yet, there's one facet of diversity that has often been overlooked: the inclusion of people with disabilities in the workforce. That's where National...