The City of Surrey is located on the outskirts of Vancouver. As one of the fastest-growing and most multicultural cities in Canada, there is always so much to explore, including many of their expansive green spaces and beaches. 
 Our team at AccessNow had the opportunity to check out a few trails within Surrey to see how well they could be navigated by someone using a mobility aid. "Through our work with the AccessNow team, we are further advancing Surrey as Canada's most accessible city, ensuring that people of all ages and abilities can fully participate in City life," said Tara Cleave, Manager of Support Services and Accessibility at the City of Surrey. 
 We had AccessNow Mapper, Jenna Reed-Cote check out all that these trails had to offer in her manual wheelchair. The best part is that many of these trails were almost entirely accessible, offering smooth terrain and accessible washrooms on route. 
 "We are proud of our commitment to providing accessible and inclusive services, programs and opportunities for all members of our community. We thank AccessNow for their partnership and support as we press forward to map our parks and trails in order to empower people of all abilities to discover the accessible outdoors".
 Here are a few amazing accessible trails in Surrey, BC!
From picnic shelters and play areas to scenic gardens and nature trails, there is so much to do at Fleetwood Park. The nature trail loop in the park is 1.8 kilometres long and has a mix of partially accessible and accessible terrains (it is loose gravel for the most part, but there are some paved areas). Jenna was able to navigate the path in her manual wheelchair, but it does get bumpy, so it might be a trail to avoid if you're looking for completely smooth riding. There are also several slopes which may be a challenge for some.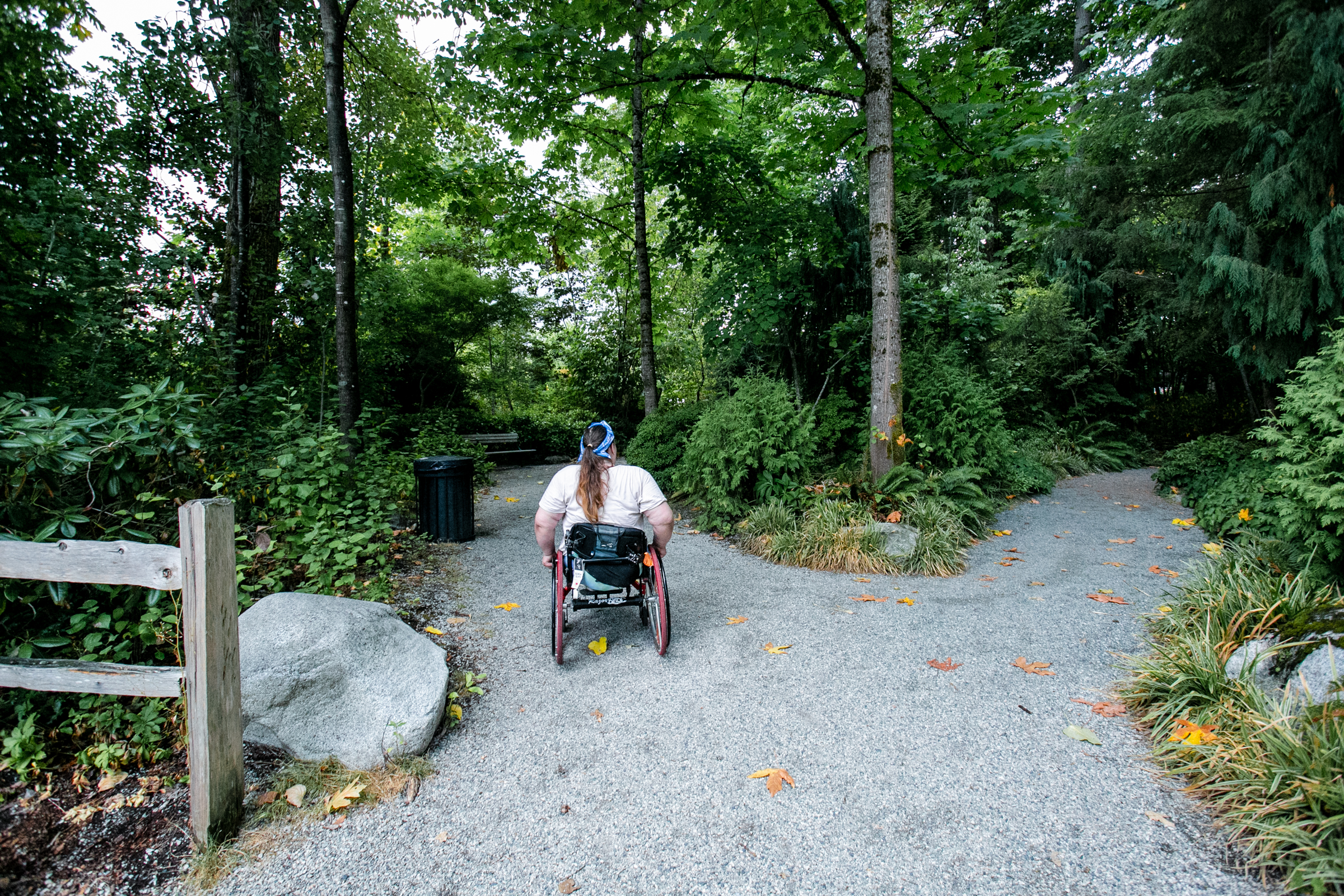 Our AccessNow Mapper, Jenna at the entrance to the trail. The path is loosely packed gravel.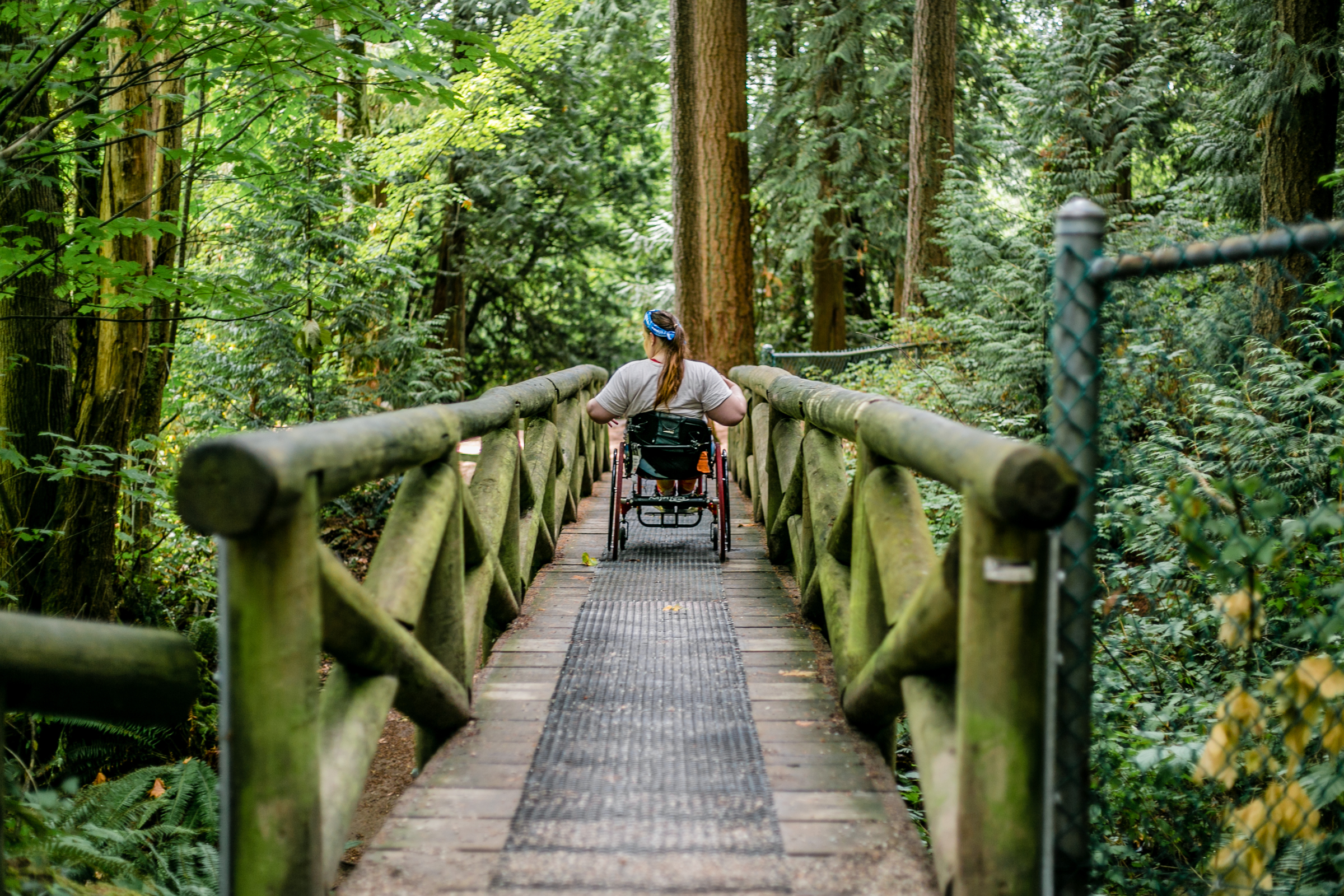 At one point on the trail, you will come across this beautiful bridge which crosses over a stream. Please be cautious as the wooden planks may be slightly uneven.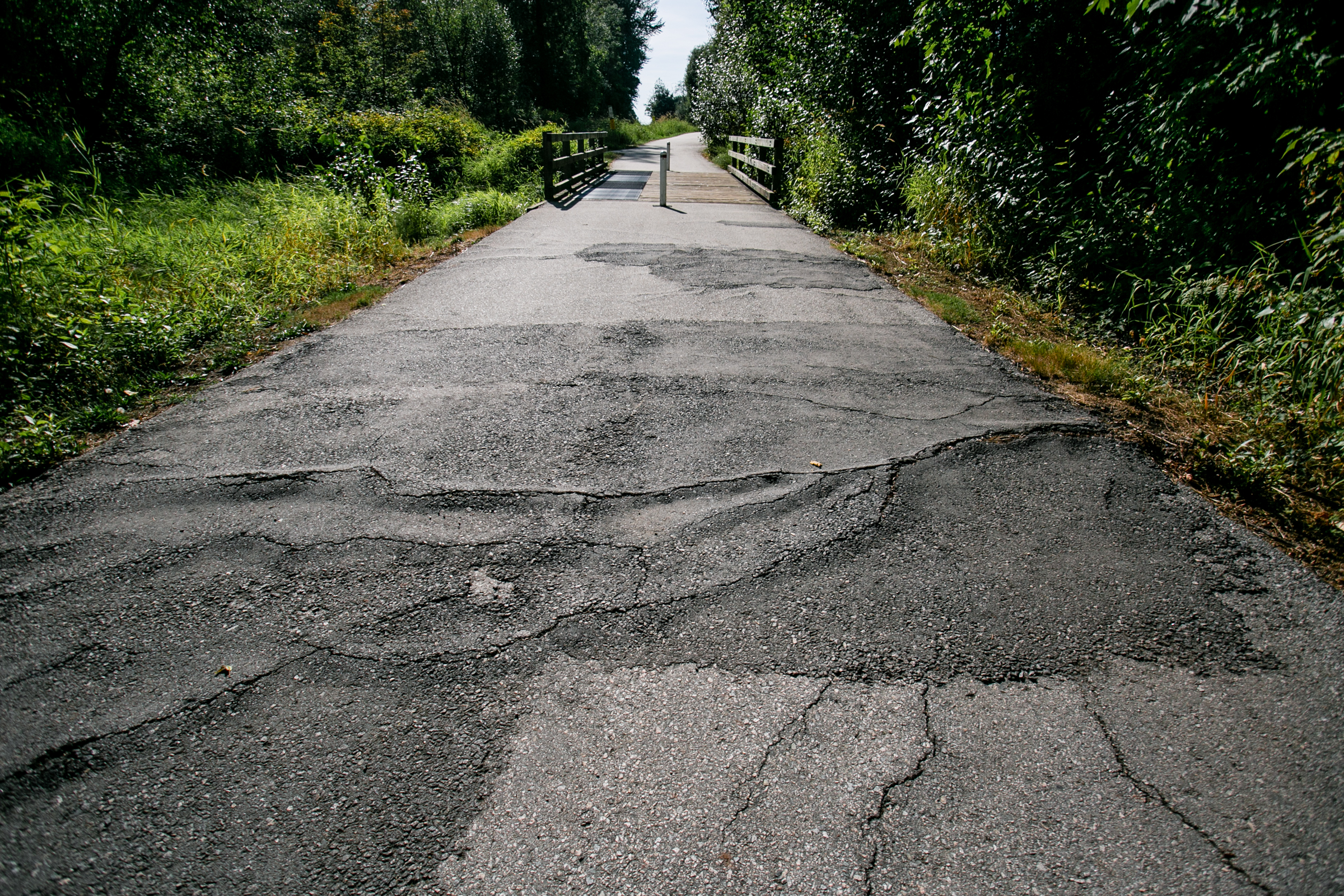 The paved parts of the trail are mostly smooth, but there are some uneven areas as shown here.
Along the trail, there are two spacious bathrooms with handrails. Unfortunately they do not have automatic door openers, but the doors are fairly lightweight. There are also many picnic tables and benches along the path for those who would like to take a break, birdwatch, or simply enjoy the scenery.
If you're looking to check out one of the playgrounds, the splash pad is most accessible as it is floored in cement and fairly easy to navigate. The traditional playground, however, is covered in wood chips and therefore inaccessible to most wheelchair users.
This park is 260 hectares of meadow and forest on the banks of the Serpentine River headwaters in Guildford. It is an ideal place for a family day out, with picnic tables, the Tynehead Fish Hatchery, and spectacular nature trails.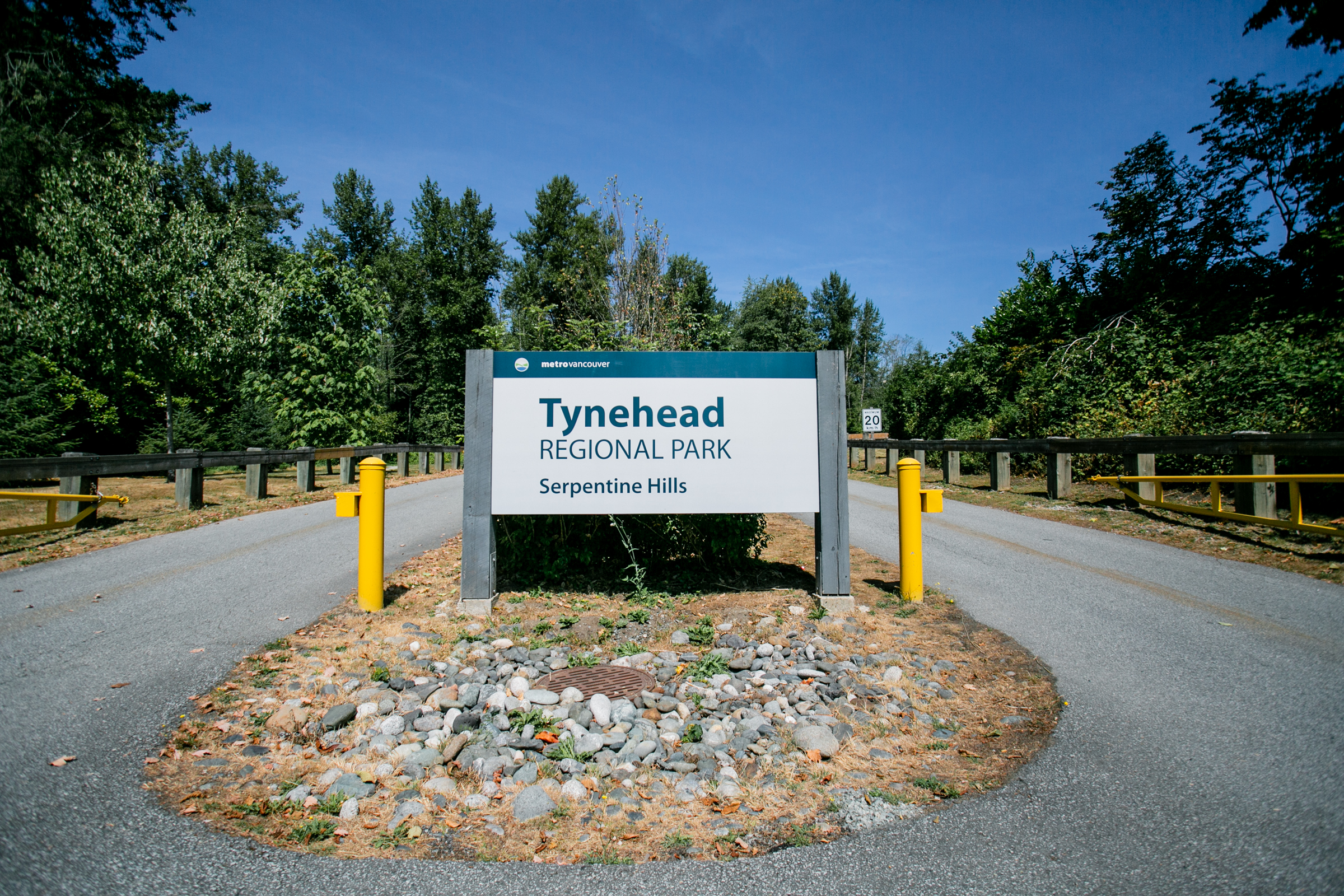 The entrance to Tynehead Regional Park. There is a parking lot with two designated accessible parking spots nearby.
The Tynehead Perimeter Trail was completely paved and easy to navigate in a wheelchair, with the exception of some of the resting areas which were surrounded by loose gravel. With that being said, there were still tons of accessible benches along the trail, so finding a place to rest was not a concern.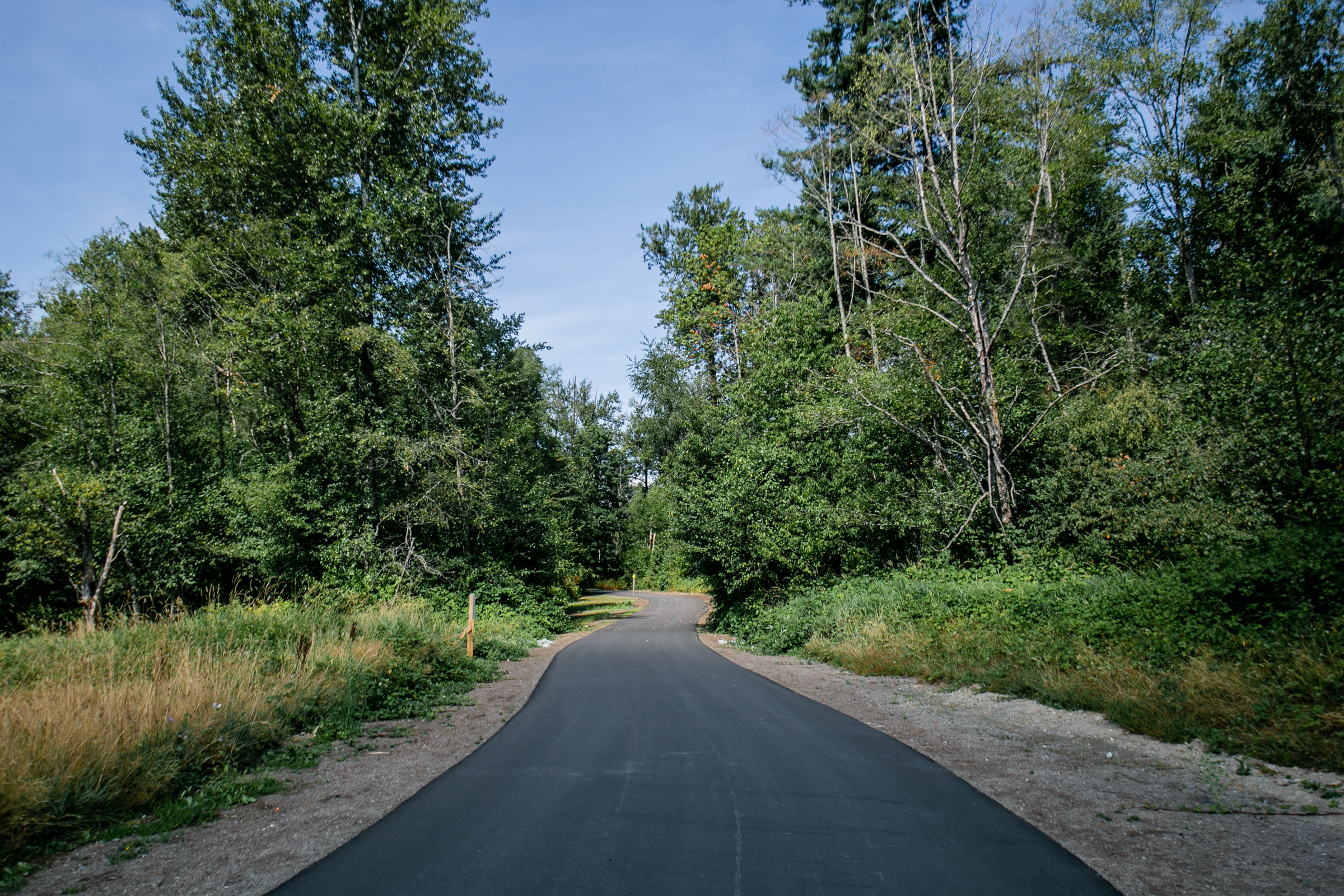 The trail had very smooth terrain throughout.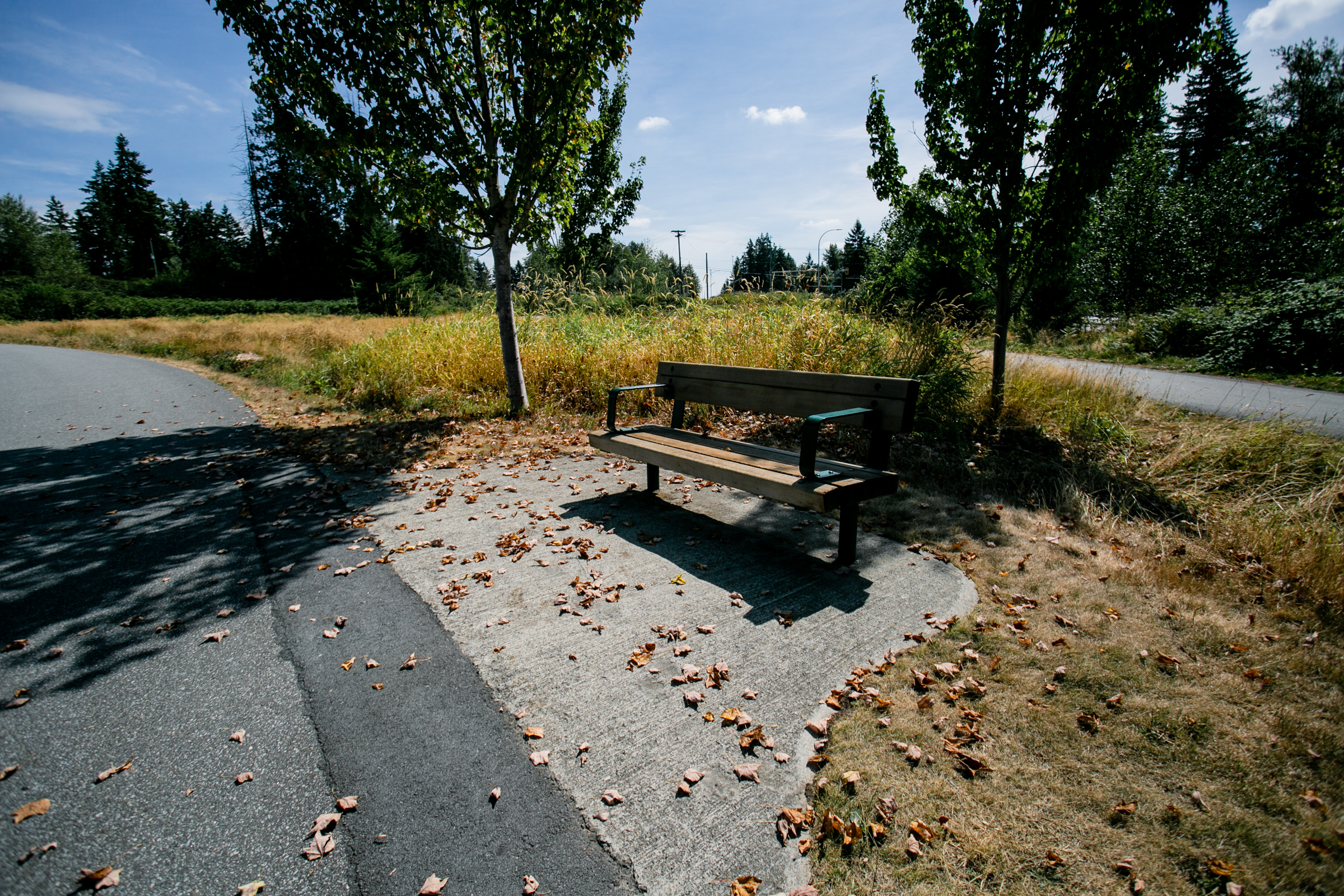 One of the accessible rest areas on the trail.
Jenna did notice that there were some slight to moderate inclines which might be hard for someone in a manual wheelchair, but otherwise it is a very smooth, leisurely trail. 
We do suggest being cautious (especially with pets) as this park has a lot of wildlife, and is a habitat for owls, hawks and coyotes. The City of Surrey also tells us that the headwaters of the Serpentine River are spawning and rearing habitats for trout and salmon. The various trails and viewing platforms within the park offer great viewing for spawning salmon in October through December. 
There is an accessible gender-neutral private stall washroom in this park, as well as accessible portable bathroom facilities.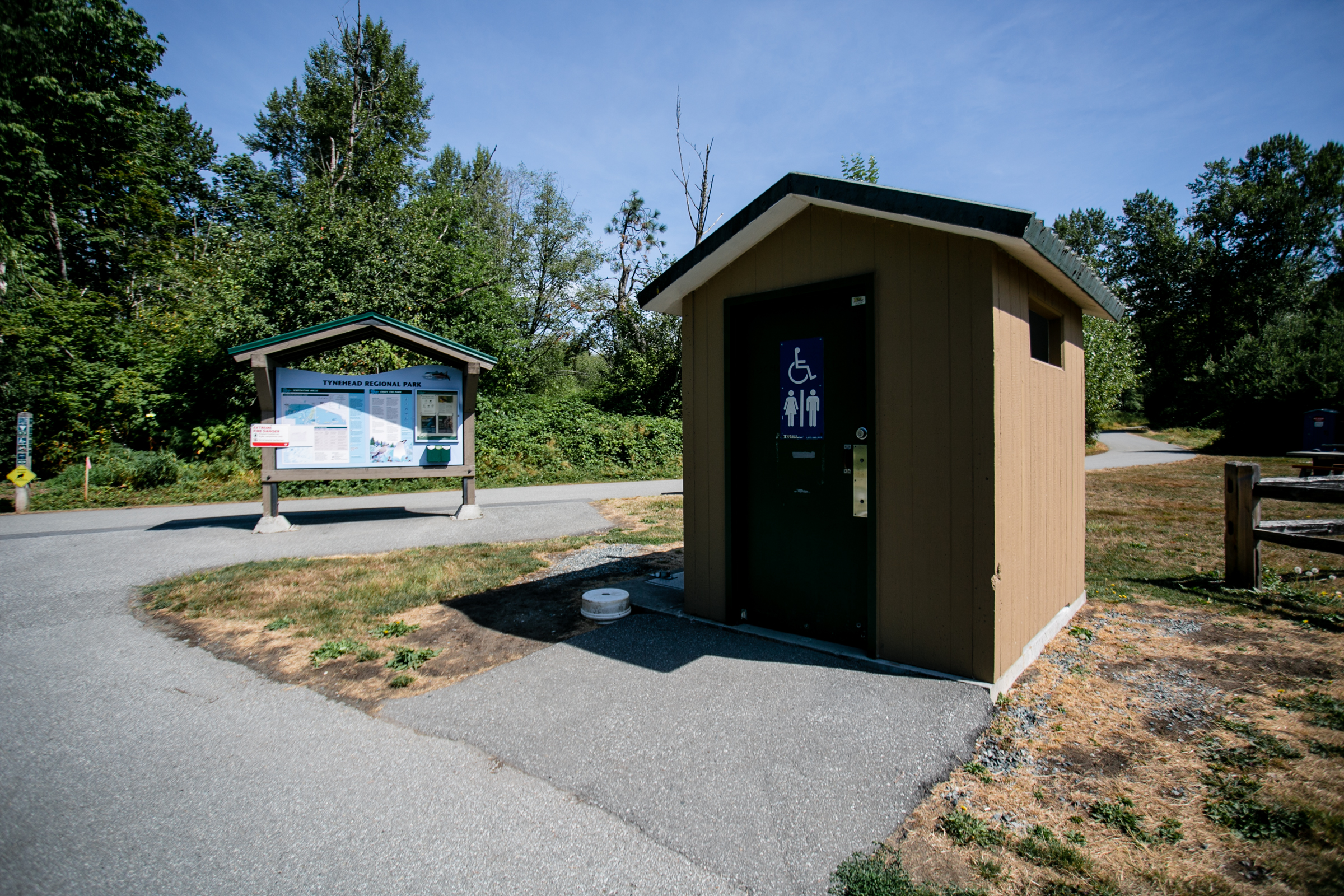 The accessible, gender-neutral restroom in the park.
The trail at Bear Creek Park is mostly accessible, with a mix of smooth paved paths and loose gravel / dirt that is a bit bumpy and uneven at times. In some areas, the terrain has a lot of cracks and may require some caution to traverse. However, there are very few slopes overall so it is a great option for those who prefer a flat stroll.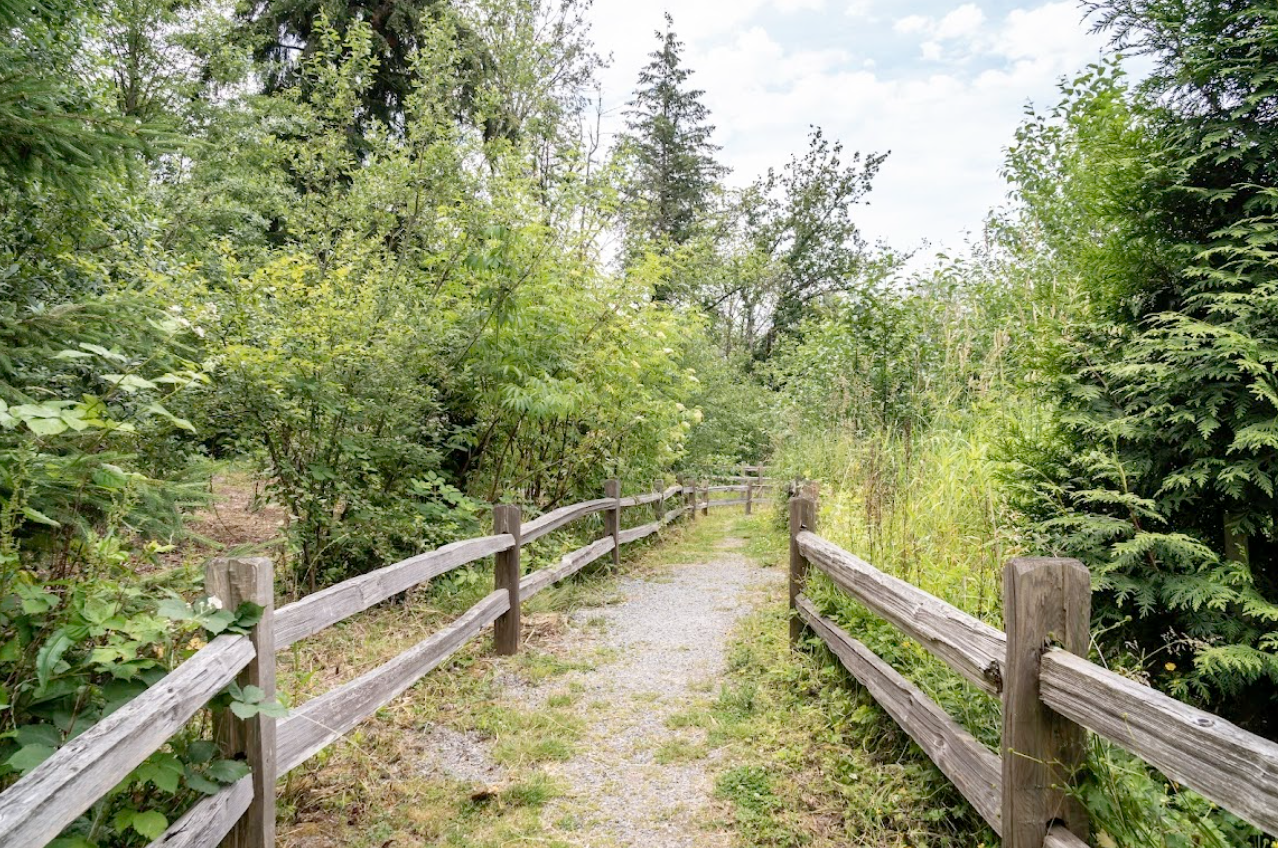 This is what some of the unpaved areas of the trail look like. These areas are a mix of loose gravel and grass patches.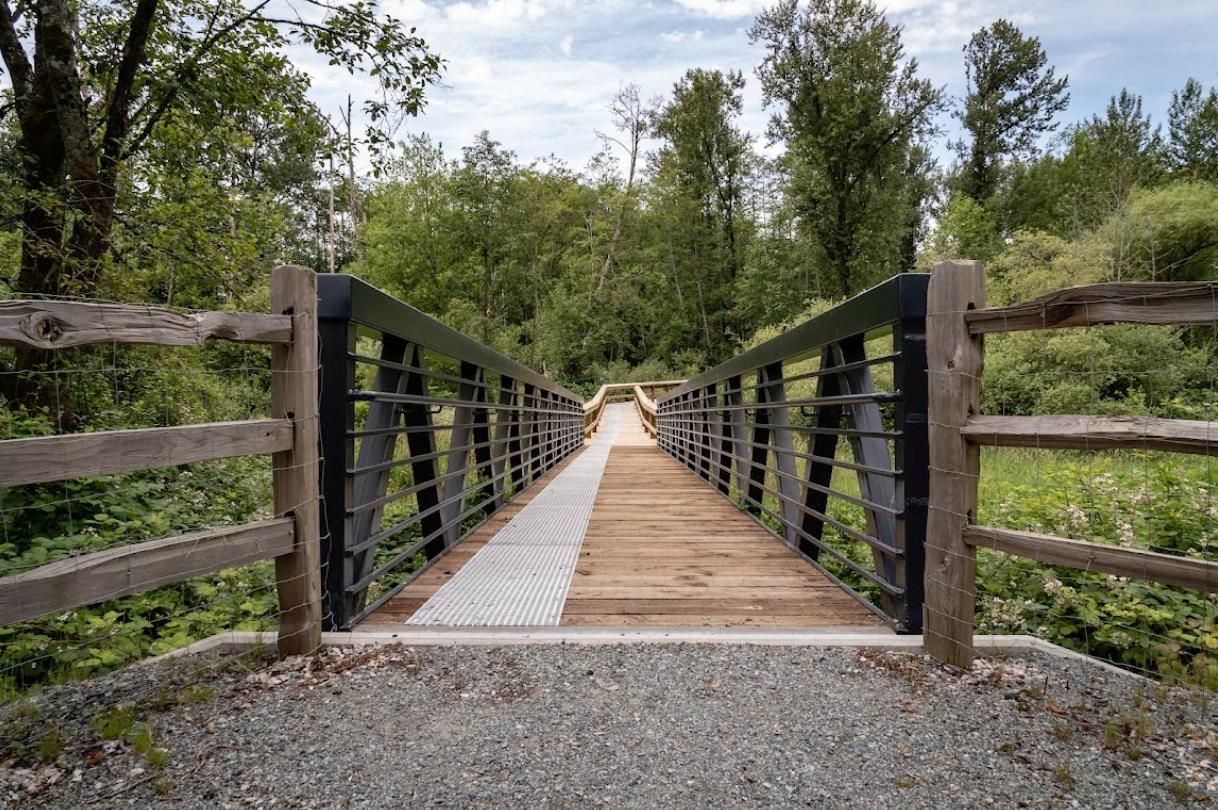 There are also some parts of the trail that have wooden boardwalks and bridges.
Along the trail, there are a few picnic tables which do not have a paved path to get to, so you have to traverse through the grass. However, there are several benches along the trail for resting which are easily accessible. There is also a washroom that appeared to be accessible from the outside, but was locked at the time of visiting so we cannot comment for sure. 
Some other points of interest on this trail include an outdoor gym, a playground, an accessible outdoor pool, as well as the Bear Creek Water Playground and the Bear Creek Park Gardens.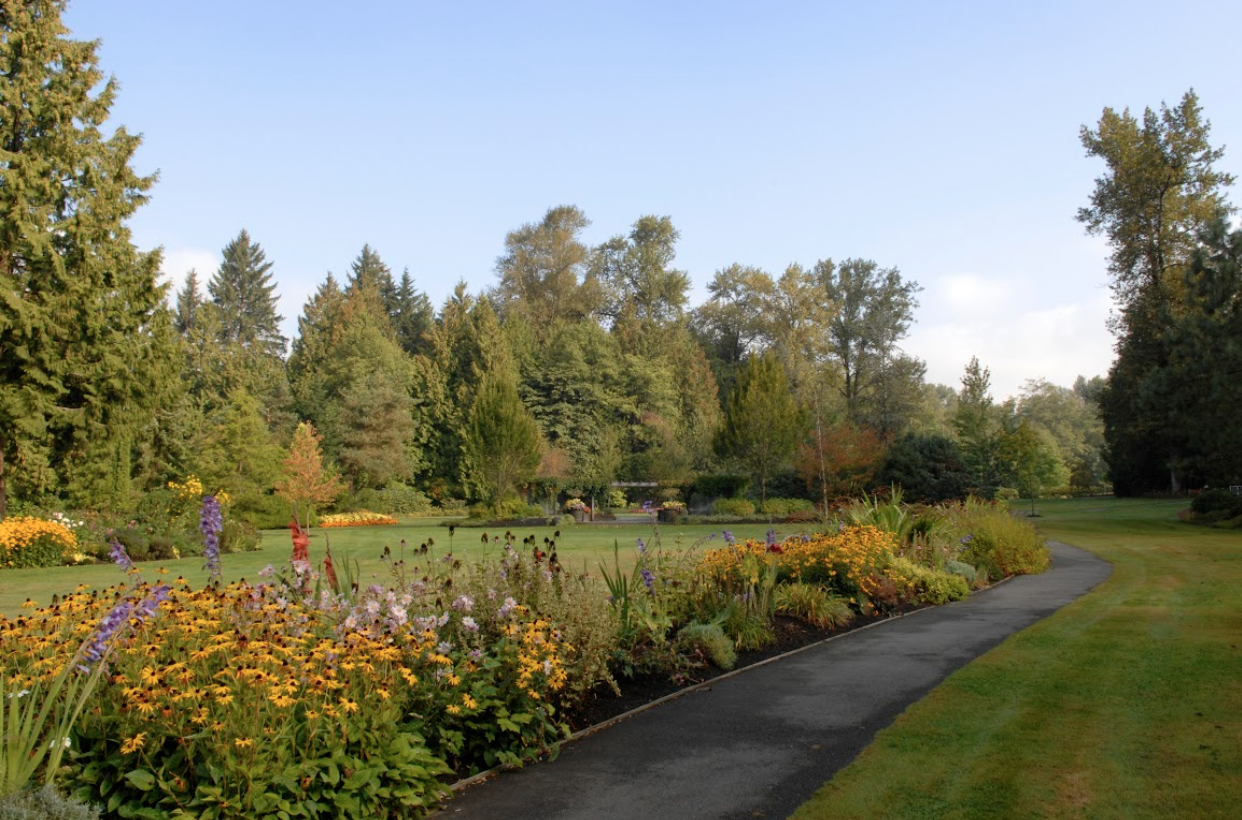 The gardens within Bear Creek Park are open year round and offer a spectacular assortment of plants and flowers.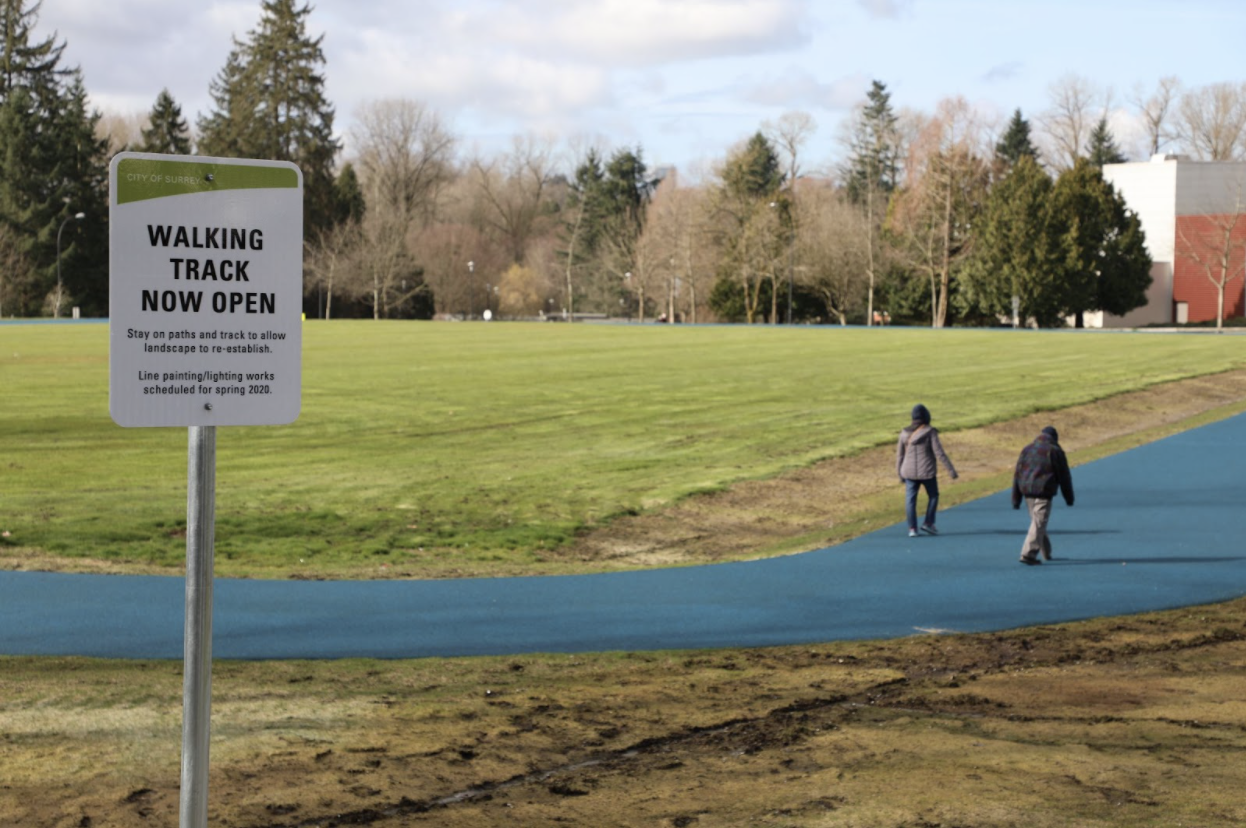 The walking track is a perfect place to continue your stroll.
Have you checked out any other accessible trails in Surrey? Share your recommendations by mapping out your favourite accessible spots on the AccessNow app!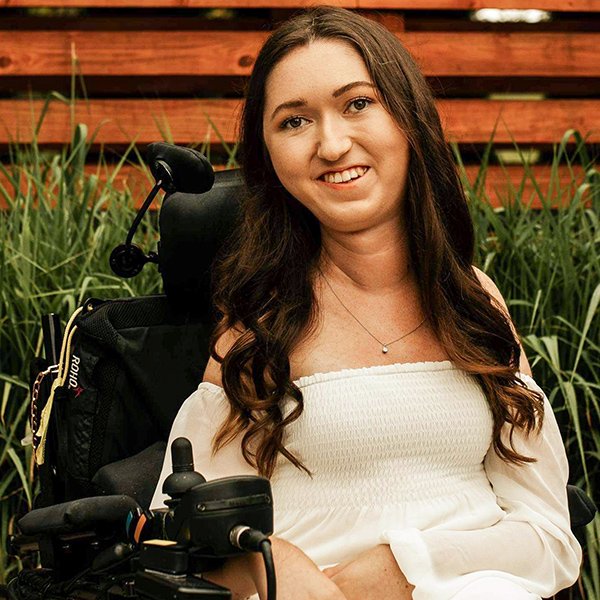 About the Author
Tori Hunter is a writer and travel enthusiast, passionate about redefining the way we view accessibility and the disabled experience. She has worked alongside numerous organizations to help dismantle access barriers, and in her free time, she likes to share her adventures as a wheelchair user on her Instagram @torihunter.blog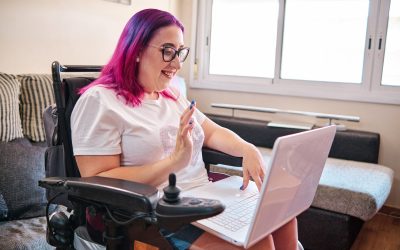 In a world that's constantly evolving, progress often hinges on our ability to embrace diversity and inclusivity. Yet, there's one facet of diversity that has often been overlooked: the inclusion of people with disabilities in the workforce. That's where National...