One of the most festive and accessible ways to get into the holiday spirit is a drive-through light show. Light shows are becoming an increasingly popular winter activity – they capture the Christmas and winter spirit and take visitors on a visually exciting journey from the comfort and warmth of their vehicle.
Here are some exciting light shows happening across Canada this winter.
Gift of Lights
If you like light tunnels, you will enjoy Gift of Lights in Kitchener, Ontario. It features two separate light tunnels that are 150 feet long and over 300 animated displays over a 2.5  kilometre path. 
This light show also offers special nights where visitors can walk or stroll through the path with ample space for physical distancing. 
Gift of Lights is on until January 9th, 2022.
Fantasy of Lights
For a short light show that only takes about fifteen minutes to complete, Fantasy of Lights in Uxbridge Ontario is a great option if you're looking for a free adventure that consists of glowing snowmen and Christmas trees. 
Donations are accepted, supporting local youth and the show is on until January 2nd, 2022.
Magic of Lights
For displays from classic movies like the Night Before Christmas and Toyland, Magic of Lights near Ottawa is sure to captivate guests while supporting the Children's Hospital of Eastern Ontario. 
The show uses over a million lights and is returning for its sixth season of holiday cheer until January 8th, 2022.
Bright Lights
For those who prefer to be outdoors in crisp air, Bright Lights in Windsor's Jackson Park is a great option that allows visitors to wander through the park while enjoying bright, festive displays, holiday treats and music. 
Bright Lights is on until January 9th, 2022 and even has a sensory-friendly option available on Thursday nights, where the lights are on, but the music is muted to allow all guests to have a comfortable experience.
Winter Festival of Lights
For a spectacular light show that is just around the corner from a picturesque waterfall, the Winter Festival of Lights in Niagara Falls is Canada's largest illumination festival and features over 3 million lights. 
The show runs until February 21, 2022, and will display 3D animals and holiday themed images until January 10th. The second half of the show starting in mid-January will be all about winter wonderland and love.
Snow Magic, Ontario Place
For an enchanted light show in the heart of Toronto, Snow Magic at Ontario Place promises sights of epic creatures, caverns and lights on his 1.7 kilometre drive. 
Snow Magic makes guests feel like they're flying through a starry sky, while meeting fantastical creatures and seeing frosted castles. The 30 minute drive-through experience is on until January 16th, 2020.
Canadian Tire's Christmas Trail
Canadian Tire's Christmas Trail is designed to entice guests for 1.5 kilometres while witnessing the magic of Christmas. On this journey, guests will witness elves playing in the snow, a giant advent calendar and shiny, sparkly toys. Guests can also stop along the way to have their annual photo taken with Santa in a safe spot that is carefully curated by organizers. 
Spots are limited and tickets must be booked in advance. The show is on until December 23rd, 2021.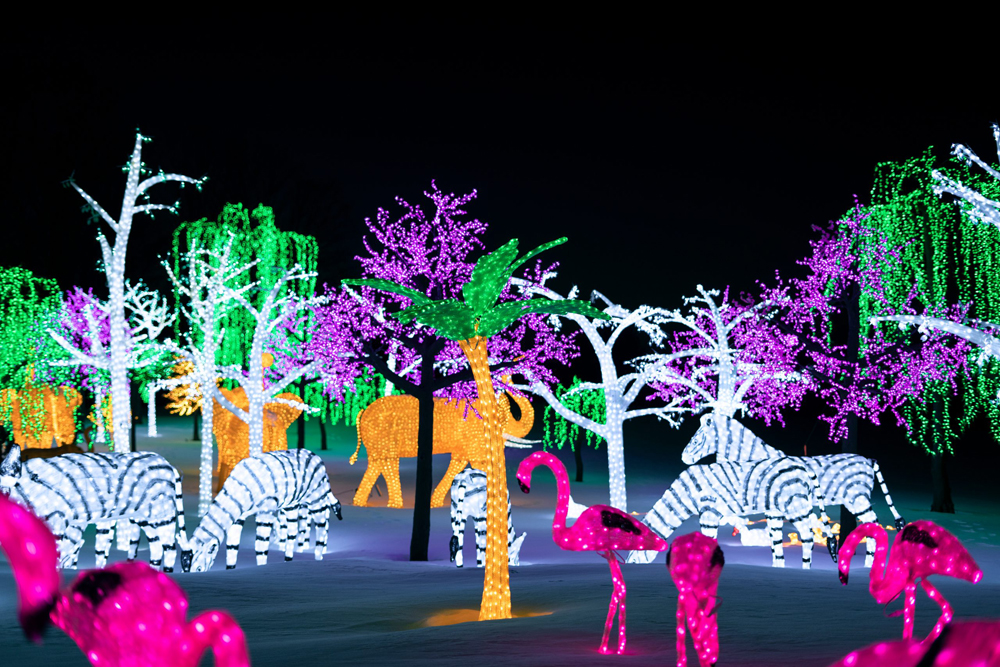 Illumi
This 3-kilometre drive through features 20 million LED lights and over 30, 000 dazzling displays that guests can be captivated by. Located in Laval, this drive-through experience is unlike any other and includes 19 distinct universes that visitors can escape to, from magical forests, to a Jurassic kingdom, and a pirate kingdom. 
Illumi offers a drive-through and walk-through option with free parking on site. It is on until January 30th, but tickets must be booked in advance.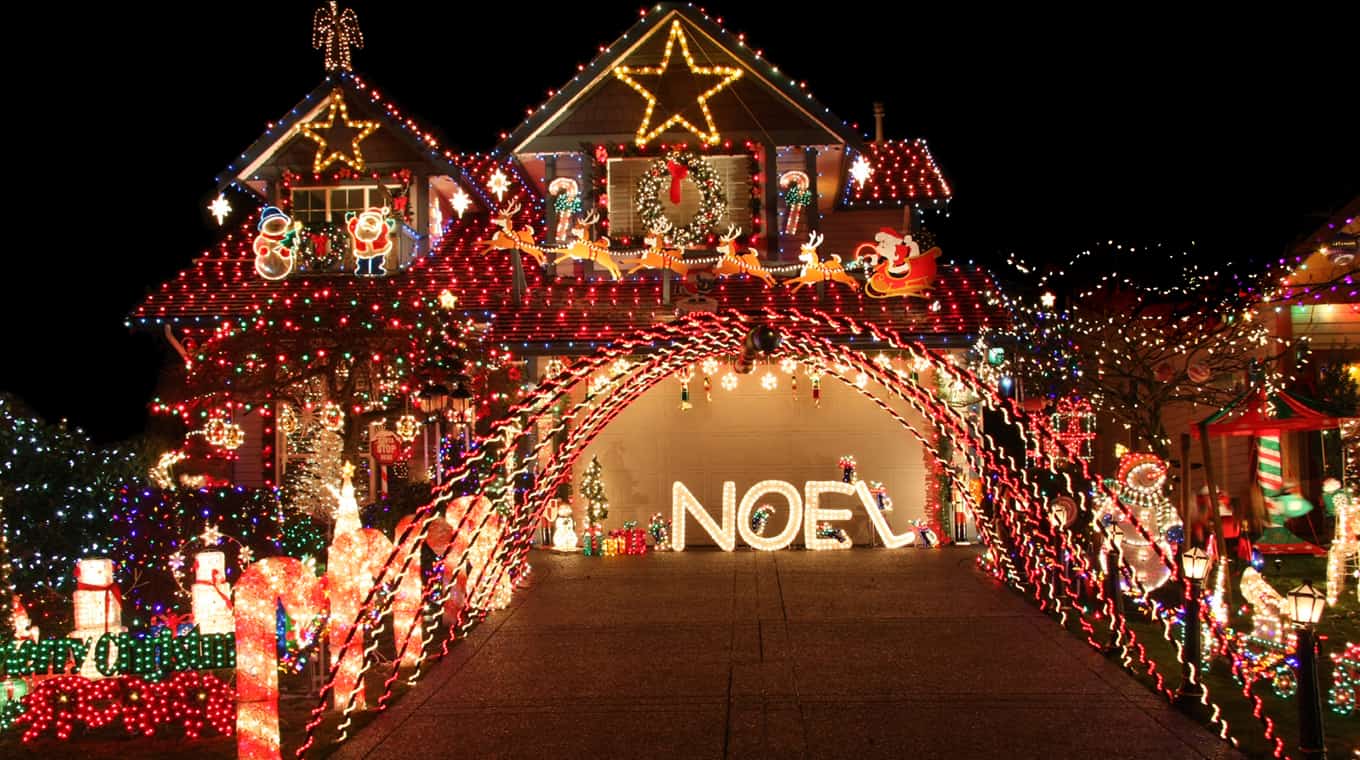 Canadian Tire Magic of Lights
Castrol Raceway in Edmonton has a 2.5 kilometre drive-through adventure that is overflowing with sparkling displays. It has a 200-light tunnel and includes animations at every turn. The show features memorable displays including "12 Days of Christmas", "Winter Wonderland" and a breathtaking "Ornament Alley."
Guests can stop to meet Santa on their journey while enjoying festive tunes from the comfort of their vehicles.
Candy Cane Lane
For over 50 years, Candy Cane Lane has been one of Edmonton's most popular holiday attractions, filled with decorated homes and sleigh rides. Guests can choose to drive through the lane in their vehicles, as well as walk, stroll or sleigh. 
You can visit Candy Cane Lane until January 1, 2022.
Zoominescence
For a truly unique and memorable experience, Zoominescence is a drive-through show that lights up the entire Edmonton Zoo, transforming it into a winter wonderland. Guests can drive through, or visit the zoo in the evenings as they normally would, seeing their favourite animals, warming up with hot chocolate and seeing all there is on display. 
Zoominescence is on until January 2, 2022 and is the perfect family activity.
Christmas Lights at Spruce Meadows
Spruce Meadows in Calgary is set up as a drive-through light show to help you get into the holiday spirit while enjoying a warm beverage from the comfort of your car. The lights throughout this park are less varied, featuring lots of blues, greens and reds and may be a great option for those who prefer less of a sensory overload. 
Guests can visit until January 2nd, 2022.
Lions Festival of Lights
The Lions Festival of Lights takes place inside Calgary's Confederation Park and has a wide range of light displays that can be enjoyed from inside of a vehicle. Visitors can also walk through it if they prefer to get up-close to the lights. It's got tall Christmas trees, gingerbread houses and friendly looking snowmen along with a train and other neat displays. 
It's on until January 9th, 2022.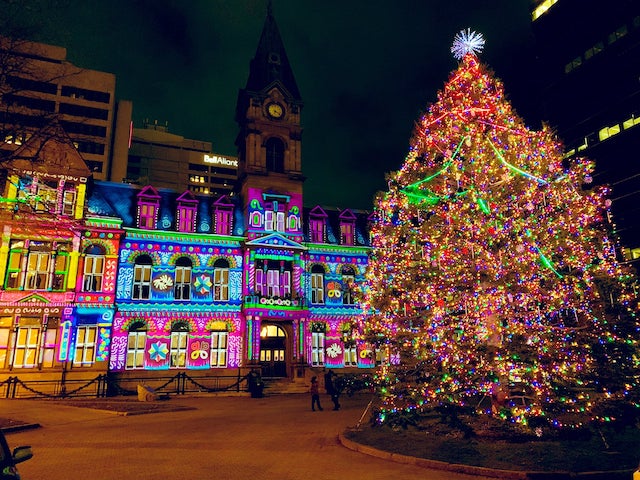 Grand Parade, Barrington Street
Though not a drive-through, downtown Halifax offers the Grand Parade, the most colourful and breathtaking visuals for passersby, allowing the holiday spirit to shine through. A large Christmas tree sits in the city centre, while the city hall building has a projection display that runs every fifteen minutes to dazzle onlookers.
Downtown Darthmouth Holiday Lights Tour
The downtown Dartmouth area is decorated for the Holiday Lights Tour with beautiful murals and window displays at eight nearby locations that visitors can find through a map. 
 Visitors can stroll through the downtown area to see the displays up close, or simply drive by in a vehicle to enjoy the lit up displays.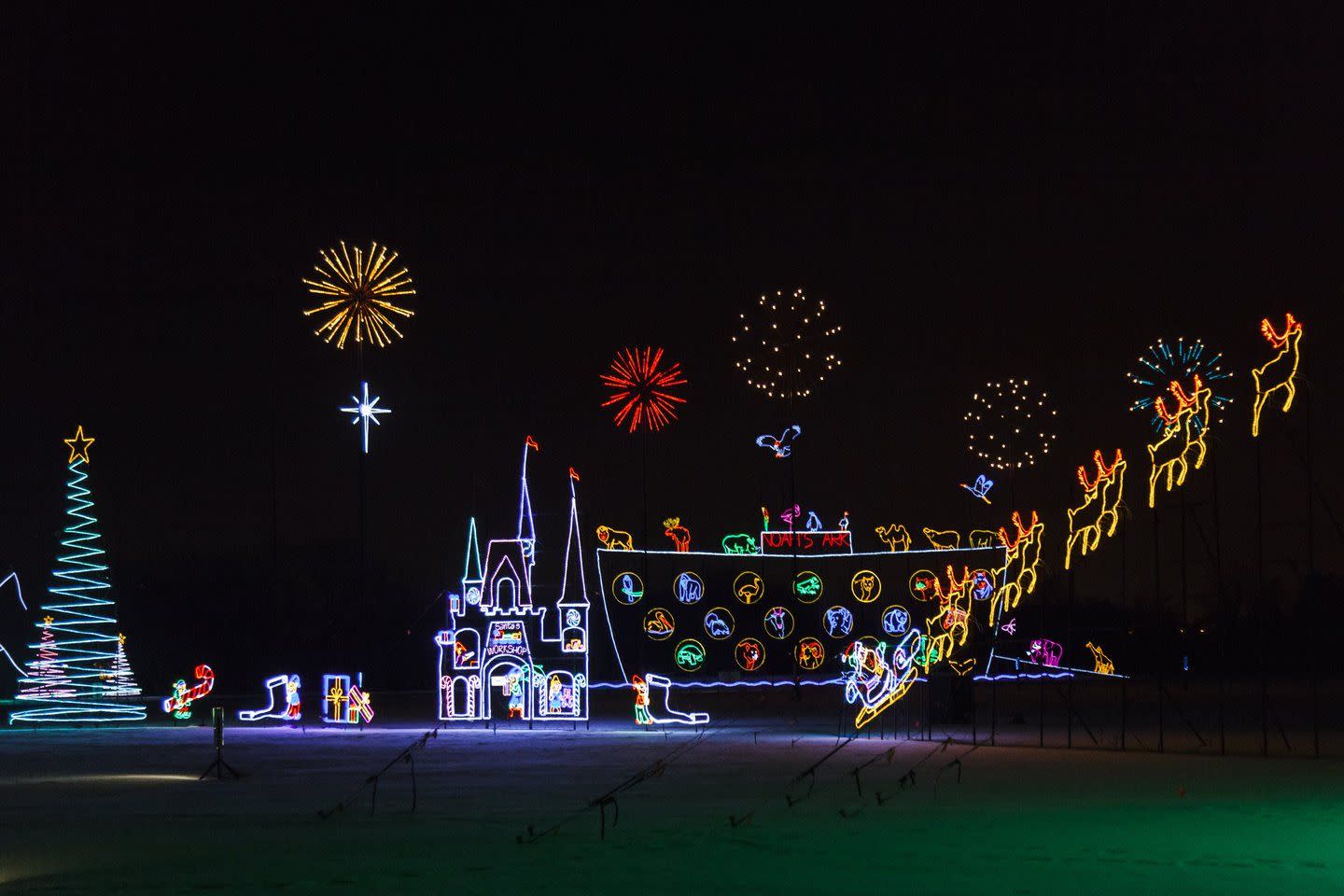 Enchanted Forest
Saskatoon's Enchanted Forest drive-through is a great way to let go of stress and enjoy a soaring Noah's Ark display and over 60 other animations. Best of all, proceeds from ticket sales will support the Saskatoon Zoo and the City Hospital Foundation. 
The attraction is fully contact-free and runs until January 9, 2022.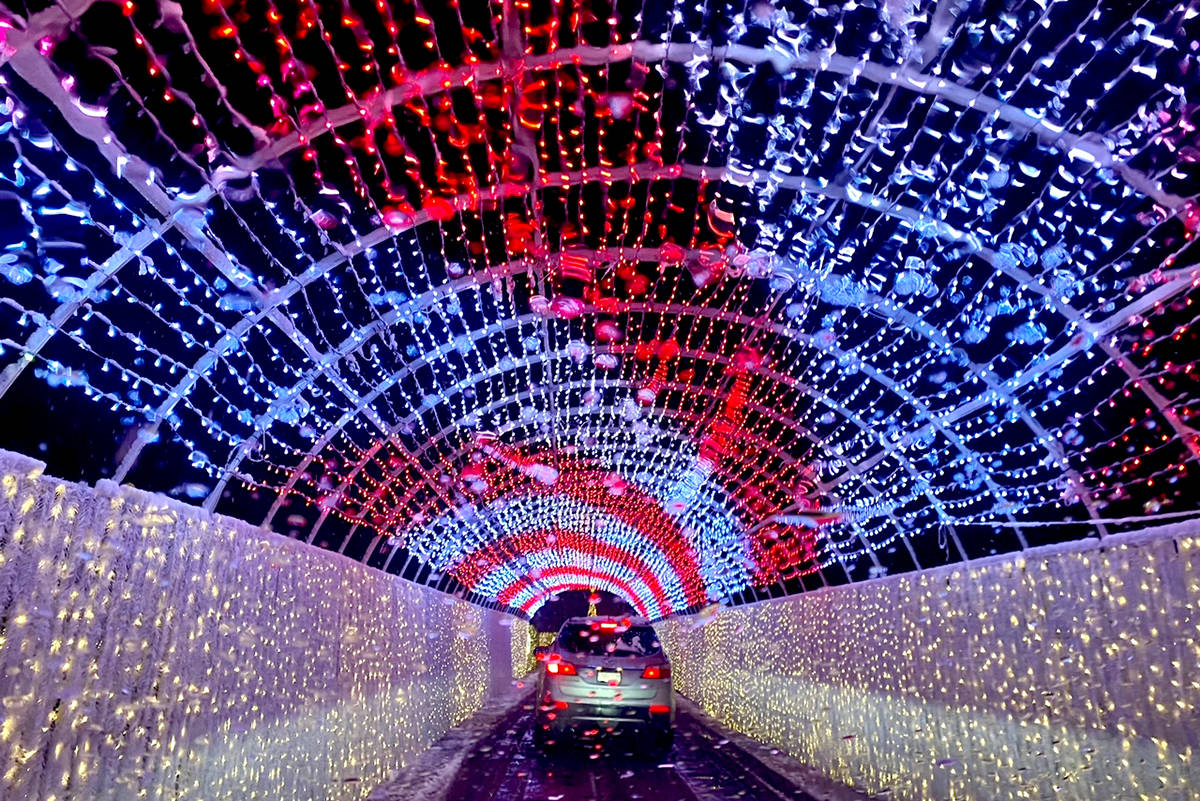 WinterLights
For a unique and interactive drive-through experience in Vancouver, WinterLights is the place to be. Guests are put on a quest to find Santa with special characters helping along the journey and giant snow globes put you in the winter magic spirit. There is also a 50 foot Christmas tree that is lit up in purple and live performers who sing the best Christmas carols to keep you entertained. 
WinterLights runs until December 31st and is perfect for the whole family. After you've finished driving through, there are a variety of food trucks on scene with holiday treats, so go hungry.
Glow Gardens
Glow Gardens in Langley, British Columbia is a light show that is truly unique and comes with complementary doughnuts, popcorn and a souvenir ornament to make it extra memorable. Friendly elves are lit up in bright colours along the route, and storybook characters come to life as guests drive through light-up tunnels. 
Glow Gardens is on until January 1st, 2022 and if you're in the mood for some Christmas flowers, you can even order poinsettas ahead of time and pick them up on site.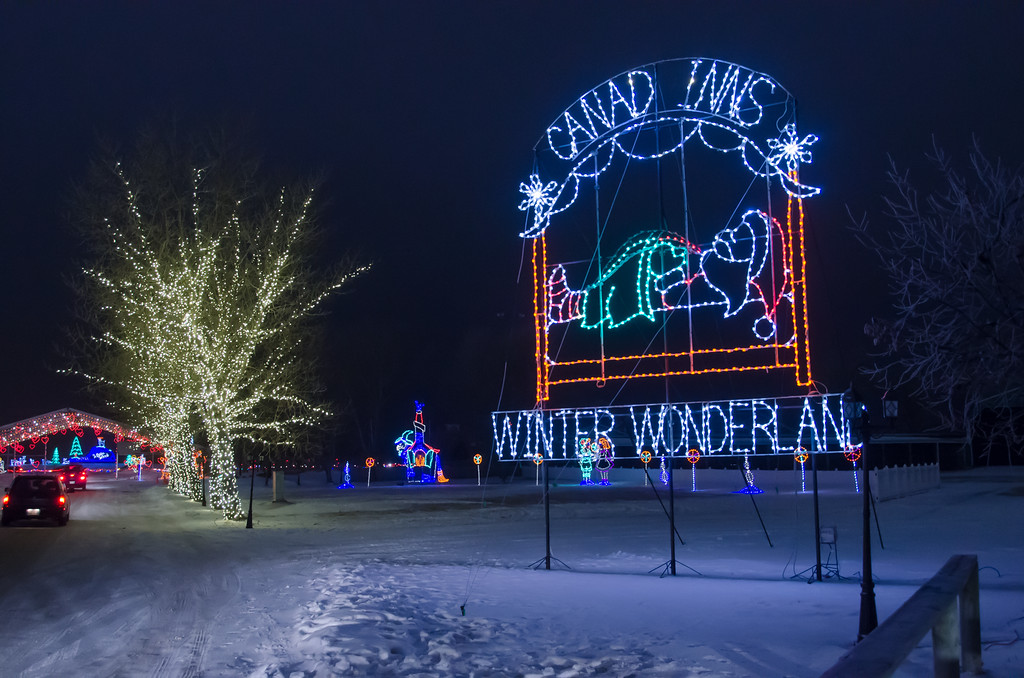 Photo: Canad Inns Winter Wonderland
Canad Inns Winter Wonderland
This holiday light-show in Winnipeg is a great family outing featuring over one million lights that illuminate displays, from forest animals to winter castles. 
Canad Inns Winter Wonderland is on until January 8, 2022 and takes place at Red River Exhibition Park.
Assiniboine Park Zoo Lights Festival
Zoo Lights Festival takes it a step further from a traditional light show, featuring thousands of installations that make up the Polar Town. Although it isn't a drive-through, it has many interactive activities and entertainment, as well as comforting warm drinks and food to enjoy as you stroll through the park and engage with the lights. 
It is on until January 2nd, 2022 and even allows guests to roast their own smores on an outdoor firepit.
Are you checking out any drive-through light shows this holiday season? Let us know in the comments and be sure to pin your favourite spots on AccessNow.
Lead photo: Zoominescence, Edmonton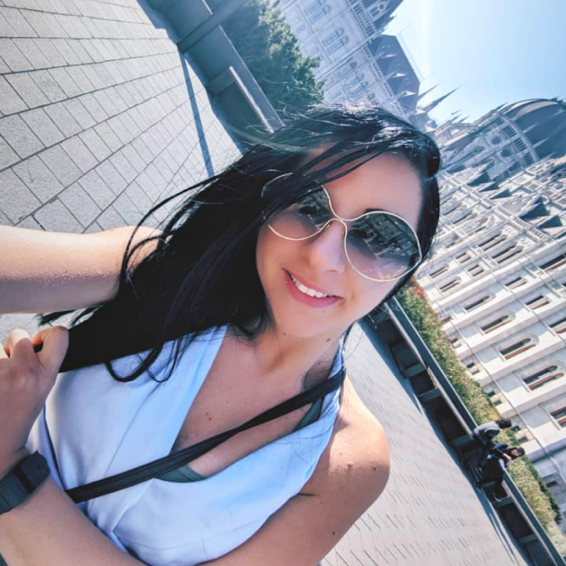 About the Author
Nikoletta Erdelyi is a writer and poet from Toronto, fascinated by how we make meaning for absurdity. She is a philosophy nerd who loves to cook, collect fragrances and write poems about the unique bits of consciousness.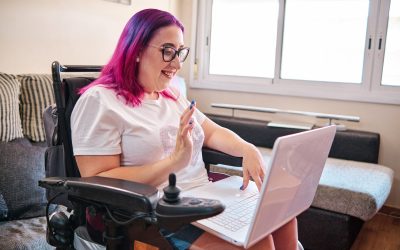 In a world that's constantly evolving, progress often hinges on our ability to embrace diversity and inclusivity. Yet, there's one facet of diversity that has often been overlooked: the inclusion of people with disabilities in the workforce. That's where National...