If you're anything like me, you spend the remainder of summer anticipating warm sweaters, hot drinks, breathtaking scenery, and an entire month devoted to getting spooky. Still, as a wheelchair user, Halloween season hasn't come without its share of disappointments in accessibility. I will never forget being a teen, excited beyond words to go to Screamers only to discover that it was swamped with stairs, or when nightclubs without a flat entrance hosted the most extravagant Halloween bashes that I couldn't be part of. 
Things are shifting for the better in the accessible spook department. Whether you want to get your heart racing by having monsters creep up on you in the woods, or prefer to keep things tame with some autumn scenery, here are seven accessible ways to enjoy spooky season: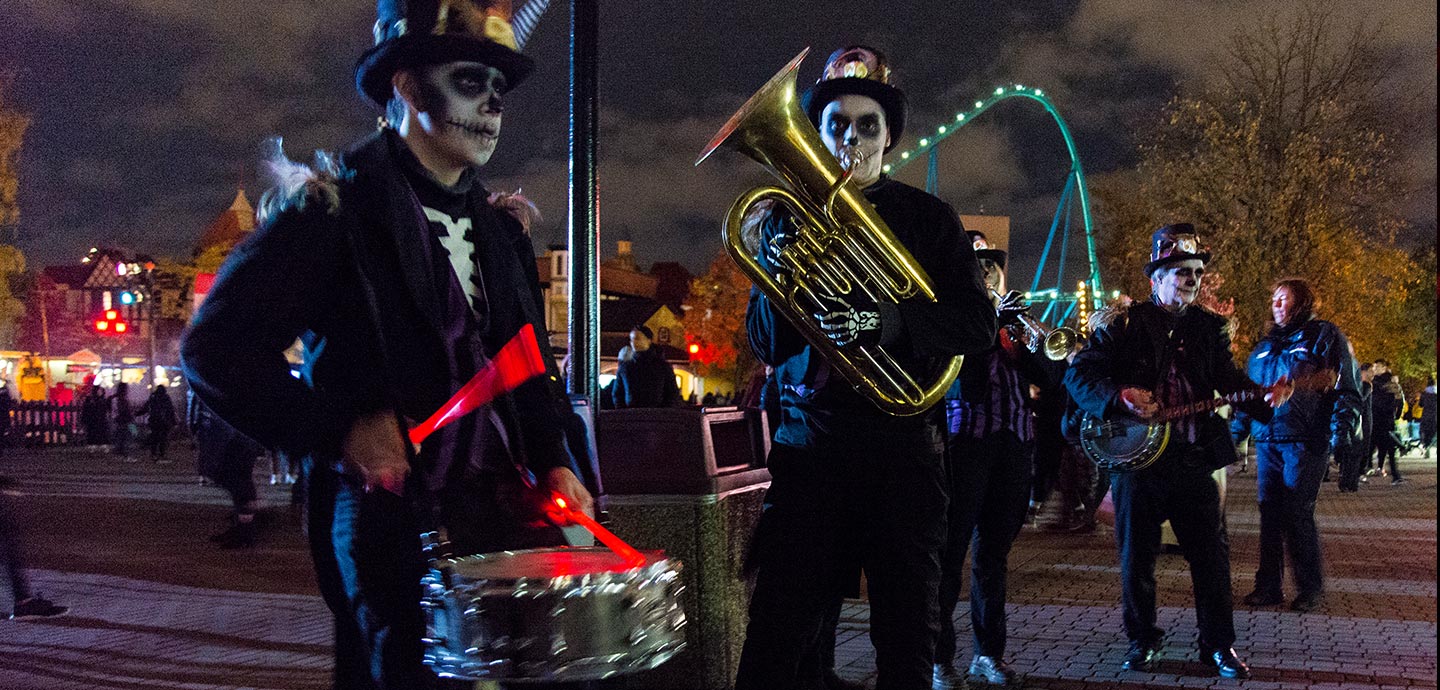 Photo: Canada's Wonderland
Every fall, Canada's largest theme park turns into a Halloween enthusiast's fairy tale, filled with monster mazes, creepy clowns, marching skeletons and more. Best of all, it's fairly accessible, with flat entrances to haunt attractions.
The few times I attended, the monsters proved to be quite accommodating and even took a break from terrorizing passersby to move over a barrel that was making it tricky for me to squeeze by in my wheelchair. Indeed, the monsters of Haunt will deliver in the spooky department, but if you run into trouble, they'll probably have your back.
New this year at the completely outdoor Haunt are a number of interactive shows, featuring acrobat skeletons, illusionists, a marching band of zombies and a vampire disco if you're in the mood to rave with Dracula's descendants. Halloween Haunt is on until October 31st at Canada's Wonderland in Vaughan, Ontario. Tickets must be booked ahead of time online.
Note: If you are prone to seizures or just get frequent migraines like I do, beware of strobing lights and lots of noise at this location.
If you're a horror movie buff and you're bored of marathons at home then a drive-in may be just the trick to spice things up. Haunted Cinema at Ontario Place is a new drive-in movie theatre experience that comes to life with movie characters wandering, ready to scare you at any given moment from the comfort of your car. 
Haunted Cinema runs October 26th – 31st and will be screening two different movies: Scream (1996), and Goosebumps (2015). 
Accessible washrooms are available on-site, and other than checking out the snack options, you won't ever have to leave the car – the spooks will come to you.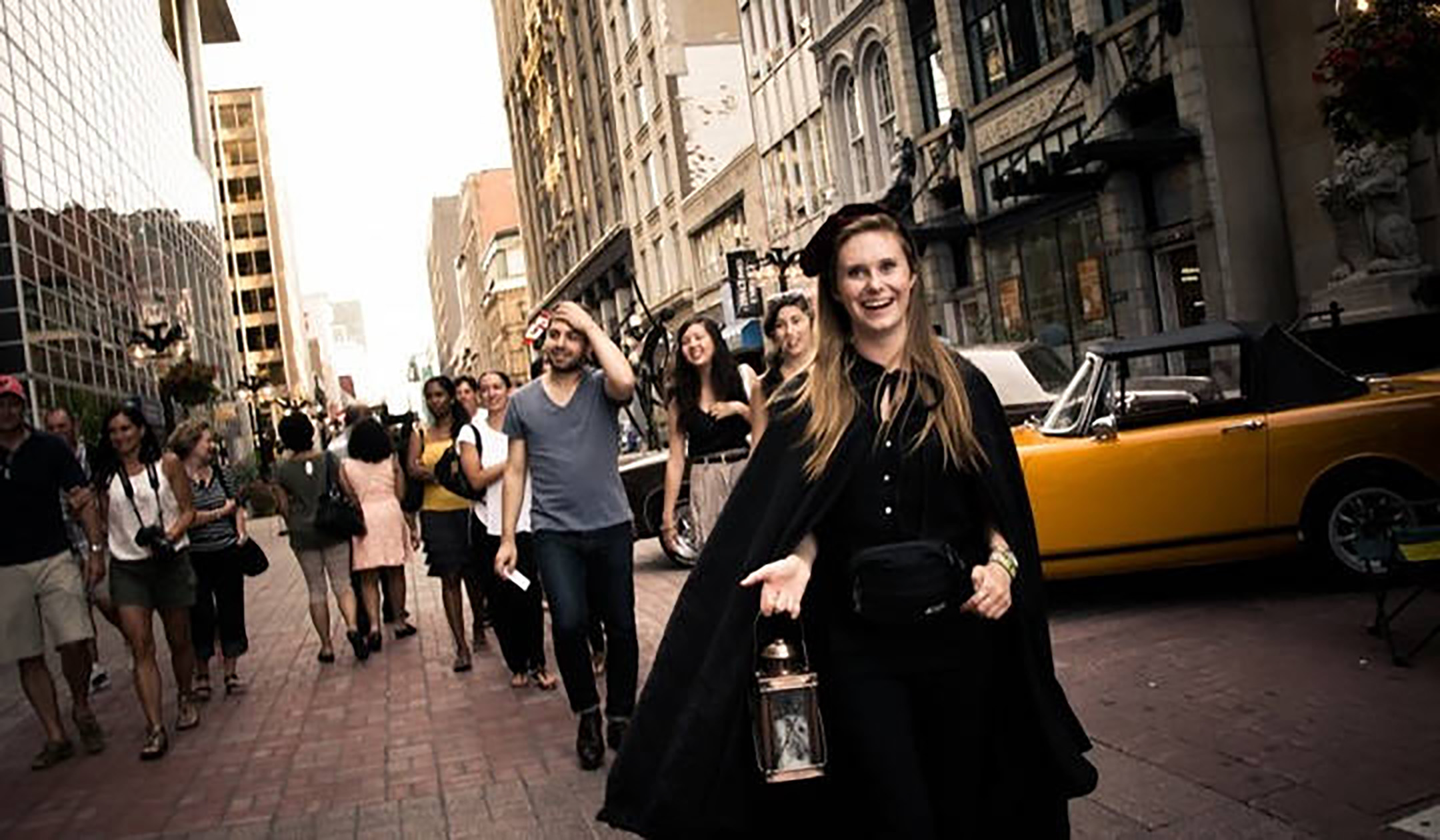 For a great mix of urban ghost stories, the Haunted Walk of Ottawa is a thrilling way to combine architecture and Halloween. This outdoor excursion includes chilling tales of Ottawa's most historic buildings, including Bytown Museum and the Fairmont Chateau Laurier. 
The Haunted Walk of Ottawa is accessible and offers alternate pathways for locations that are trickier to navigate with assistive devices. Be sure to dress warm, as you'll be outdoors for the larger part of this 75 minute tour. 
If you're closer to Kingston, or are more in the mood for ghost stories about grave robbings and courthouses, then the Haunted Walk of Kingston may be better suited to you. Kingston's version of the haunted walk is slightly longer at 90 minutes. 
Go for a Scenic Drive or Train Ride
One of the most soothing activities that I developed during lockdown is going on road trips with my mom, cruising through rural roads to enjoy some stunning displays of nature. If you're not too keen on scary, a road trip is a great activity to take in the picturesque views of the fall. 
Stop at a drive-through for a hot beverage, blast some music from your favourite feel-good playlist, and let the road take you.
If you do not have access to a car, try train rides with a journal and a cup of coffee. I buy a round-trip Go Train ticket to Oshawa and back and enjoy the view of colourful leaves.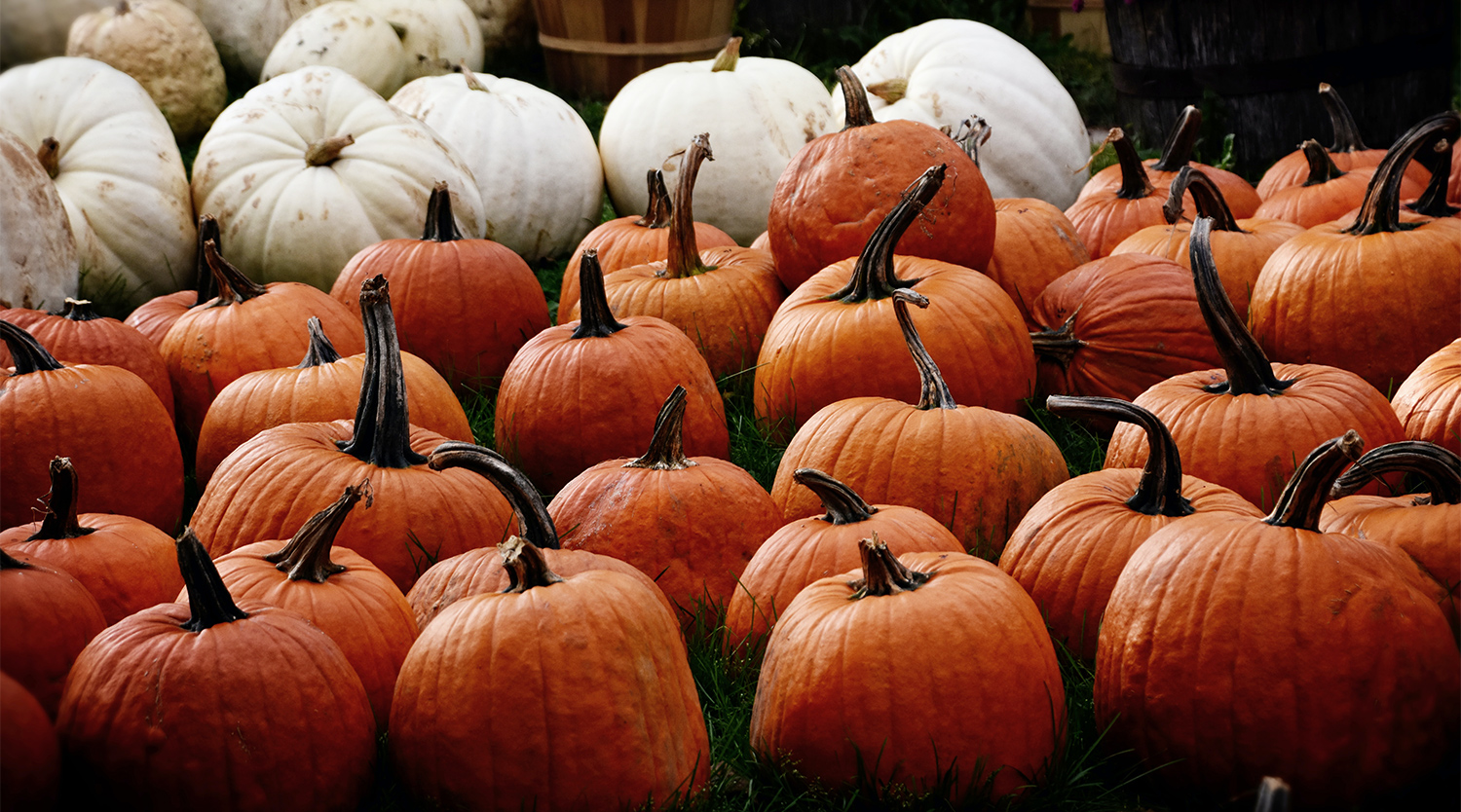 If you can handle grassy grounds, pumpkin patches are quite accessible and spacious, so you'll be able to browse a wide selection of pumpkins and get into carving or baking mode. The great thing about pumpkin patches is that you don't have to be too keen on pumpkin pie or carving – you can simply enjoy the sights around you, enjoy a treat from the gift shop and indulge in some photo ops.
My personal favourite is Downey's Farm just a short drive from Toronto, complete with cute farm animals, hot apple cider and a variety of pre-made pies that can be purchased at the shop and simply tossed in the oven to heat through (I'm not the greatest baker).
Pumpkin patches are hot all across Ontario throughout October, and you can find one near you here. Or try an apple orchard instead. There are plenty of spots for apple picking across Ontario as well. Browse some of them here.
If you're in Windsor on October 28th and in the mood to enjoy some spooky entertainment, Border City Fright Night is a Halloween event at a boxing studio complete with appetizers, dinner and wine. You can also opt out of dinner and join the party once the live entertainment starts. This event takes place on ground level and has a step-free entrance. Find out more here. 
Greet Trick Or Treaters the Accessible Way
Is there any better way to wrap up spooky season than to greet Trick or Treaters while dropping candy into their bags? Try it barrier-free.
Instead of giving out candy at your front entrance,  try sitting in your driveway or garage – this way, children with mobility devices can more easily participate. Ensure that your driveway is well lit too – this way, it will be safer for everyone.
For more information on accessible Trick or Treating, visit Treat Accessibility. This unique Ontario-based campaign aims to make Halloween accessible and will even help you get a sign on your lawn to ensure children with disabilities know they can Trick or Treat accessibly at your home
Lead photo: Canada's Wonderland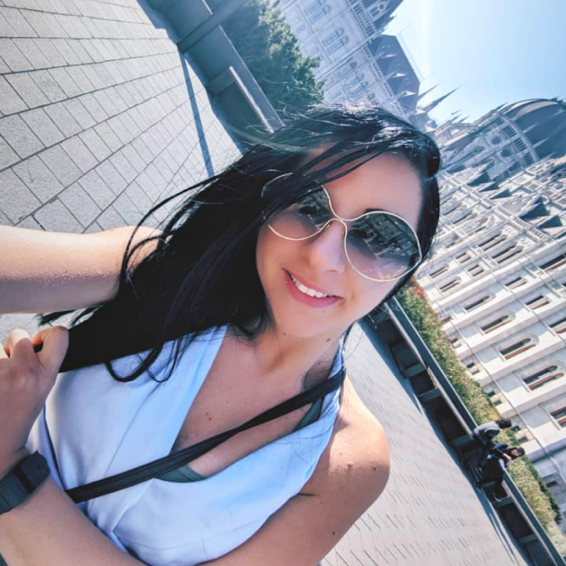 About the Author
Nikoletta Erdelyi is a writer and poet from Toronto, fascinated by how we make meaning for absurdity. She is a philosophy nerd who loves to cook, collect fragrances and write poems about the unique bits of consciousness.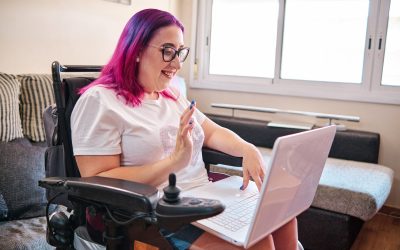 In a world that's constantly evolving, progress often hinges on our ability to embrace diversity and inclusivity. Yet, there's one facet of diversity that has often been overlooked: the inclusion of people with disabilities in the workforce. That's where National...