Canada is full of some of the most spectacular landscapes you will ever see in your entire life. From snowy mountain peaks to coastal forests and Pacific Ocean views, I could truly never get tired of looking at this country's draw-dropping beauty. 
One of my favourite ways to see these views as a wheelchair user is from a gondola. Gondolas provide such an accessible way to experience a destination, as they allow you to access high-up vantage points that would otherwise only be accessible via long, treacherous hikes. It's a pretty surreal feeling to be soaring thousands of feet above sea level and end up on the very peak of a mountain, all while remaining in the comfort of your own wheelchair. 
With that being said, if you're interested in seeing the beauty of Canada from a whole new perspective, definitely check out some of these wheelchair accessible gondola rides on your next road trip! 
Grouse Mountain SkyRide — Vancouver, BC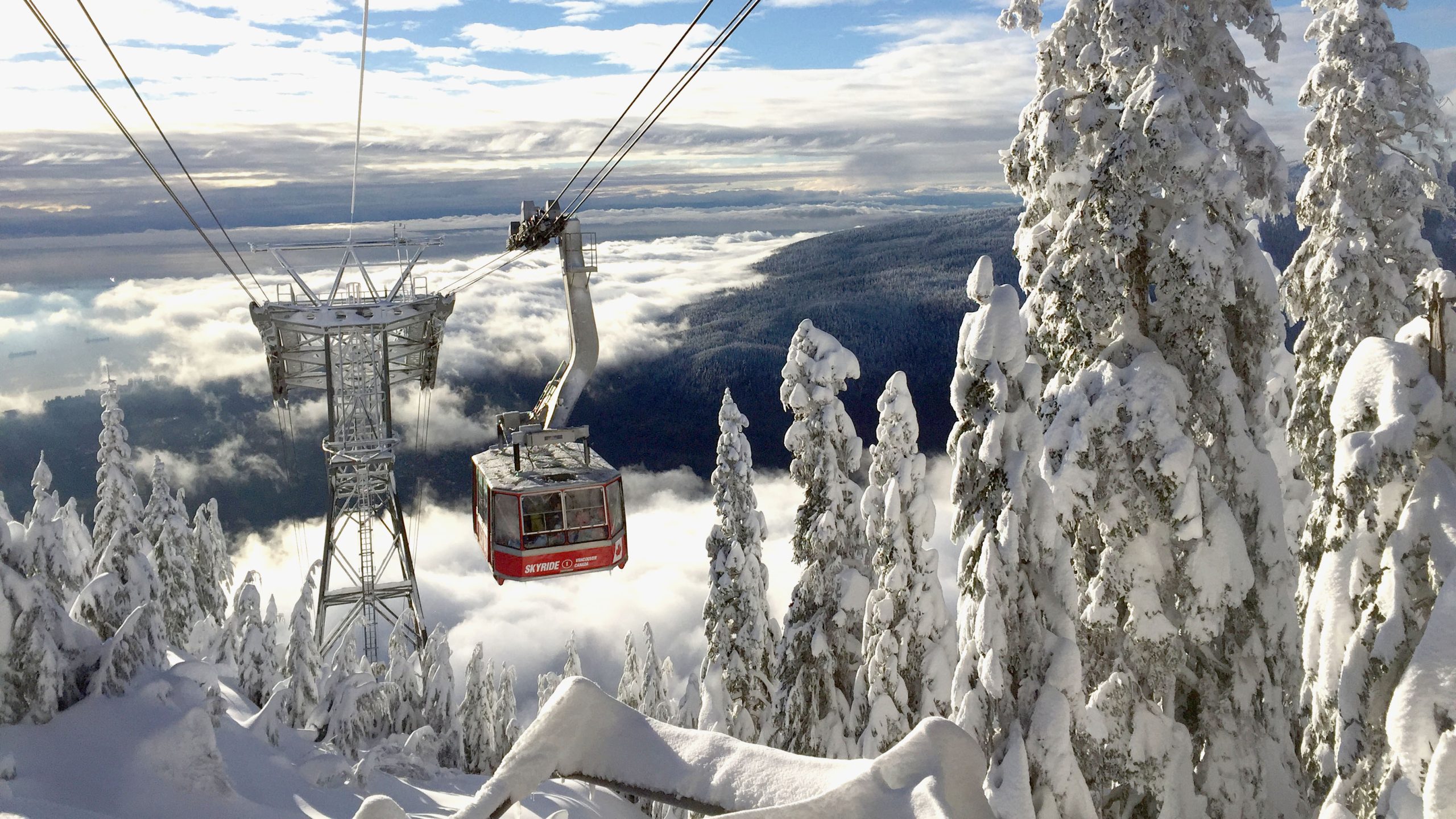 Photo Credit: Grouse Mountain 
Some might not consider this first one a gondola due to its large size, but I say it's close enough! The Grouse Mountain SkyRide is North America's largest aerial tramway system and is completely wheelchair accessible. As you board the iconic red tram, you will witness breathtaking views of the city of Vancouver, the sparkling Pacific Ocean, the Gulf Islands, and snowy mountaintops. At the top of the summit, a covered walkway leads from the Peak Skyride station into the top floor of the Chalet where you will find Altitudes Bistro, The Observatory, the Timber Room and wheelchair accessible washrooms. In addition, a paved outdoor ramp descends from the SkyRide station to the mountaintop plaza and to the paved pathways leading to the Refuge for Endangered Wildlife, Owl Talks and the World-Famous Lumberjack Show. It's hard to believe that you can get these spectacular views only 15 minutes from the downtown core.
Sea to Sky Gondola – Squamish, BC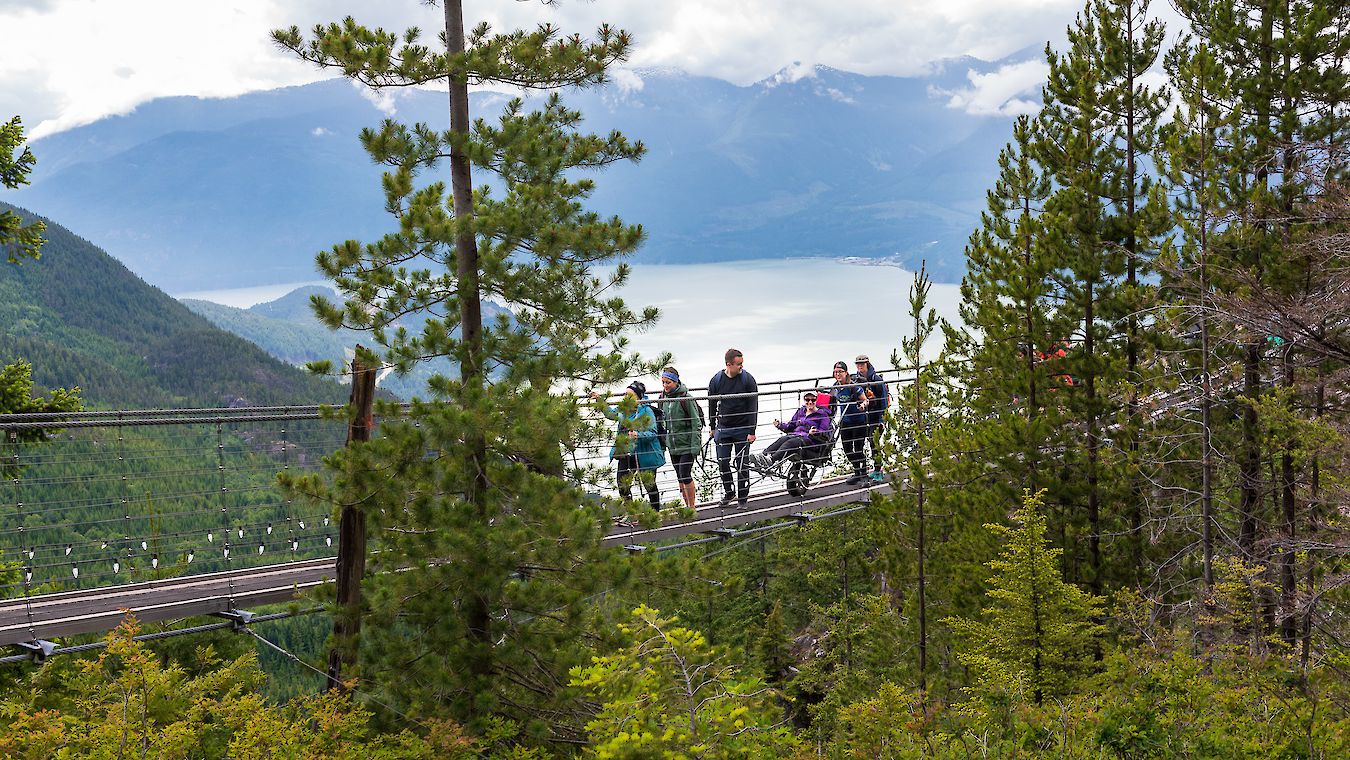 Photo Credit: Sea To Sky Gondola
The Sea to Sky gondola is one of the most thrilling, yet completely accessible, ways to experience the beauty of British Columbia. You will be whisked 885m above sea level while experiencing sweeping views of Howe Sound, the majestic coastal forest and surrounding mountains. The gondolas feature a level entrance/exit point, allowing those with wheelchairs to roll right on board. Not only that, but once you're at the top of the summit, you can make your way across the Sky Pilot Suspension Bridge, which is approximately 100 metres long and has a backdrop that falls away thousands of feet below. The patio and viewing deck at the Summit are also wheelchair accessible (snow conditions permitting). 
Peak 2 Peak Gondola — Whistler, BC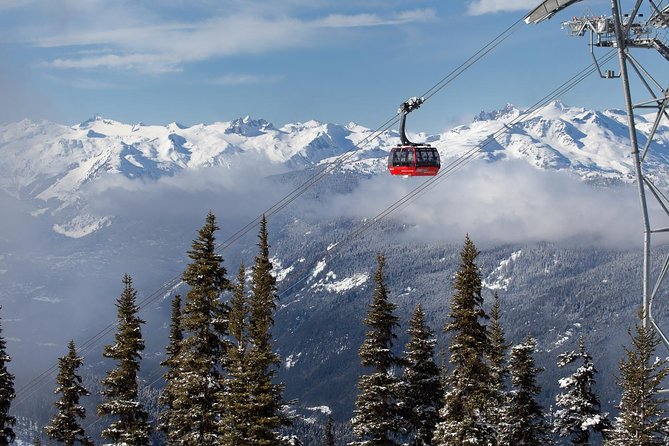 Connecting Whistler and Blackcomb mountains, this eye-popping lift showcases unbeatable views of mountain peaks, glaciers, lush rainforest, and, of course, Whistler Village and the surrounding valley. It is certainly a must-do as it offers some of the best sightseeing in the area! Because this is a gondola that connects two mountains, you will first have to head to the top of Whistler mountain via the Whistler Village Gondola. Once on top of the summit, you can board the Guinness World Record-breaking Peak 2 Peak Gondola for an unparalleled perspective of British Columbia's landscapes. Both of these gondolas can accommodate wheelchairs, but unfortunately, the suspension bridge cannot. Please note that you will have to do a round-trip on the Peak 2 Peak gondola in order to go back down the Whistler Village Gondola, as the Blackcomb Gondola is unable to accommodate wheelchairs. 
Silverstar Mountain Resort Gondola — Vernon, BC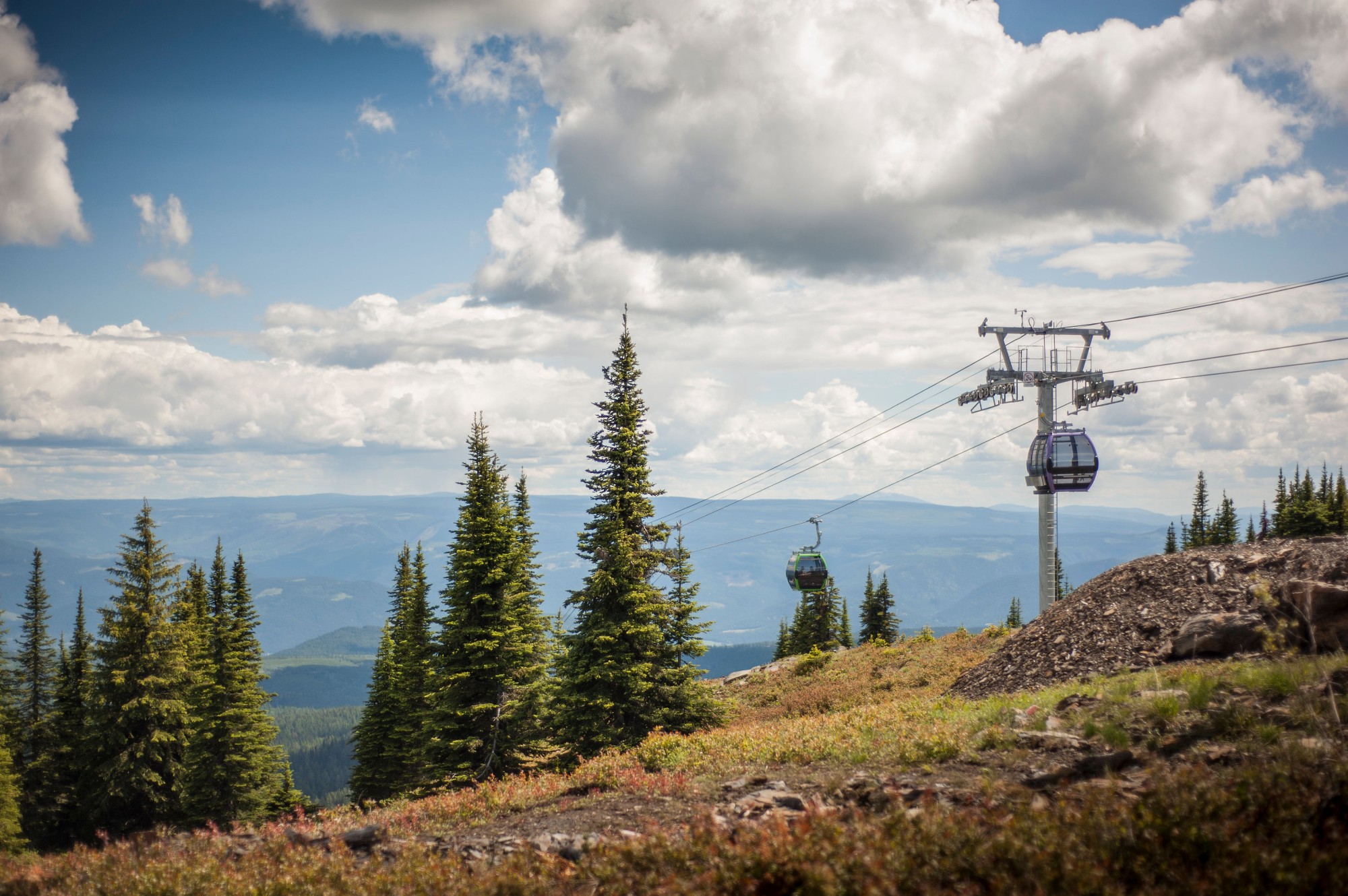 Centrally located in the heart of BC's Okanagan Valley, SilverStar Mountain offers some of the most breathtaking scenery in the Okanagan Valley and the Monashee Mountains. The Des Schumann Summit express Gondola is fully wheelchair accessible and can take you to the top of the summit. Enjoy the cooler mountain air, view the wildflowers, forage for wild berries, or hike the upper mountain trails for a chance to see Okanagan wildlife. Furthermore, if you are visiting the winter time and want to take advantage of snow sports, SilverStar offers an adaptive program which makes snow sports accessible to people with disabilities. 
Sunshine Gondola — Banff, AB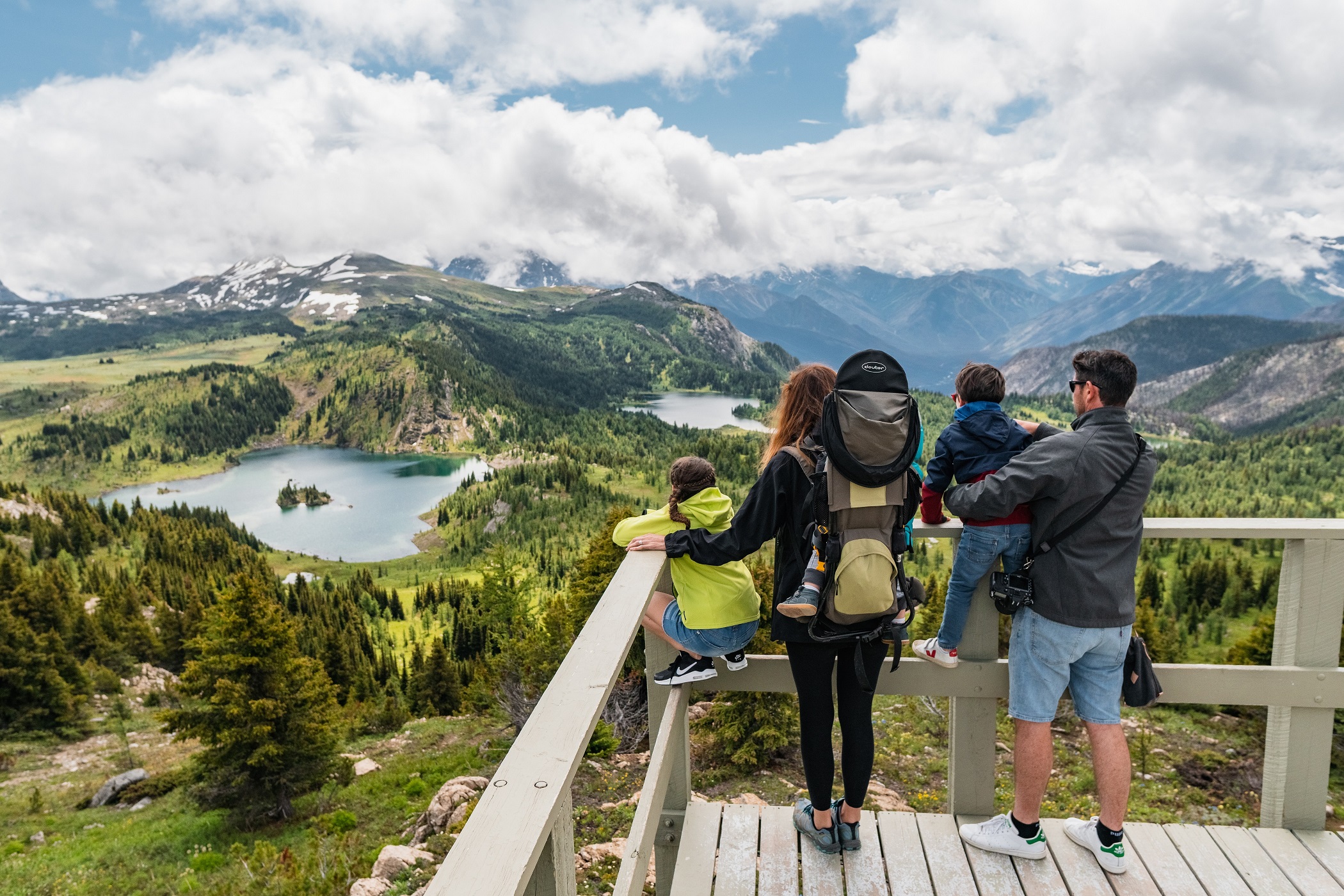 The eight-passenger Banff Sunshine Village Gondola is fully wheelchair accessible, allowing you to enjoy 360 degree views of the Canadian Rocky Mountains and take in the breathtaking views of Banff National Park. The Banff Sunshine Gondola will carry you 4.6 km from the Base area to the Village area. Once you're up in the village, you can enjoy the spectacular view as well as one of six lunch destinations, all of which cater to different tastes and budget preferences. Accessible washrooms are available at the base of the mountain. 
Sulphur Mountain — Banff, AB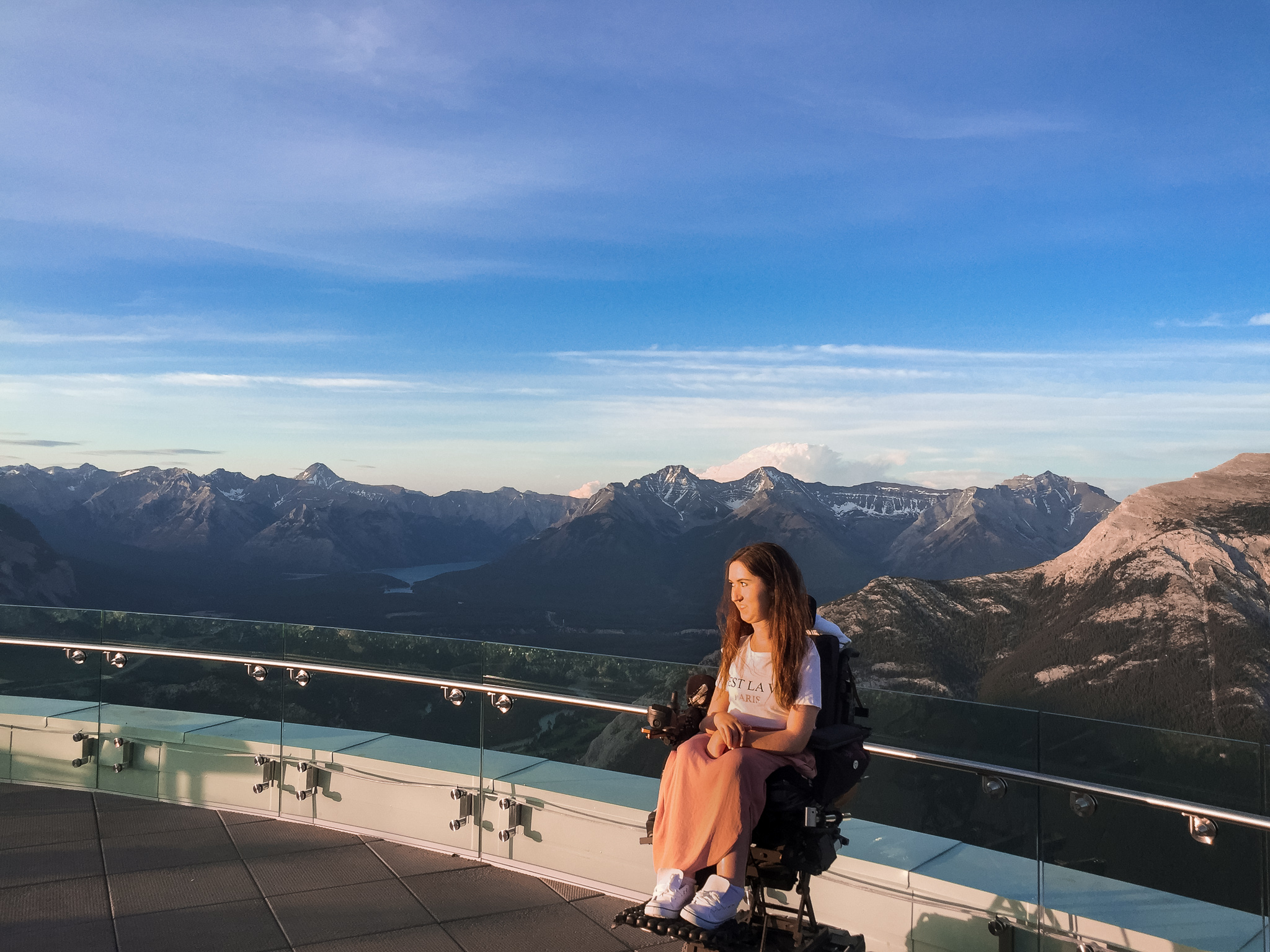 Photo Credit: Tori Hunter Blog
Experience a world of adventure and beauty at the summit of Banff's Sulphur Mountain. The gondolas are fully accessible via ramp and have large windows that allow 360-degree views from the base. Once on top of the summit, you will feel on top of the world as you experience the spacious main level observation deck. Inside you can also check out the mountaintop discovery centre and indulge in a bite to eat. While there are a few different cuisine options based on your budget and hunger level, I cannot recommend the Sky Bistro enough. They have a distinctly Canadian menu that features the unique flavours of Canada through a handpicked selection of regionally-sourced local meats, produce and ingredients. Additionally, with it being perched on the very top of Sulphur Mountain, the views through the floor to ceiling windows cannot be beat. I truly don't think I've ever experienced a dining experience as exceptional as this! 
Jasper SkyTram — Jasper, AB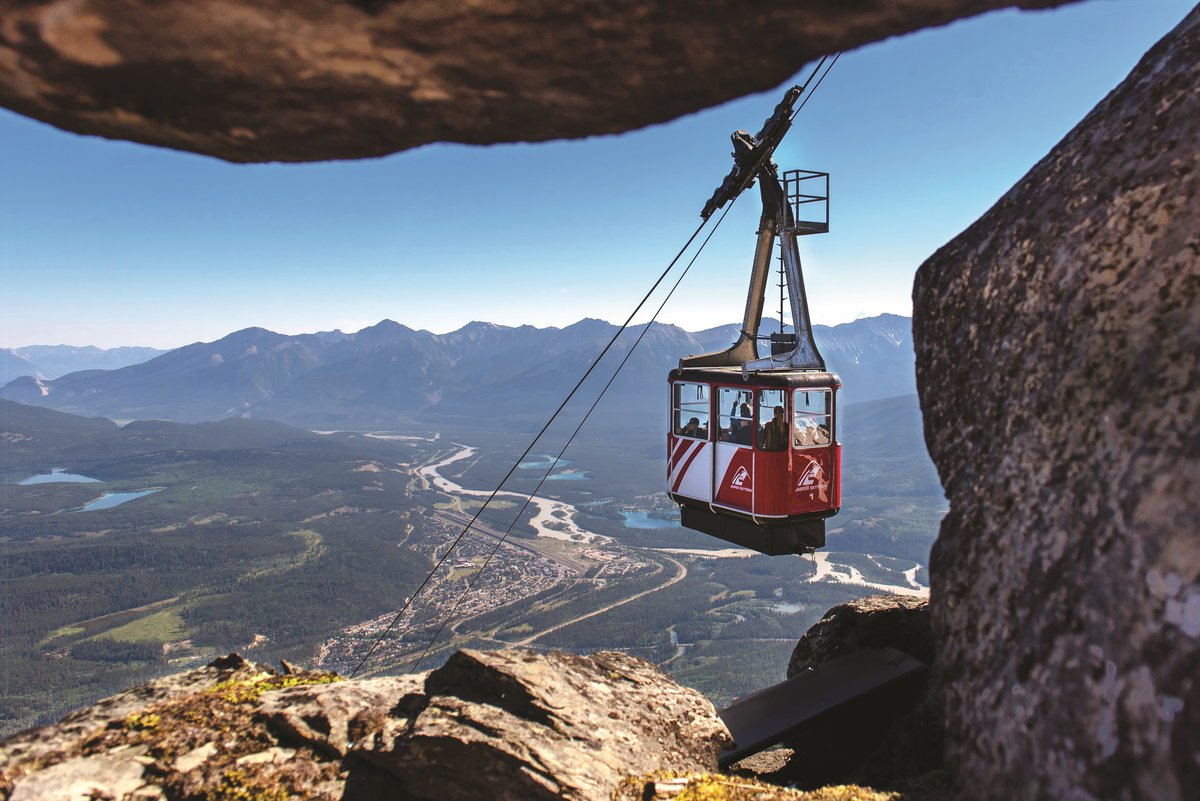 Photo Credit: Jasper Travel
Enjoy the best view of Jasper from the alpine zone with a flight aboard the Jasper SkyTram, the longest and highest guided aerial tramway in Canada. Your seven minute flight will take you to an altitude of 2,263 meters to gain a jaw-dropping bird's-eye-view of Jasper national park from above the treeline. Along the way, a knowledgeable flight attendant will be on hand to point out the many sights and answer your questions. While the tram itself is very accessible overall, please note that the cafe is not wheelchair accessible as it is on the second level of the upper station with no elevator access (stairs only).
Blue Mountain's Open-Air Gondola — Collingwood, ON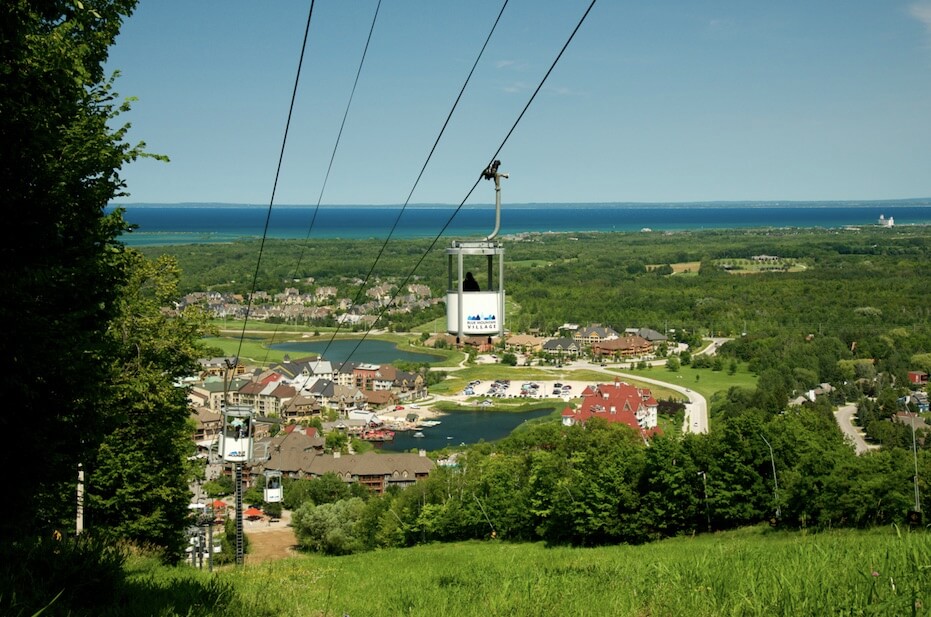 Photo Credit: About Time Magazine
Located just two hours northwest of Toronto, The Blue Mountains have everything you could want in a vacation destination, from skiing to hiking and shopping. Within the village, they have an open-air gondola, which allows you to experience outstanding panoramic views over the surrounding hills and coastline. It is open throughout the spring, summer and fall, and is wheelchair accessible provided your mobility device is smaller than 31 inches wide and 44 inches long. Up top, you can make use of several picnic areas and scenic lookouts for snapping some great shots and soaking in the wonderful setting. Please note that there are no designated accessible washrooms at the top, so it is best to use the washroom facilities before you board the ride. 
Panoramic Gondola — 
Mont-Tremblant, QC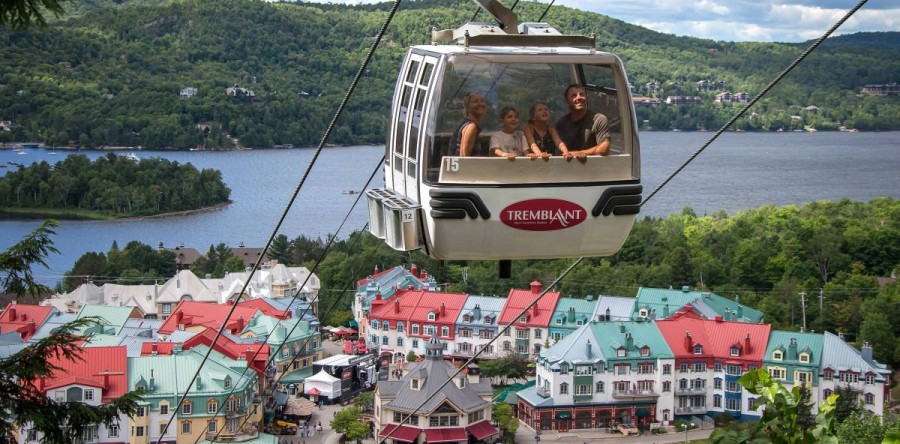 Photo Credit: Club Privilege Mont Tremblant
Ride the Panoramic Gondola and admire the gorgeous view as you reach the summit of Tremblant. Not only will you get a breathtaking view of the Laurentians, Lac Tremblant and the surrounding valleys, but once you're on the top of the mountain, you'll also enjoy an observation tower, several hiking trails, and a chalet to grab a bite to eat. Sometimes the village even hosts activities at the top of the mountain, such as the Birds of Prey Show. 
Cape Smokey Gondola — Cape Breton, NS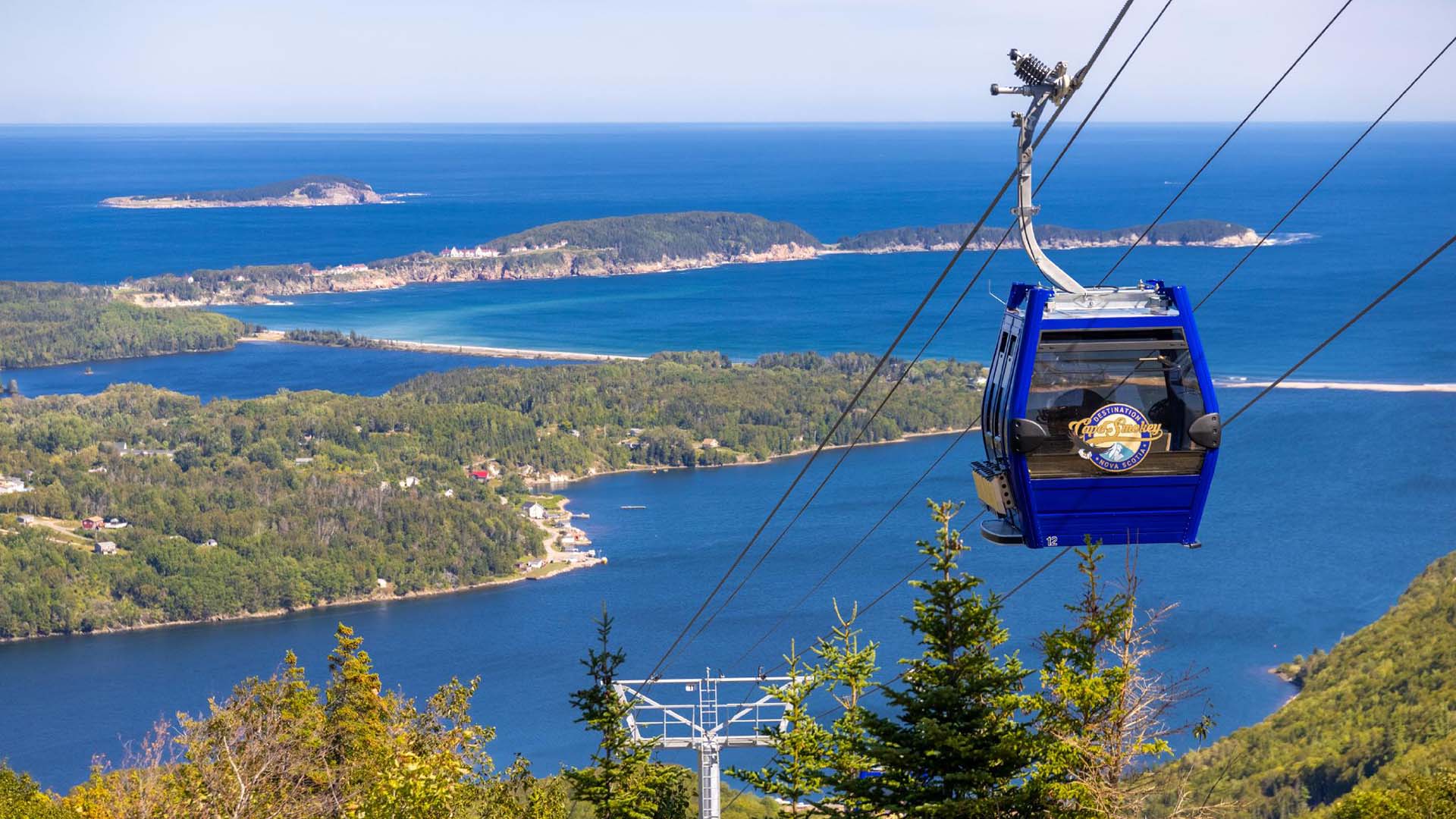 Photo Credit:  Tourism Nova Scotia
Cape Smokey is Atlantic Canada's first and only gondola. Hop on for a ride to experience the expansive views of the Cape Breton Highland National Park, Atlantic Ocean, and Ingonish. You'll also be just a few steps away from the Summit Shack, Nova Scotia's highest elevation food and beverage service! Take a walk through nature, have a picnic at one of their three viewing points, and grab an ice cream to cool down. The gondola is completely wheelchair accessible and can be slowed down or stopped for easy entry / exit.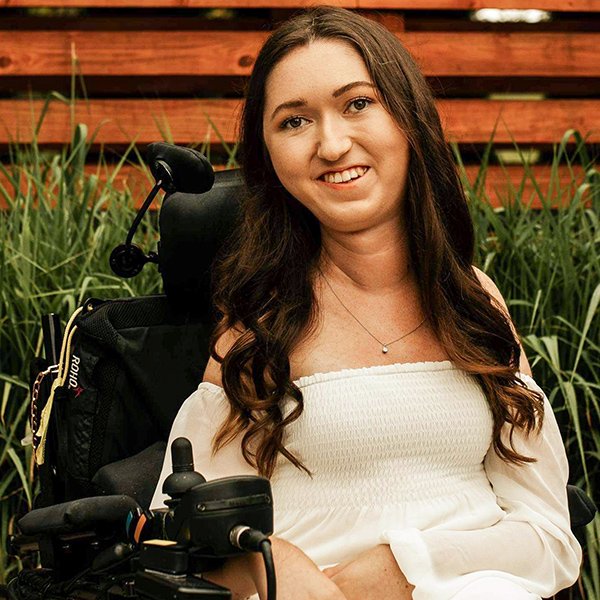 About the Author
Tori Hunter is a writer and travel enthusiast, passionate about redefining the way we view accessibility and the disabled experience. She has worked alongside numerous organizations to help dismantle access barriers, and in her free time, she likes to share her adventures as a wheelchair user on her Instagram @torihunter.blog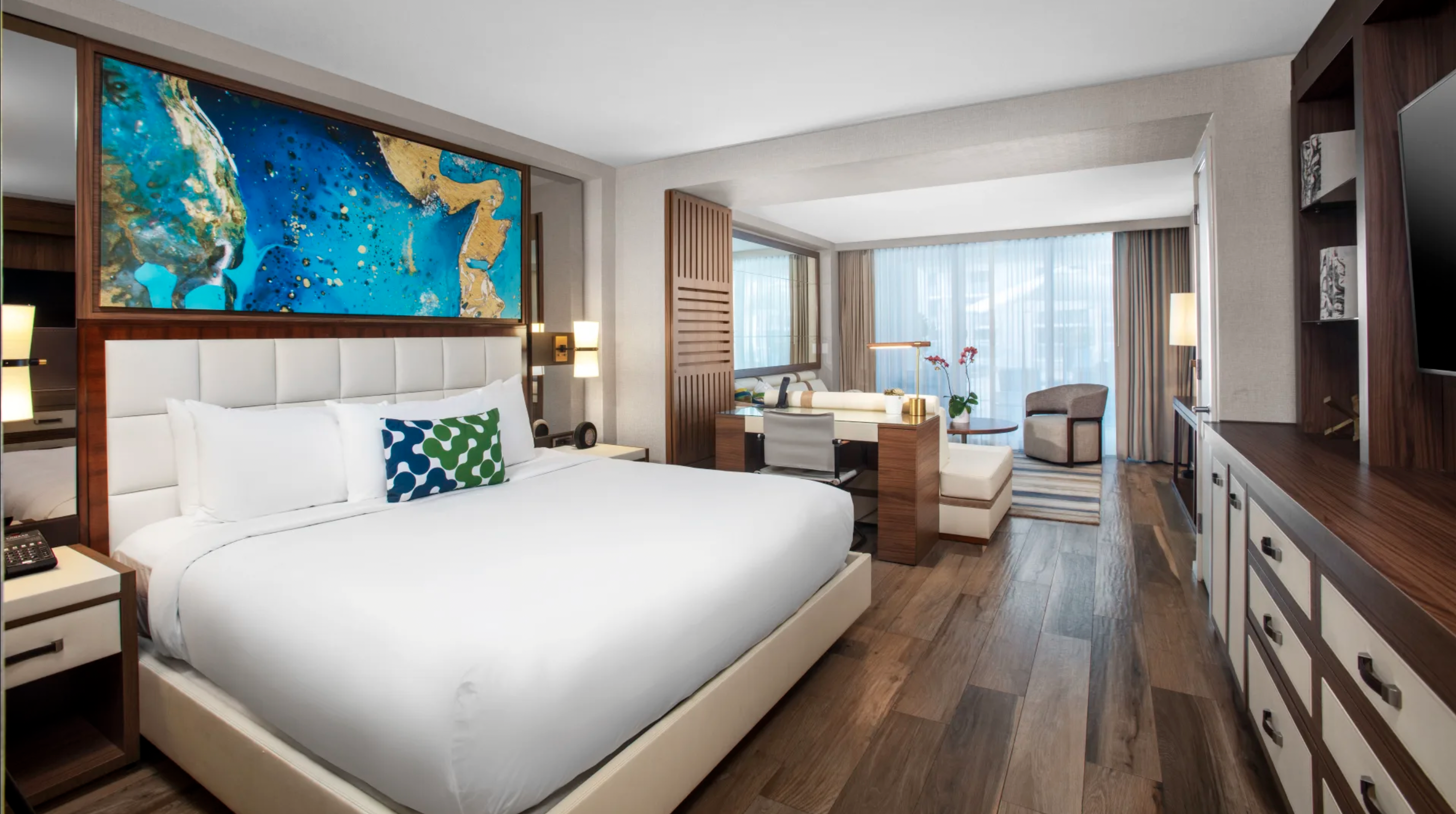 Fort Lauderdale, Florida, is a vibrant city known for its stunning beaches, lively atmosphere, and a wide array of attractions. If you're planning a trip to this sunny destination and require accessible accommodations, you've come to the right place. In this blog...